Schemers – Meet the Crew
City Life Dundee caught up with some of the exceptionally talented crew behind Schemers for a wee insight into the movie and their thoughts on Dundee.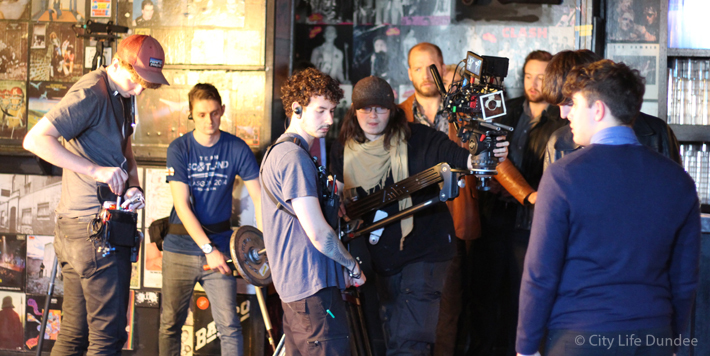 ---
DAVE McLEAN • The Dundonian producer, the vision behind the movie, and the real life Davie
How does it feel having your personal life story portrayed on screen?
Strangely enough it does'nae feel weird at all, it's no' really my life story anyway, it's about the three of us (Davie, John and Scott) and about Dundee. I'm just one of the characters in it. It was weird today going to that snooker hall cos' something happened in that snooker hall that I cannae tell you, ha ha ha!
I want to leave something of value and if I can raise a chuckle and a laugh, and work with people I like and have fun doing it, then it makes me go to bed happier and wake up in the morning with a smile on my face.
What kind of message are you hoping your life story will give to fellow Dundonians and young people?
You can do anything, if anyone says you can't do it just ignore them from the start. Ye dinna want to be eighty years old, sitting on a park bench and saying 'ken what, eh coulda done that years ago, eh hud the chance to do this an' eh hud the chance to go here.' If you dinna take a chance you'll never know.
It's fine admiring people like Danny Boyle, Irving Welsh and all these people, but don't feel you can't be like them. Why can't we be them? You lived a life, you've got a story to tell, why can't you tell the story? Why can't you put it together? Why can't you get a film crew? Why can't you get actors? Why can't you raise the money? There's no reason why not!
---
ALAN McLAUGHLIN from Glasgow
• Director of Photography (the magician behind Schemers)
Thoughts on filming the movie
It's got a real nice seventies and eigthies punk vibe to it, everything's a bit rough and ready around the edges, the visuals are a bit odd and a bit scratchy and that all really suits the story.
It's got a real good vision to it and a real good rhythm to it and it maintains that style throughout. It's definitely an indie film and definitely has an indie look, and it totally functions and works.
The Frankenstein camera
The story itself inspires ideas and you think 'how can I do this?' You don't want it to be too glossy cos that's not the film or the story and that's not the era it's set in. We've managed to make a Frankenstein of a camera with all the little giblets that go together with it, and it really suits and functions the story because it keeps in the style of how Dave's life was at that time, it's totally part of Schemers.
The Dundee cityscape
We've tried to make the city look absolutely incredible which is not difficult especially with the weather we've had. The landscape is beautiful especially looking across the river and with Dundee built around the hills. Literally every single time we set up the camera we've been like, 'this looks incredible', and it's not a bad period at all for Dundee, it's a really vibrant time so it's nice to portray it like that. The city's got a vibrancy to it and the colours we've gone for are the old Technicolor three strip process which really draws out a lot of that saturation, so all those natural colours in Dundee just pop to life.
Message to the Dundee audience
I would genuinely love them to love it and feel like we've not betrayed them and done a disservice to their city, I want them to be on board as much as everyone else in the crew because this is their story too.
Advice to young people
Be intuitive, be passionate, solve problems, think creatively about how things can be done differently, don't stick to the status quo, break a mould if you have to, and definitely go out there if you have an idea and make something special.
This work lets you travel a lot and you always get to experience something new; culture and people; it doesn't matter where you are.
---
JOHN GIBSON from Dundee
• One of the backers of the movie and the real-life incarnation of John, a main character in the movie.
His thoughts on the movie
It's going to be great and it's good to be involved even though I'm just on the periphery, sort of helping to finance it. I'm a born and bred Dundonian and I just want to see Dundee things do well.
The movie's got a bit of fact and a bit of fiction and it'll portray Dundee, put it up there again and get people to hear what a great place it is and that things really happen here.
How he feels about his younger self being portrayed to a possible worldwide audience

I just hope it's an inspiration to other people, I've always said that I spent forty-five years in poverty before I made any money. The reason for that is that I found a hundred ways not to make money before I made any!
I hope the movie is going to be an inspiration to young people to go out and find their way in life, if at first you don't succeed then try and try again. That is exactly what this story is all about!
---
AIDAN McDONAGH from Wishaw
• Sound Assistant
I'm not bigging it up or anything but it does look and sound great!
I've had a few magic moments where I've had tae pinch myself, as I've seen the scene happening in front of me but I can also see the monitor and I can hear what I'm recording and see it matching up on screen, and it does look really good.
It looks like what you'd be expecting from a high calibre film, we're obviously working on a much smaller budget but you wouldn't know that from looking at it and hearing it, it does look amazing.
---
RYAN WARRENDER from Dundee
• Sound Assistant
It's actually been excellent, I've really enjoyed being so close to the action and seeing the scenes unfold. It's good to establish close bonds with the cast.
I've had a very good feeling about it from the start, from first reading the script. I just think it's gonna be such a huge thing for Dundee with it being a first… Go see it!
---
JONATHAN FEENEY-BROWN from Dundee
• Head of Hair
I think it's gonna be amazing, especially when you watch it getting filmed, it's looking really, really amazing; and it's really, really funny as it's a comedy film as well. I hope it does Dundee proud.
---
ADAM McKINNON from Isle of Benbecula, Western Isles
• Key Runner (worked on T2 Trainspotting)
The funny thing when you're on set, whether it's Ewan McGregor and Robert Carlyle from Trainspotting or Conor, Grant, Sean and Tara from Schemers, they're just people.
---
STUART ANDERSON from Edinburgh
• Gaffer Grips & Electrics
It's been exciting, chaotic and interesting every day. I think the movie will be quite a lot of fun, a lot of nice little stories in it, an interesting journey.
Go and see it and go "oh look there's a little bit of Dundee!".
---
STEPHANIE WARD from France
• Camera Assistant
I think it shows the Scottish lifestyle and it'll be nice for other countries to see what it's like in Dundee.
It will be a movie that will mark its time.
---
KATIE McDOWALL from London
• Head of Costume
Dundee is such a lovely city and the people are so friendly, people in the shops chat to you!
It's been one of the best experiences of my life and I've worked in many productions before. I'll miss Dundee, it's touched my heart.
---
ED BROUGHTON from Dundee
• Locations Manager
I think everyone in Dundee who watches it will absolutely love it, they'll tell their friends about it, and it will always have a place in the heart of Dundonians.
---
MARK MUIR from Dundee
• Cast and Crew Driver
The feedback from the cast I've spent time with is that they are confident what they've seen of it looks good.
Grant, Conor and Sean have been great fun to drive around!
---
JIM STURROCK
• Owner of Fortes Café, Stobswell (one of the locations used for filming)
This movie is going to promote Stobswell positively.
When the movie's released go and watch it!
---
ATHOLL McLEAN
• The family observer behind the movie
Watching the words come off the page, watching the stories unfold and remembering what it was like watching Dave trying to dream his way out of Whitfield… yeah, I'm proud o' my brother.
It's a story of hope, a story about dreamers.
The family were there all the time in the early days of Dave's wildest dreams. They did make the bacon rolls and they did answer the phone and book the buses for the Pope's visit to Glasgow, it was all real and that's what makes it exciting, you can dream and you can do, and Dave did that and got good at it.
---
To find out more about the colourful cast of Schemers and to meet some of the well-kent cameos that make appearances in the movie please click on the links below and visit our behind-the-scenes gallery for exclusive on-set shots and photos of many of the wonderful people involved in making the movie.
You can also also read our Schemers article from our Spring 2017 issue by clicking here.
All content and images © City Life Dundee