About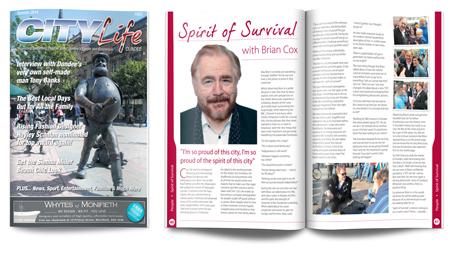 City Life is a free magazine full of lifestyle articles, cultural features, people stories, special offers, giveaways and much more…
Journey with us through Dundee and meet some of the inspirational people and businesses that make this city come to life!
City Life is reliably hand-delivered to 10,000 targeted households and businesses around Dundee four times a year – Easter, Summer, Autumn and Festive. Circulation is rotated between two coverage areas every issue to give a total targeted household and business coverage of 20,000. City Life is by far the largest circulated hand-delivered magazine in the Dundee area!
Every issue of City Life is jam-packed with regular features on entertainment, travel, food and drink, health and fitness, hair and beauty, home, gardening, motoring, finance and family. We also have a guide to what's on in Dundee, local news, personality interviews, historical features, interesting articles, and puzzles and games. Plus a selection of advertisements for a wide range of local businesses and organisations.
Never miss another story…
As well as our free hand-delivered print-magazine, you can also read all our articles here on our City Life website, available on your PC, tablet or smartphone.
Also don't forget to like and share our Facebook page.