Lockdown is lifting, but now is not the time to be complacent. It's still important to follow expert advice, including regular handwashing. The simple act of washing hands is one of the easiest ways to reduce transmitting infection consistently. When you think of the hundreds, if not thousands, of different surfaces you touch every day, it's definitely a habit you'll want to continue!
Soap making has a long history, being first used in c. 2,800 BC by the Babylonians, and with the Egyptians, Greeks and Romans also being early producers. However, in Britain, the Celts were probably the first to manufacture soap, introducing it around 1000AD. According to the Roman writer Pliny the Elder, the Celtic soap making technique involved processing goat fat and beech wood ashes and was much sought-after by the Romans. In fact, the word "soap" is actually derived from the Celtic word "saipo" – itself coming from the Latin word "sebum", meaning fat or tallow. The modern concept of a bar of soap was even possibly influenced by the Celts who manufactured their soap into the shape of a ball, as documented in the 2nd century AD by the ancient Greek physician Aretaeus of Cappadocia.
Making your own soap is a wonderfully satisfying process. Not only can you create something bespoke, but you can also do it in a way that avoids nasty chemicals, plastic waste and pollution. You'll only need a few simple things to get started:
Melt and pour soap base (try somewhere like The Soap Kitchen or Hobbycraft)
Essential oils to fragrance
Old metal saucepan (to melt on the stove) or Pyrex jug (to melt in the microwave)
Whisk
Silicone mould – a cupcake or mini-loaf mould is ideal, or you can buy soap shaped moulds.
Once you have everything together, it's a simple matter of melting the base according to the manufacturer's instructions, taking care not to over stir as this can introduce air bubbles into the soap. Remove from the heat and gently stir in your fragrance and any other extras like colouring. Put the silicone tray on a flat surface and fill it with the melted soap base. Leave untouched to harden, which will take around 24 hours.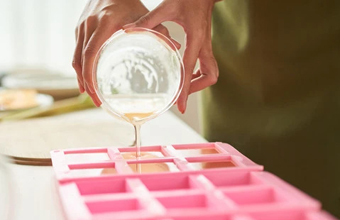 Follow a recipe or experiment with ingredients, adding things like cut up loofa, lightly ground oatmeal, poppy seeds, or ground coffee for an exfoliating soap. Peppermint and citrus oils are great for feeling refreshed in the morning, while lavender is soothing and ideal for those who bathe before bed. You can customise your soap in any way you choose, even adding a loop of string for your very own soap-on-a-rope.
For some more ideas for other homemade hair and skincare products, see our previous article; Granny's Traditional Winter Beauty Remedies.