For many, Easter means an extra-long weekend with family and friends. However, as we face the prospect of another Easter in lockdown, having spent the last year either in close contact with our immediate families or separated from them entirely, it's understandable that the usual level of excitement isn't there. If you're searching for ways to make the most of this time, these suggestions will help.
Backyard Camping
A tent, a simple fire pit with some marshmallows, and a few folding chairs and you could almost imagine yourself on a camping holiday. Backyard camping is especially great for those with children who still love the adventure of sleeping outdoors, even if it's in their garden. String up some fairy lights or bunting for added glamping ambience.
Stay Local
The "Stay Home" directive changes to "Stay Local" on 2nd April, which means you're able to go back to places like Monikie Country Park, Dundee Law, Camperdown Country Park, Baldragon Wood, or to the beach at Broughty Ferry. If you need inspiration, search on Instagram using the tags #Dundee and #DundeeCity.
Easter Keepsakes
As delicious as they are, chocolate eggs don't last. Get creative and make an Easter keepsake using eggshells. Make a small pinhole in the top and a larger one in the base of the egg, and blow the contents into a bowl. Set them aside to use in a delicious breakfast or an Easter cake, and carefully rinse the shells in water and allow them to dry. Paint and decorate with plenty of spring colours and sparkle. Alternatively, crack the eggs as usual, wash and dry, glue a tiny hinge to the top and bottom, decorate and fill with miniature chocolate Easter eggs.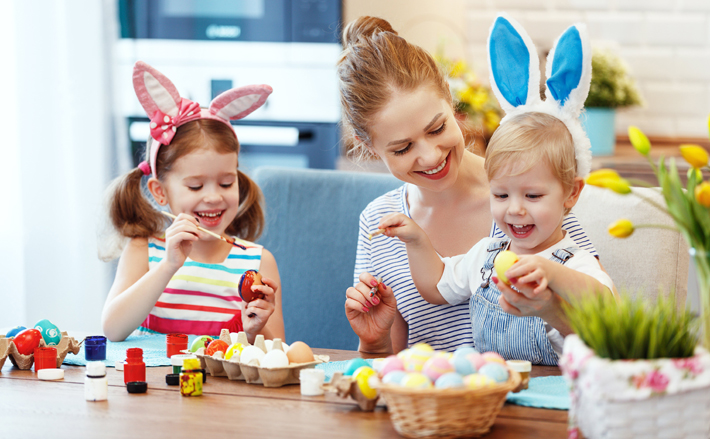 Creative Cooking
Instead of looking at it as being "stuck at home", consider this as having time to fill your home with the fragrances of things you'd typically buy. This recipe for Hot Cross Buns should be a winner, and a Simnel Cake is the perfect Easter treat for families who love fruit cake at Christmas. Your leg of lamb will be even more succulent if you marinate it overnight; stay traditional with olive oil, garlic, lemon juice and rosemary, or try a Moroccan inspired rub or marinade for a flavoursome change to the norm.
Digital Detox
After months of working and schooling from home, do yourself a favour and ditch the screens over Easter, at least for a day. Put your phone, tablet, and laptop away and spend the day gardening, baking, crafting, going for a walk or a bike ride, reading a book with actual paper pages, playing board or card games, and listening to music. Stock up on your favourite food and beauty treats and spend the time indulging yourself without a screen in sight.
However you spend your Easter, we hope that it is one you'll love!