The award-winning Dundee movie, Schemers, made another piece o' Dundee history last week when the release of the movie on DVD and various on-demand platforms went live, and what a major success it has been so far. City Life were amazed with the worldwide response to our DVD and Poster Competition via our on our Facebook, Instagram and Twitter accounts. The response was so good that we have decided to award five DVDs and five posters in this first round, and are delighted to announce we are going to offer the remaining five DVDs and five posters in our second giveaway. There are more details on how to enter at the end of this article, along with a list of the lucky local, national and international winners and runners-up from our first giveaway.
Meet the Supporting Stars of Schemers
Throughout the filming of Schemers, City Life were incredibly lucky to be on-set to spend time with the amazing cast and crew, and to ask them to share their thoughts on this landmark movie. So, come and meet some of the creative characters who were instrumental in making Schemers an award-winning piece o' Dundee cinematic history…
PAULA MASTERTON
From Dundee – Plays Ann
"I think us getting our very own film about what life is really like here is really exciting. I think it will turn into a cult film. It's a really funny film. It's one of those stories that you think, "surely that didn't happen", and yeah it did. I think it's gonna be a real feel-good film. It's gonna appeal to a lot of people, particularly in the local area, I think they'll all go, "I remember that!" or "I did that!"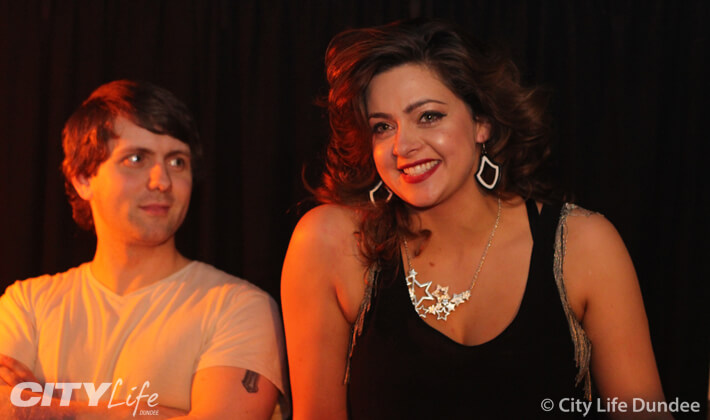 BLAIR ROBERTSON
From Broughty Ferry – Plays Pike
"I'm very pleased how the film has turned out and the three leads, the boys, were just absolutely stunning. It struck me how the film comes across with so many bit-parts from so many different people and that's what Dundee is, it's made up of different places and schemes and people, and that's what struck me, that everyone in the movie were from different places, an amalgamation of different personalities, just like Dundee."
ALISTAIR THOMSON MILLS
Plays Fergie, the gangster
"The best thing about the movie, for me, is the family feel and it made me think of Gregory's Girl more than Trainspotting. It's so Scottish, it's like the Broons or Oor Wullie. I'm no' just sayin' this but, I think, Dundee is the star of the movie, an' the twa bridges!"
DAVID IZATT
From Dunfermline – Plays Malky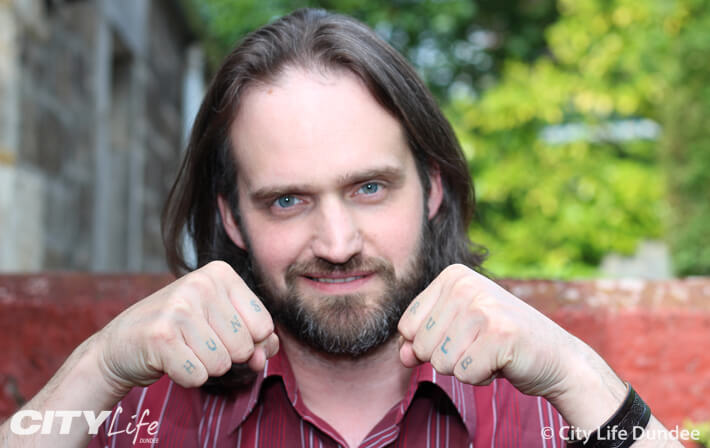 "Malky is like the Terminator of the film, relentlessly after the main character, Davie, for having an affair with his girlfriend. He pops up throughout the film. It's been a fab character to play. It's a big showcase for Dundee, it's looking good on screen and that's all you can ask for. It's Dundee's answer to Trainspotting without all the masses of hardcore drugs, ha ha ha"
ALAN "THE MAGICIAN" McLAUGHLIN
From Glasgow – Director of Photography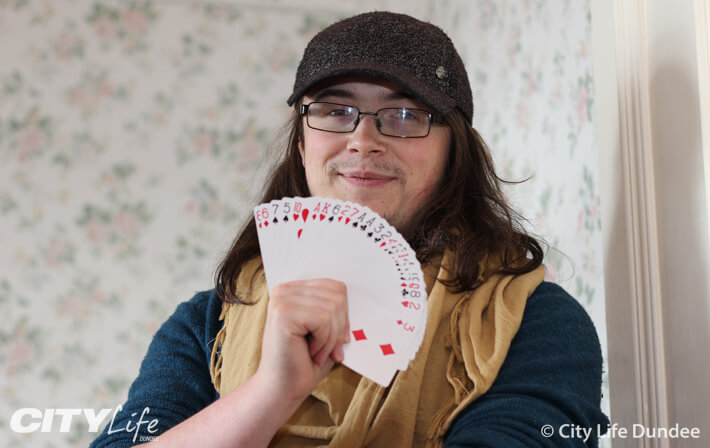 "It's got a real nice seventies and eighties punk vibe to it, everything's a bit rough and ready around the edges. I really hope the heart of the movie shines through and really hope it connects with audiences around the world, and kinda hope it hits a bit of a cult following. This is such a unique, special story for Scotland and especially for Dundee. It's amazing to let a city like Dundee have such a global voice like this."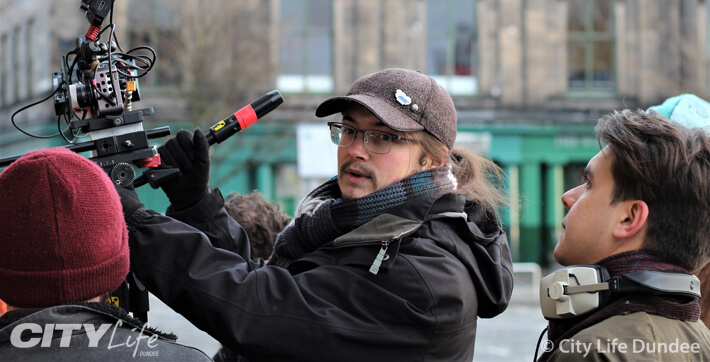 KATIE McDOWALL
From London – Costume Designer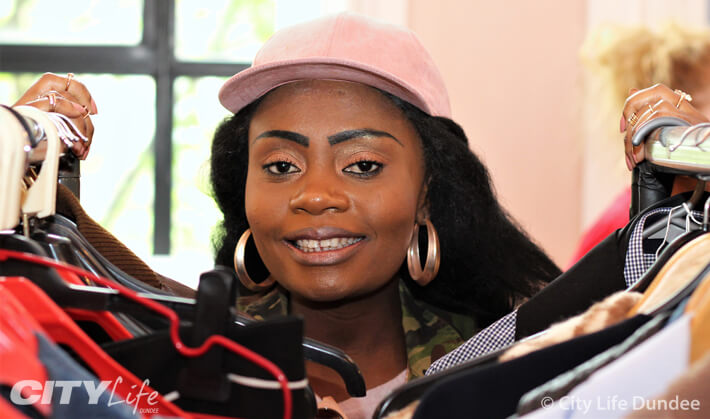 "Dundee is such a lovely city and the people are so friendly, people in the shops chat to you! It's been one of the best experiences of my life and I've worked on many productions before. I'll miss Dundee, it's touched my heart."
JIM SWEENEY
From Greenock – Plays Father Vetrianio, the vicar
"The script is hilarious; very, very good, absolutely loaded with humour. The three boys are good; Conor, Grant and Sean; they've got that wee glint in their eyes, they can do the job and you couldn't see the joins. If the stories are told from the street there is no better tale."
MELISSA DE MOL
From London – Plays Annabelle, Iron Maiden's booking secretary
"Schemers is the only reason I've been to Dundee, it's a beautiful city and I think it's gonna be a great movie. I've worked all over the world on different films of different sizes and Schemers is up there with the best of them."
ED BROUGHTON
From Dundee – Locations Manager
"I think everyone in Dundee who watches it will absolutely love it, they'll tell their friends about it, and it will always have a place in the heart of Dundonians."
THE SHEND
From 1970s punk band The Kravats – Plays Burton, Iron Maiden's agent
"My first instinct was; during the scene I am in, where Connor measures the distance on a map with a battered sausage; and I thought, "that's just genius", and it made me laugh and I thought, "yeah, I wanna be in this", so I'm very proud to be in this movie. I walked into the filming and it felt like a family and that is quite rare, people believe in it, I've done so many things and here the energy is amazing! Dundee, enjoy this because this is made for you."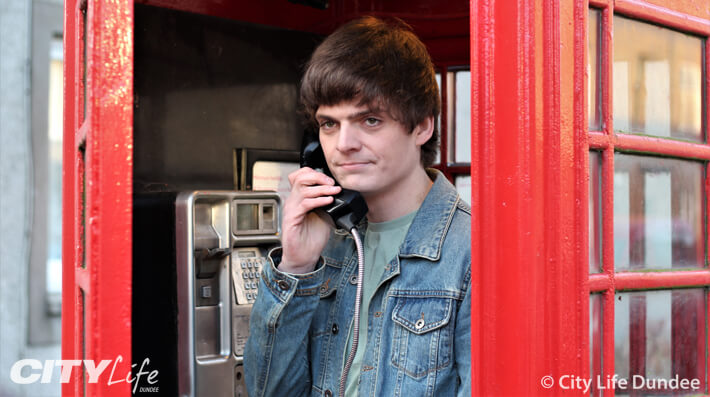 KEITH WARWICK
From Glasgow – Plays Dundonian music promoter Andy Lothian
"It's a really good story and the script is magic, I think it's got a bit of grit aboot it and a bit of bite, and I think that's really important. It's got what Dundee is, a bit of honesty about it, it's got passion about it and thank goodness for that, it's a great reflection of Dundee. I find myself playing Andy Lothian, the first man to bring The Beatles to Scotland and who coined the phrase "Beatlemania"."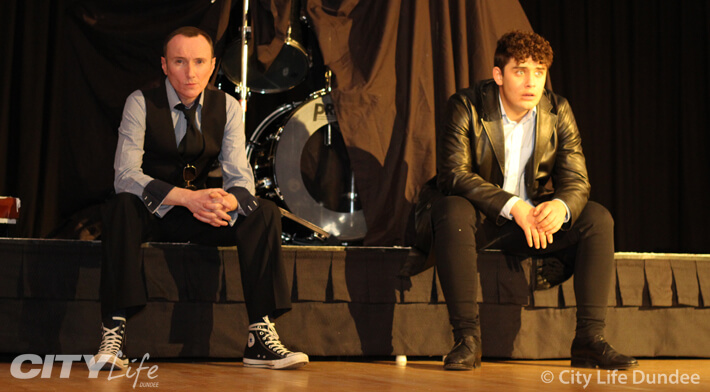 KHALED SPIEWAK
From Alloa – Editing Director
"I'd learned, from many people, that "it's all in the edit". So, I edited the film as faithful as I could to the original script. What ultimately happened is that we had a fragmented movie with scenes missing but realised there was something cool in there, so I recommended doing some additional reshoots. Alan McLaughlin, the Director of Photography, encouraged me to direct the final reshoots, so that's what we did, and the rest is now cinematic history, ha ha ha!"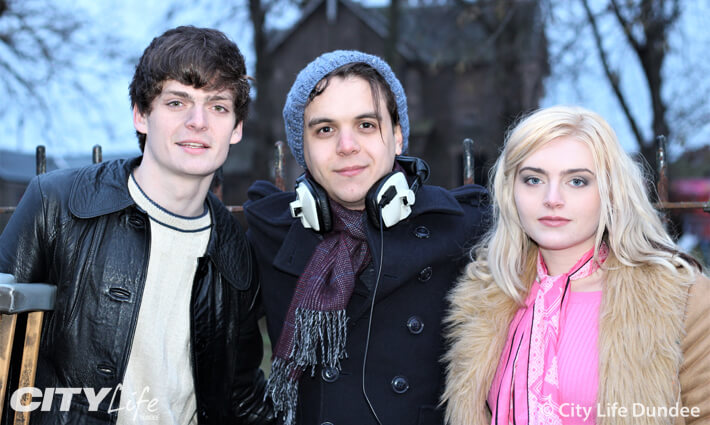 HEATHER FARMER
From Dundee – Plays Fiona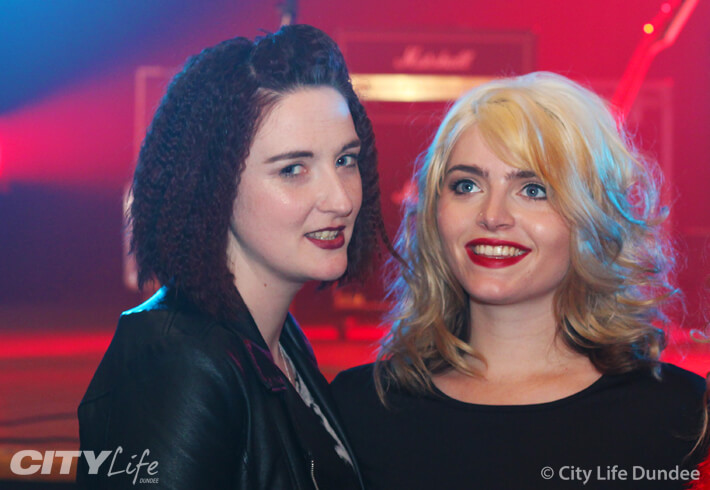 "It's so exciting, it's an absolute triumph what's been achieved so far, it's awesome to be a part of. The script is amazing, the people are amazing and I think it's gonna really show Dundee in a great light"
HANNAH OSBORNE
From Ireland – Plays Sharon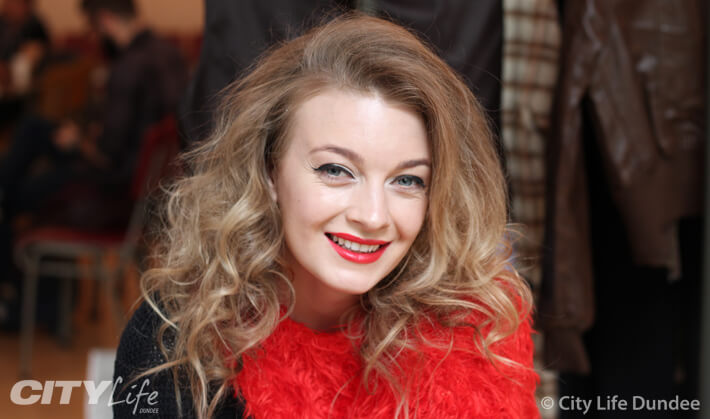 "I think it's gonna go really well, it's got so much youthful energy and excitement, the story is universal and will appeal to anyone and everyone. It's so beautiful here [in Dundee], you're very lucky to live here. Dundee's beautiful, I'm in love, I wanna live here!"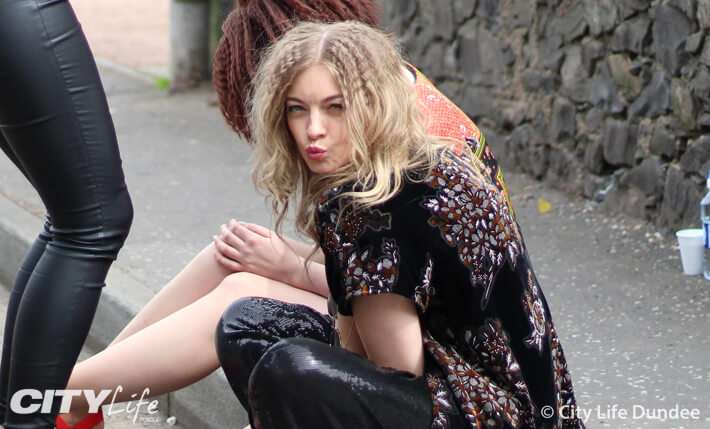 STUART ANDERSON
From Edinburgh – Gaffer Grips and Electrics and plays small walk-on part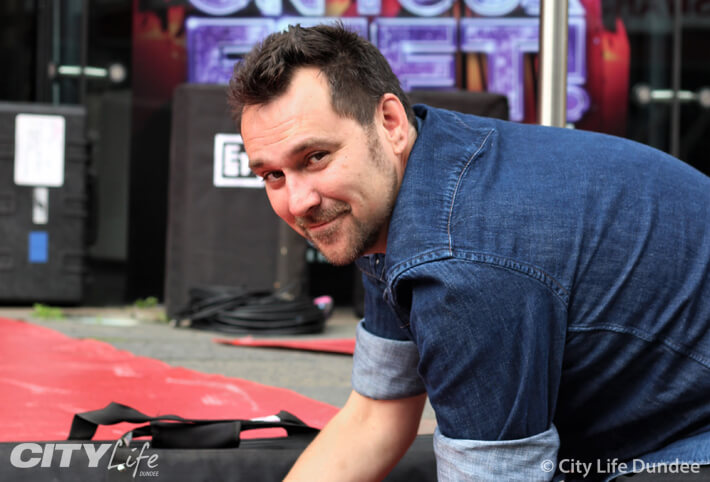 "It's been exciting, chaotic and interesting. I think the movie will be quite a lot of fun, a lot of nice little stories in it, an interesting journey. Go and see it and go "oh look there's a little bit of Dundee!"."
MINGUS JOHNSTON
From Inverness – Plays enforcer Kenny
"This was my first taste of the beautiful city of Dundee and I'm very happy to have been involved in this fab film. A sterling performance by all and I'm looking forward to seeing the final result."
CAITLIN ALLEN
From Glasgow – Production Assistant
"This was my first job straight out of university and the thing that struck me was the camaraderie and the people, the crew and the cast; and the people of Dundee made it so easy, so simple and enjoyable, I'll never forget that!"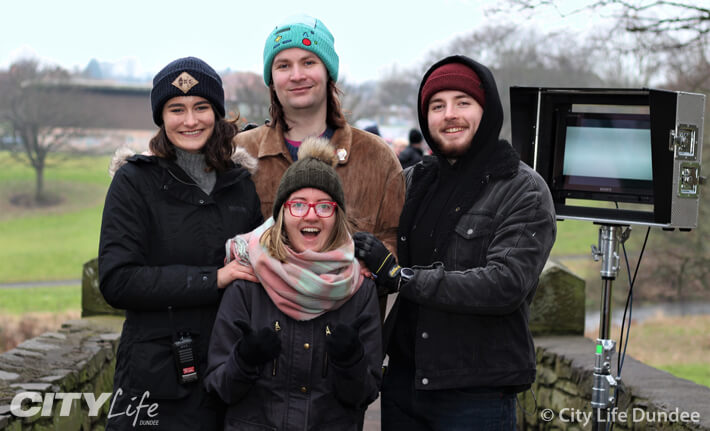 KYLE FALCONER
Lead vocalist from Dundee band The View – Has a cameo role
"Just be reminded Dundee is up there with other great cities, it's a great place, you've got to go away to come back, once you go away you realise how good it is. I've lived every place in the world and it's always great to come back to Dundee."
SAINT ANDREW
King o' the Dundee dialect and music/comedy legend – Has a cameo role
"It looks like it's shaping up to be a cross between Reservoir Doags, La-La Land and All Creatures Great and Small – so it's all good!"
DVD and Poster Giveaway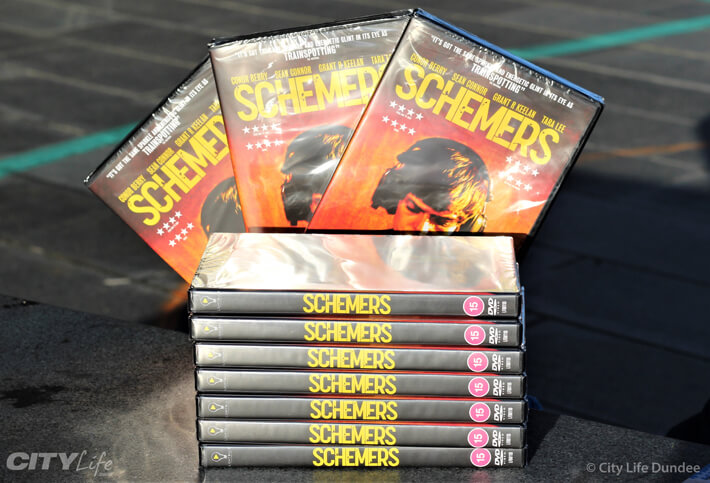 Congratulations to the first ten winners…
DVD Winners:
Helen Bryan from New Zealand
Adam Branicki from Dundee
Jodie Kemlo from Dundee
Joe Lamb from Dundee
@rivercity_simp_x from Glasgow
Poster Winners:
Forbes Walker from Carnoustie
Maureen Drennan from Glasgow
Graham Byrne from Dundee
Unn Mysliwski Bergerud from Norway
@maiden_scotland from Dundee
We will be in touch with the winners via social media to get their details.
5 More DVDs and Posters to be Won!
City Life Dundee are giving away another five Schemers DVDs plus another five runners-up will win posters. For your chance of winning, you will need to follow us on Facebook, Instagram and Twitter, where we will be making a competition post. To enter the giveaway on each of the platforms you will need to do the following:
Facebook: LIKE, SHARE and COMMENT
Instagram: LIKE and TAG A FRIEND
Twitter: LIKE and RETWEET
Schemers DVD and Download Now Available
The Schemers DVD can be purchased from Amazon, HMV and other retailers:
Or to download the movie visit the iTunes store, Amazon Store, Sky Store, Google Play, Virgin Media, Rakuten TV, Curzon and PlayStation Store.
To read more about the Schemers movie, including interviews with the amazing cast and crew, check out our previous articles:
This World is Now Phul o' Dundee Schemers