"The man o' independent mind, He looks an' laughs at a' that."
It's that glorious time o' year again when Scots fowk the world o'er celebrate Scotland's national bard, Rabbie Burns, an' a' the tradition an' mayhem that comes alang wi' that. Thanks tae Rabbie an' ither independent-minded Scots keeping oor mither tongues alive o'er the last few centuries, a whole new generation o' Scots artists and performers are confidently expressing their ane poetic voices in both Scots and Gaelic. Here's jist a wee sample o' the local an' national talent that continues to keep oor independent spirit alive.
Dundee Voices
Mary Brooksbank
Mary Brooksbank was a talented songstress, storyteller, writer and one of the key originators of Dundee's 'Oary' culture of song that emerged out of the mills and tenements of the Dundee Juteopolis in the early nineteen-hundreds…
"O dear me, the world's ill divided,
Them that works the hardest are the least provided."
 Listen to the auld Dundee voice of Mary Brooksbank singing "The Spinners Wedding" in the video below…
You can read more about Mary Brooksbank in our article "Mary Brooksbank: 'Oary' Dundee's First Lady".
Saint Andrew
Saint Andrew, the patron saint o' the Dundee dialect, has been entertaining crowds with his Dundonian lingo and comedic capers for decades and recently starred in the global award winning Dundee movie Schemers…
 "The music and the soul o' Saint Andrew emanates fae the berry dreels o' Angus, eh'm a big fan o' pickin' berries so eh'll treh an' have meh annual holiday in Blair, eh quite like tae get back to the soil… and nabble!"
Saint Andrew reminds us that "This World is Phuhl o' a Number o' Things" other than berries in the video below…
You can read more about Saint Andrew in our exclusive interview with the elusive legend here.
Kev McCabe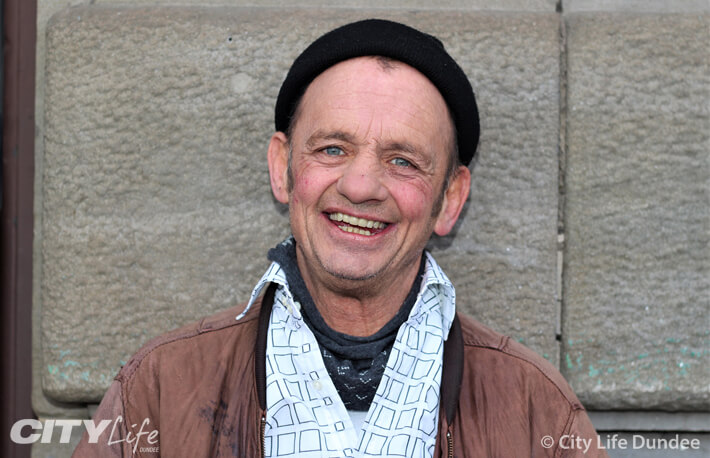 Kev is a former Scottish amateur boxing champion, active street poet and actor, and recently appeared in the global award winning Dundee movie Schemers…
"This is oor tongue we yaise every day. Oor dialect has got rhythm and it's got soul, it's art when yi speak. Humour is a' through oor dialect, it's quick, it's sharp, it rolls aff the tongue, ken. As soon as yih turn oor dialect intae English it loses its soul, it loses its frequency, and it, therefore, loses its natural funny vibration."
Watch the "Dundee Voice" of Kev McCabe in the video below…
You can find out more about Kev's recent role in the Schemers movie in our Real Life Schemers feature.
Sheena Wellington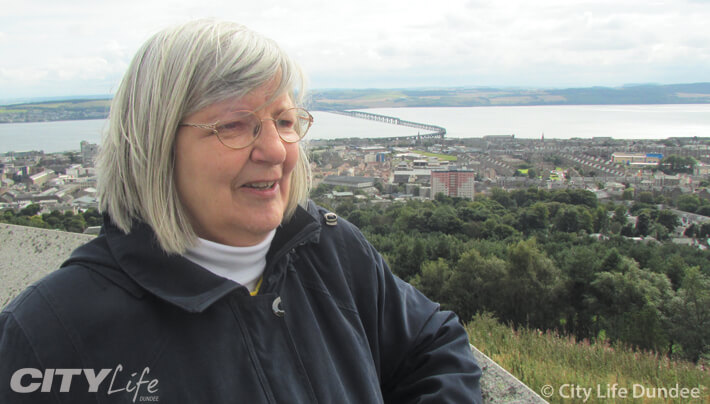 Sheena Wellington, the queen-mother o' Scots, will go down in Scottish history for her role in the opening of the first Scottish Parliament in 300 years on July 1st 1999, when she sang the Burns classic "A Man's a Man for A' That"…
"The honest man, tho' e'er sae poor,
Is king o' men for a' that."
Watch Sheena's historic performance in the video below…
City Life met up with Sheena back in 2014 for a wee blether, read our Dundonian Life article here.
Gary Robsertson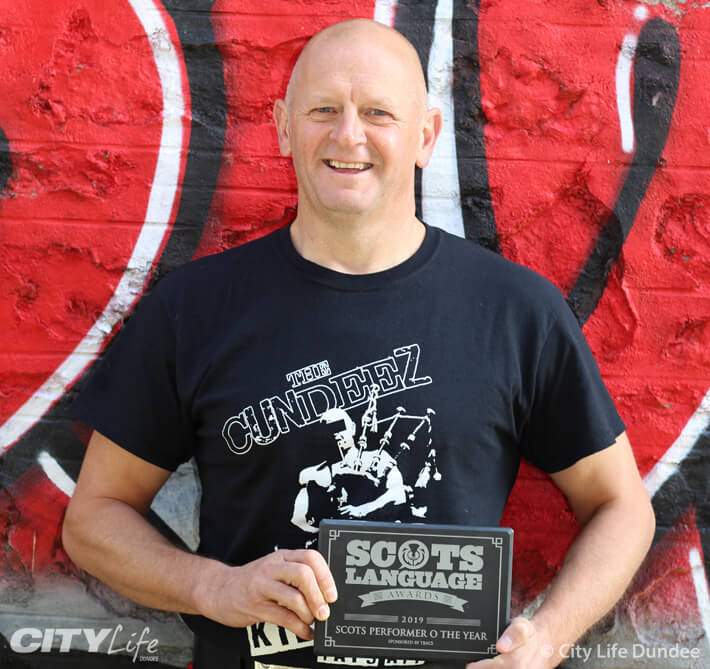 Gary Robertson, the street poet, author, playwright, singer and actor has championed oor local Dundee Scots dialect for many years and in many forms…
"Dundonian is a beautiful language, we've been put doon fir so lang but people ihr finally beginning tae hae the confidence tae speak the proper tongue that we wir born wi'. The tide is turnin' an' Dundee people ihr findin' thir voice again an' being proud o' the weh wi speak."
Watch Gary Robertson dae'in what he does best and "Speakin Proper" in the video below…
 
City Life caught up with Gary in 2019 after he had won the Scots Performer of the Year Award at the Scots Language Awards. Click here to read our interview with the man himself.
We also featured Gary in our Dundonian Life article back in the summer of 2015, click here to read.
Queens Amang the Heather
Never have we been so lucky to have so many talented traditional Scottish female singers keeping oor mither tongues alive. Karine Polwart, Hannah Rarity, Julie Fowlis, Karen Mathieson and up-and-coming young queens Iona Fyfe, Eilidh Cormack and Kim Cairnie (pic above) are just a handful o' well-kent Scottish songstresses that Rabbie Burns himself would most certainly have penned a love poem for. Here's a wee sample o' some of that wonderful talent in the videos below…
Eilidh NicCarmaig – "Iain Ghlinn Cuaich"
Hannah Rarity – "Land o' the Leal"
Julie Fowlis – "A Ghaoil, Leig Dhachaigh Gum Mhathair Mi"
Iona Fyfe – "Queen Amang the Heather"
City Life Dundee met up with Iona Fyfe and Eilidh Cormack back in 2019 at the Celtic Connections Festival in Glasgow. You can read our interviews with them in our article here.
Bard o' Lochee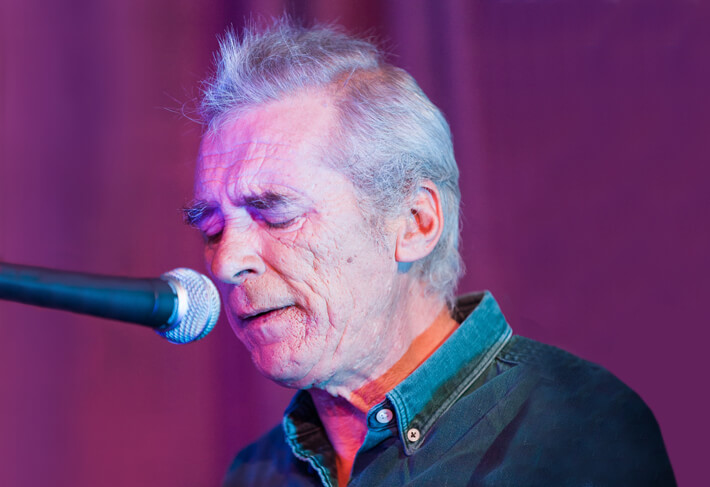 It's fitting that we end this wee Scots celebration with Dundee's very own celebrated bard, the late Michael Marra. Here's Michael performing haunting tributes of Burns classics "Ae Fond Kiss" and "Green Grow the Rashes" in the videos below…
So, whutiver yih dae, keep on speakin' yir mither tongues wi' independent spirit, an' mak' Rabbie Burns proud!