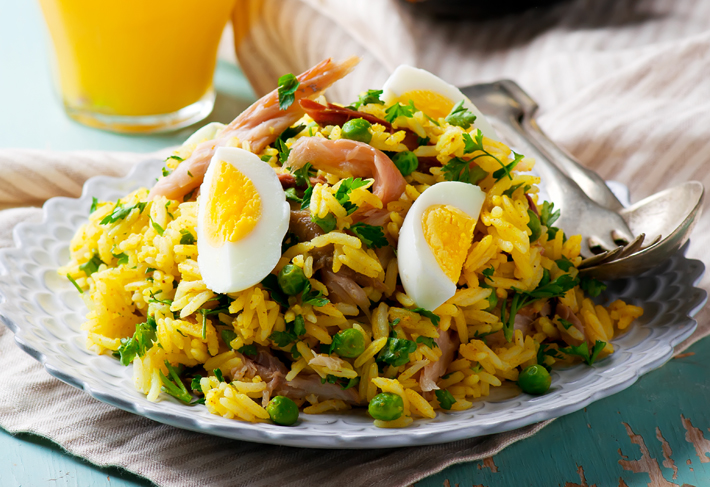 The humble kipper is enjoying a culinary revival. These tasty little fish are full of goodness including Omega-3, Selenium and Vitamins B12 and D. One of the nicest ways to enjoy them is smoked and flaked into a dish of the classic Victorian dish, kedgeree.
To make a traditional kedgeree that serves four people you will need:
1 medium onion, diced
2 tablespoons vegetable oil
175g long grain white rice
300ml semi-skimmed milk
200g smoked but undyed kippers
4 eggs, hardboiled and quartered
1 tsp of each turmeric and ground coriander
1.5 tsp of curry powder
1 bay leaf
Small bunch of chopped parsley
Method
In a large pan, soften the onion in the oil.
Add the spices and a pinch of salt and cook for 3-4 minutes.
Add the rice and cover with 400ml cold water. Put the lid on the pan and bring to boiling before returning to a simmer.
Turn the heat off after 10 minutes but leave the lid on and allow to steam for 15 minutes.
In a separate pan, poach the haddock in the milk for approximately 10 minutes or until the centre of the fish seems opaque and flakes easily when prodded with a fork.
Flake the fish and stir, along with fresh herbs, into the rice before topping with the quartered boiled eggs.
Kedgeree is a dish that tastes delicious the following day, once the flavours have had a chance to develop, and it can be eaten hot or cold. Haddock is a tasty alternative to kippers, but any firm white fish can be used, including pollock and cod. You can boost the golden colour of the dish by adding a few strands of saffron to the rice as it cooks.
When it comes to fish, local is always best and Dundee has a choice of excellent fishmongers. Alternatively, have a wee day trip to Arbroath to pick up some freshly smoked kippers and soak up some Scottish history while you are there. Check out our Travel article for inspiration.