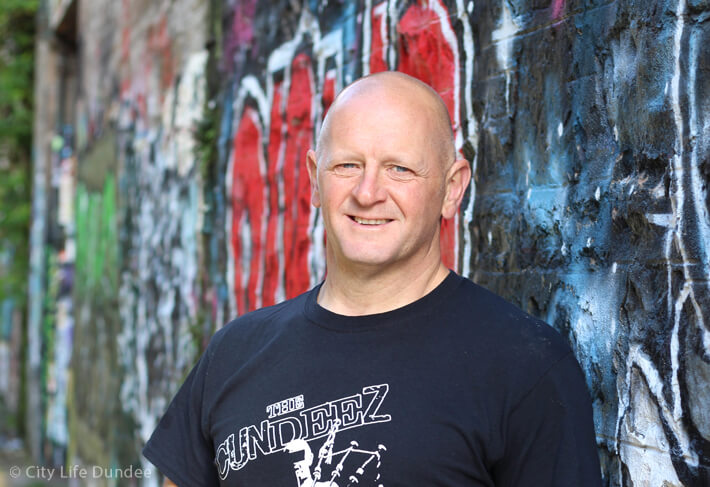 "Be proud o' whaur yih come fae, keep speakin' yir language, it's wha you are!"
When City Life were planning one of our first 'Dundonian Life' articles, back in 2014, we were surprised to hear the casual criticism "He's just doing poetry with a Dundee accent!" from a fellow Dundonian directed at Gary Robertson, one of Dundee's most authentic creative characters and one of the most extraordinary personalities you are ever likely to meet. That early article on Gary went on to clearly portray a man that was more than just a laddie brought up in the housing schemes of Dundee, and certainly much more than just a street poet with a Dundee accent. We found a man who had written multiple books such as Skeem Life, Gangs o' Dundee and Pure Dundee. He had written and acted in successful sell-out plays at The Rep Theatre; The Berries and The Scaffies. He was a prolific singer, songwriter and bagpiper in his punk band The Cundeez. He participated in one of television's first ever reality shows, SAS: Are You Tough Enough?, won it and then wrote a book about it; SAS: 11 Days in a Hell Called Paradise. And, just for fun, Gary spends most of his weekends hiking in the Scottish Highlands and has already bagged all of the Scottish Munros. Unbelievably Gary does all this whilst working full-time as a local Dundee City Council bin man. As this proud family man and young grandfather passionately proclaimed to us back then, "Eh dinna see masel' as a writer, people are like, "yer a playwriter and a novelist"… nah, eh'm a scaffie!".
So, what's wrong with speaking with a Dundee accent anyway? Why shouldn't you express your true self and artistic passion in the mother tongue you were born with? Dundonian is a mother tongue for a lot of people from this wonderful city and certainly nothing to be ashamed of. Gary is one of the most prolific patrons of our dialect and has been publicly championing it, on our behalf, for years during times when it probably wasn't all that fashionable. As Gary highlighted to us back in that first article, he was inspired by the kings of the Dundee dialect, Michael Marra and Saint Andrew, who both blazed a trail for us all, and who showcased and validated on a national stage that it's okay to express yourself creatively and intelligently in the Dundonian dialect. Others also influenced Gary in his search for his own unique voice, such as fellow street poets Kevin McCabe and Mark Thomson, and Dundonian wordsmith Mick McCluskey also has to take a wee part of the blame. Since that first article Gary hasn't stopped and Dundee hasn't stopped, and here we are moving into the year 2020 with Dundee well and truly back on the world map, thanks to the international spotlight shining on the new V&A Museum. "Ken what, eh think nationally Dundee is the biggest hidden gem in the country, eventually one day the whole world will ken whaur Dundee is on the map" – Gary's prophetic words, expressed to us back then, have now come true; Gary and other Dundonians, confidently expressing their authentic selves, are now deservedly being illuminated in the same global cultural spotlight.
So, it was fated that Gary's words were to come true, as the whole world now kens whaur Dundee is, and so it was destined that Gary would be the face of our City Life Fifth Birthday Special. Who better to represent our celebration of Dundonians than the very man who has just won the accolade of 'Scots Performer of the Year' at the 2019 Scots Language Awards, and who has been boldly representing oor culture and oor dialect on a national platform for years through his various creative projects – books, poetry, music, plays, television interviews, documentaries and more! Gary is from the streets of Dundee, born and bred in the schemes and the 1970s' school of hard knocks. It was, therefore, time for a big catch-up with the fast talking, hill walking, punk rocking, hard knocking, Scots talking, loveable scaffie fae the Fintry council estate…  
"Eh dinna see masel as a writer, people are like, "yer a play writer and a novelist"… nah eh'm a scaffie!"
Into the Valley of Scottish Punk
We were invited along by Gary and his band, The Cundeez, earlier in the year to see them perform on a Scottish tour with Dunfermline punk legends The Skids, who screamed onto the punk scene in the 1970s with their iconic hit song "Into the Valley". The City Life team didn't know what to expect, we thought it could be total mayhem, and, sure enough, it was musical bedlam – but in the best possible way. The Skids played a full set of all their classics and The Cundeez gave a rendition of some of their most popular hits including "Yir Talkin' Shite", "Mr Politician", "Ehm Feelin' Teckle" and "Gangs o' Dundee", and showcased their explosive new song, "Made in Dundee". To see The Cundeez and The Skids playing in their punk element is a true wonder to behold, for a moment we were all back Into The Valley of 1970s' punk.
We caught up with Gary and The Cundeez boys; Stevie, Trotsky, Tez and Jock; before their legendary punk mayhem spiralled into the wee hours of the night…
"We were telt you'll never get Dundonian punk oot o' this toon, it'll never travel, ha ha ha! Wiv now played a' o'er the world and met so many pals o'er the eleven years wiv been on the go, it's jist been tremendous. We meet people fae a' o'er the world, we love gettin' oot the toon an' seein' the world. We actually spend mair time talkin' tae people than actually drinkin' nowadays, cause there's that many people tae see, ha ha ha!"
"You'll never get Dundonian punk oot o' this toon, it'll never travel"
Punk influences and inspirations…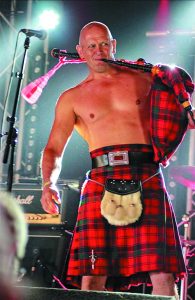 "Any o' the auld bands like Sham 69, Angelic Upstarts, Cockney Rejects, GBH and The Skids. There's no' that many big bands fae the seventies or eighties that we worshipped in oor young days that we huv'na supported. A couple o' the big bands we'd like to support would be The Killing Joke or Moscow Death Brigade, and a support slot wi' ABBA wud be the cream o' the crop, ha ha ha! We're always delighted tae share a stage wi' The Skids, and it's a real honour and a pleasure tae be there wi' thum. These wir yir idols when yi wir young and pogoing aboot yir bedroom, an' now yir getting ti speak wi' them on friendly terms. It's great, thir jist normal people, ken!"
The Cundeez message…
"The Cundeez is anither wee avenue o' creativity, four guys and Jock, over fifty years o' age, promoting the working class and oor language and the culture o' Dundee. Oor motto fir the band is "keep it oary!". We write an' perform a' oor stuff in broad Dundonian, an' whether people ken what wir sayin' or no' they come alang an' enjoy what wir daein. There's nae point us goin' on stage an' singin' in English accents or American accents an' trehin tae be sum'hin yir no'. We're jist guys aff the streets singin' aboot wir ane toon an' what's goin on an' capturing a wee bit o' humour, social comment an' hae'in a go at the political establishment, ha ha ha!"
Punk Music is the Drug
We spent some time with Scottish punk rock legend Richard Jobson from The Skids after the Dundee show…
"The music is a very physical kinda music, you've gotta be on it, you can't take your foot off it, it's kinda gasoline, foot down and away you go stuff. And The Skids have got a melodic, slightly arty sound, so it still seems to be alive and relevant today. We were just working-class kids from the East Coast, not that far from Dundee, proud of where we came from and our identity. So we never tried to copy anyone else, we stuck to that and it's still alive. We try to have a lot of fun doing it and I still really love it… surely you can tell… it's not fake, you know?!"
Dundee roots…
"I came up early to have a look at the new V&A, which is an absolutely breath-taking space, and I was walking down the stairs when my brother was walking up the stairs! He'd never been to Dundee before and he said to me, "Oh my god this place is fucking amazing!", ha ha ha! I remember Dundee when it was really a tough place. My mum was brought up in care here and she ended up becoming a nurse here, so we've always had a strong connection with Dundee. I know things are still tough, don't get me wrong, but there's a kinda optimism and vibe now. I've gotta tell ya, I've never seen so many good-looking young women at a Skids gig, I was like, "Wow!", as normally it's all fat old bald blokes, ha ha ha!"
Secret of youth and advice to youth…
"I just keep myself fit and strong, I don't really drink, I don't smoke and I have never done drugs… punk music is the drug, ha ha! I love meeting people like The Cundeez boys and swapping stories about the old days of how we used to come up here and take on the Lochee Fleet, ha ha ha! [Suddenly in the background Gary Robertson jokingly shouts "Shams rool!"] If you believe in what you're doing then stick with it as something will come out of it, but I think you've gotta really believe in it, if you don't believe in it then it's just a kinda means to an end."
Speed of Life and Into The Valley…
"My novel came out last year called The Speed of Life, it's about aliens that come to earth and find David Bowie. It's a really cool pop-cultured book about music and fashion. Also my autobiography, Into the Valley, has just come out. It's a good story about my early years and wee bit about how we came through from Dunfermline to take on the Lochee Fleet. I was a crazy young kid, ha ha ha!"
The Middle O' Nowhere
It was inevitable that Gary would finally write a play about his lifetime passion for hillwalking and sleeping in the remote wee public bothies out in the wilds of the Scottish mountains. He actually started writing this play many years ago, however the massive success of his previous theatrical endeavours, The Berries and The Scaffies, put this one well and truly on the bothy shelf for a guid wee whiley. So, earlier in the year, The Rep Theatre in Dundee once again opened the doors to another sell-out run of Gary's shows, this one the most ambitious yet, The Middle o' Nowhere: A Bothy Haunting. Who's mad enough to try to sell a whole week of shows based on a story of the bothy culture that not many people even know about, never mind have experienced? Gary Robertson, Sue MacDonald Roberston, Eilidh Robertson, Kevy Parr, Kenny Cathro, Chloe Anderson, Alan Christison, Lynne Binnie and Steve Merton were definitely mad enough to step up to the challenge.
We caught up with Gary after the show…
Ae fareweel, alas, for ever!
"Every show wiz dedicated to wir pal, Scotty Petrie, fellow Dundee scaffie and actor in the play who sadly passed away during rehearsals. "Ae Fond Kiss" is a great Robert Burns sang and a great love sang that we sing in the play, and it became even mair poignant when wi lost Scott, an' tih perform it every night live wiz very emotional, but Scott wiz never far fae wir hearts as he was so passionate aboot Burns and everything Scottish."
Keechin wir breeks…
"Wi wanted tih bring sumhin' different fae what we did wi' The Scaffies and The Berries an' wi took a huge risk on daein The Middle o' Nowhere as originally it wiz jist gonna be a comedy like wih did afore but wi said what aboot addin' the spooky element? Again, it's a' based on past experience o' going into the bothies, eh've been dae'in it for thirty years an' we have had some experiences whaur we've been keechin' wir breeks! Wih wirna sure how this wiz gonna be received fae the audiences so ah went an' wrote it an' wiv been rehearsin' fir six months, an' when wi went live on the Monday night wi really wir keechin' wir breeks, ha ha ha!"
Bothy life…
"What eh really wanted tae dae wiz recreate what wih dae in the bothies, the bothy life really is sing-sangs, banter an' talkin' nonsense aroond the fire. It's a subject that very few people huv been involved in, gonna awa' intae the hills cerryin' a ruck sack the sez o' a caravan on yir back inta the middle o' nowhere. So it wiz great tih open that door an' let people see what goes on in these wee places, an' it wiz great addin' in a wee bit o' history an' humour an emotions an' some spooky stuff. These wee places are open-door and there are so many characters yul meet, so eh wahnted tae play on the rough working class Dundonians contrasted with stereotypical posh fowk fae Edinburgh, cos we're no' everybody's cup o' tea when we go to some of the bothies, ha ha ha!"
Like father, like daughter…
"Eh wiz on stage wih mah daughter, Eilidh, an' ma' wife, Sue, directed it an' wi hud such a great cast and back stage crew. This wiz the first time the two of us hud been on the stage thi'gither an' it wuz a lang time comin' but such a special moment. Jist need tae get ma son and mih grandson on stage an' uhl've done the whole lot, ha ha!"
We chatted to Eilidh Robertson after the show…
"I've actually been involved with theatre since I was four years old and it comes from my mum and I've went through the ranks really. My dad's writing is genuine, it's everything that people from the schemes can relate to and that's what makes it funny. I can find some sort of personality in my dad's writing and I really like that. Look at what Gary Robertson the bin man has achieved, a scheme boy who has come from nothing. Gary Robertson is just my dad, he is an inspiration to me and so is my mum."
We caught up with mum, Sue, the show's director, and asked her if it was true that behind every great man is a great woman?
"Yeah it is true, ha ha ha! We've been together since I was eighteen, so I know his passion and what he thinks and feels. So, to see it on paper, and then for it to come to life on the stage, makes me feel so proud. Sat there tonight and, having seen six months of work, I laughed and I cried, it was brilliant. I look at Gary's work and think, "wow that's so real", Gary is real life."
We grabbed Gary as he was leaving the theatre, to ask him for the secret to doing a successful play…
"Yih jist need a script, a theatre, performers tae play the parts, dae some rehearsin' and then sell oot the tickets, ha ha ha!"
Speakin' Proper Dundonian
We recently met up with Gary, the freshly crowned 'Scots Performer of the Year 2019'…
We talked about the Dundee character…
"Eh always say it, the Dundee people ihr the maist warm, generous, genuine, funny characters in the wurld! They're beautiful people tih pick characters fir plays or what-ihver yir writin' aboot, as the people are so rich and diverse an' it's great tae bring thum tae life on the stage. Eh luv jist gettin' inside meh ane haid an' being a' these different characters, an' yih only hae tae look at what's happenin' on the streets or the life aroond aboot yih, an' jist seein' how people go aboot their daily lives, especially in Dundee. Eh'd love tae tak' the plays ootwith Dundee, as the humour and the content could travel, eh think we could spread the Dundee character across the world, ha ha ha!"
We spoke about his passion for writing…
"There's that auld sayin', "write aboot what yih ken", an', fir me, eh could'na write aboot workin' in an office or bein' a brehn surgeon or that, but what eh love writin' aboot is what eh've experienced in meh ane life, as being a scaffie an' memories o' the berries an' going hiking in the mountains is really sum'hin close tae meh hert, plus millions o' ither hings that huv no' even been written yet. Yeah, it's the life eh've lived an' ither people's stories add to it and yih add some poetic touches an' add erms an' legs on stuff, ha ha!"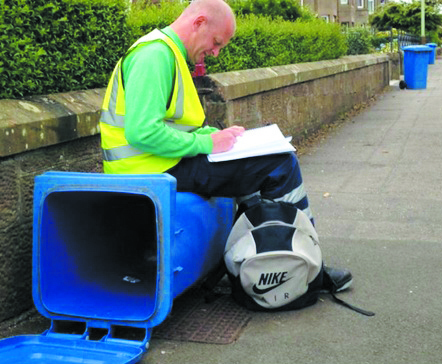 We wondered where he's still getting time to do all this writing and performing…
"Eh'm late fir everythin' an' uh'll probably be late fir meh ane funeral but eh think it's how you manage yir time, wiv a' got twenty-four oors each day! There's times when yir writin', it's goin' great an' yir producin' loads, then there's ither times whaur yul sit doon an' yul maybe get a couple o' lines. It jist depends on what frame o' mind yir in, an', these times, eh've learned over the years no' tae get too uptight aboot it, because the creative juices uhl come an' when it's good it's good, ha ha!"
His advice to young Dundonians…
"When eh was a young, eh wiz ane o' the shyest people yih could meet, an' scared o' meh ane shadow an' low self-esteem, people might no' believe that, ha ha! Eh would say tae anybody, young people especially, go an' chase yir dreams an' dinna let anybody tell you yih canna, it dis'na metter what backgroond yih come fae, if you've got an idea an' a passion go fir it, an', if you believe in yersel', you kin dae it. If that dis'na work then jist go ontae the next thing. It's even better if there's ither people goin' on the journey wih yih an' encouragin' yih an' inspirin' yih. Jist like what you dae wi' yir magazine, when yih speak tae people, like you guys, it fires yih up an' inspires yih, so jist go for it, go an' be the best person yih can be!"
Dundonian enlightenment…
"Dundonian is a beautiful language, we've been put doon fir so lang but people ihr finally beginning tae hae the confidence tae speak the proper tongue that we wir born wi'. The tide is turnin' an' Dundee people ihr findin' thir voice again an' being proud o' the weh wi speak. If you go back a wee bit further, tae guys like Mick McCluskey, Mick Marra an' Saint Andrew, they were oot there pushin' the Dundee dialect an' wir so funny. It wiz great tae hear people speakin' oor ane language, an' Mick McCluskey done the book Dundonian fir Beginners, an' seein' the written Dundonian an' then the translations intae standard English, an' jist the weh he weaved it wiz hilarious. They guys and probably people afore them, an people like ma'sel, Kev McCabe, Mark Thomson an' Stevie Merton, we grew up speakin' this language, so we're jist cerryin' on fae whaur people huv went afore. It's really important that we protect oor identity and oor language cos that's who the Dundee fowk are. It dis'nae metter whaur yih come fae in the world, you should be proud o' the language yih wir born wih, an' speak it an' keep speakin it!"
Winning a 'Scots Performer of the Year' award…
"When they announced meh name at the awards, eh wiz aboot in tears, but it's funny eh've no' really stopped to sit back and think what it's meant, eh've jist kept daein what eh love daein an' speakin' Dundonian. It's really strange tae think how far it's a' came fae, the wee beginnings o' daein performance poetry, but at the root o' it a' is aboot gettin' the Dundee language oot there, an', now it is oot in the world, it's great tae see whaur it's goin'. So, be proud o' whaur yih come fae, keep speakin' yir language, it's wha you are!"
I think we can all agree, Gary isn't just doing poetry with a Dundee accent; he lives his life expressing his true self, in the language that he was born with, loves and kens best, his mither tongue, Dundonian. Gary Robertson – street poet, author, playwright, actor, piper, singer, songwriter, hillwalker, professional scaffie, and Dundee's first ever Scots Language Award winner… Made in Dundee.