"The best is all you can do, but it's the thing that you should do!"
Dundee came alive to the vibrant sound of jazz once again when this annual musical extravaganza rolled into town. Travellers from all over Scotland and the rest of the world gathered in Dundee to perform their own unique kind of jazz magic. Greek singer Irini Arabatzi radiated her warm Mediterranean vocals into the cold autumnal night, and the clan chief of Scottish jazz, saxophonist Tommy Smith, tuned in with pianist Peter Johnstone. Scotland's queen of Gypsy jazz, Seonaid Aitken, was on top form as always with her Rose Room Gypsy Quartet, and Edinburgh's Colin Steele trumpeted his love of the Joni Mitchell songbook.
Dave Batchelor with The Scottish Swing Orchestra and pianist Richard Michael took us on a journey through jazz history. Mezcla, Animal Society, Orion All Stars and Aki Remally all brought their own vibrant jazz fusion styles. Gerry Jablonski was electric with his high octane blues roots crew, and Ali Afflek, a once-upon-a-time Dundee lass with New Orleans running through her musical veins, turned up with one of New Orleans's most exciting jazz pianists, Joplin Parnell.
'Jazz in the Ferry' was as high-spirited as ever with Havana Swing, Brass Gumbo, The Vintage Girls, Georgia Cecile and many more. The Belgian 'Gypsy King' of world jazz, Tcha Limberger (blind from birth), who absolutely hypnotised the Dundee crowds with his virtuoso jazz performance, was brilliantly supported by Australian Sébastien Girardot on double bass and Scotland's own jazz guitar genius, Dave Kelbie. The jazz funk spirit of the legendary Average White Band was celebrated with former members Hamish Stuart from Glasgow and American Steve Ferrone, who mustered a carnival of musicians to salute the memory of founding member of the Average White Band and world-renowned Scottish jazz funk saxophonist Malcolm 'Molly' Duncan from Montrose, who sadly passed away just before he could attend this year's festival performance.
We were lucky to catch up with Hamish Stuart, Irini Arabatzi, Seonaid Aitken and Tcha Limberger during the festival.
'Picking up the Pieces' of Molly's Passing with Hamish Stuart
We spoke with Hamish Stuart; the Glaswegian singer-songwriter, guitarist, and ex Average White Band member, who has played with Paul McCartney, Ringo Starr and Aretha Franklin, and written for Smokey Robinson, Diana Ross, George Benson and many more; to ask for his thoughts on the sad passing of Malcolm 'Molly' Duncan.
"Although he is a Montrose boy, Dundee is where jazz music really took hold for him and where he really started playing. The first time I ever went to a jazz club was with Molly back in 1973 at Ronnie Scotts in London. The last time we played here, at the Jazz Festival in 2017 as a five piece with Molly, was the best gig we ever played in Dundee! For me, Molly was always the heart of the Average White Band, he was at the centre of all the fun and he was always at the centre of the stage, and kinda the balance of the whole thing. Molly's solo on "Pick up the Pieces" has become kinda iconic. He was a great raconteur, he could really tell a story and embellish it, ha ha! He was a really sharing person, upbeat at all times and a great person to play music with, jazz was his real love! He's certainly well remembered in the community. Of all the musicians I know and all the musicians he ever worked with, everybody enjoyed Molly because he was that kinda guy."
The Voice of a Greek Goddess, Irini Arabatzi
Born in Greece, grew up in Belgium and now based in London, Irini is one of the most exciting female voices on the scene. We talked about her love for music and the magic of jazz.
"What makes it so appealing is the spontaneity it has and the improvisational aspect it has because you need to be alert, listening to everything that is happening, it doesn't let you fall asleep, you have to be very present. So the improvisation and the playfulness it has between the musicians is what makes it so special, and every night you play is never the same, that's magic I think! I haven't done a degree in music, nor have any official music qualifications, I think you just need to love it so much and remind yourself every day why you started loving it. In times of self-doubt, I just try to remember how jazz really moves me and how honest I feel when I sing, and continue to challenge myself. That's why today I played the guitar for the first time ever in a gig!"
Scotland's Gypsy Jazz Queen, Seonaid Aitken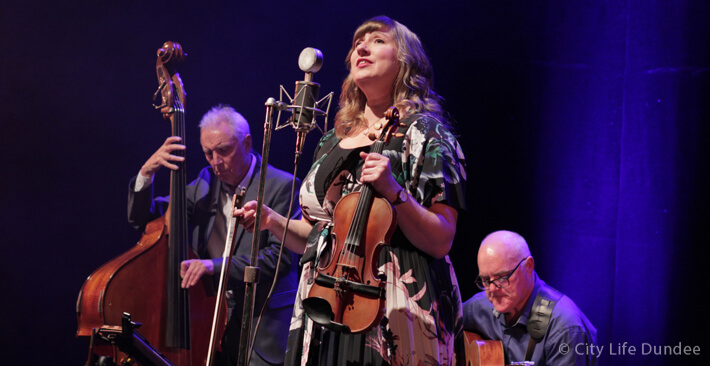 We chatted with Glenrothes-born fiddle player, jazz songstress and Radio Scotland's Jazz Nights presenter Seonaid Aitken about her passion for Gypsy jazz.
"It's just a pure love of music I've had from a very young age. I trained in classical music but grew up with folk music, country and bluegrass. I've always idolised violinist Stéphane Grappelli and thought 'can I do that?'. So, eight years ago I went along to a Hot Club session and then realised 'yeah, maybe I can'. So I just kept going at it and have now been to the Django Reinhardt Festival in Samois-sur-Seine in France, the Mecca of Gypsy jazz, and now jammed with people from all over the world. Jazz gives you freedom to go anywhere you want on the instrument and to improvise and just let your fingers take you where you want. You play the tune at the beginning and the tune at the end but in-between you are free to just have fun!"
The Gypsy King of Jazz, Tcha Limberger
Born into a renowned Belgian family of Manouche musicians, multi-instrumentalist Tcha Limberger grew up in a world of the Gypsy swing style of Django Reinhardt. We were surprised to hear Tcha reciting a few Scots words in his performance…
"I was performing a fifteen month recital with a Scottish dancer and she taught me the song "Donald Where's Your Troosers"… ha ha! I love languages and I love accents, and I think it's the most wonderful thing, and I wish I could learn them all but I can't. I speak ten languages now but I'm afraid I won't be able to add the Dundonian language, ha ha ha!"
We asked about his musical roots and travelling spirit.
"I was born into music, my father was playing, my uncles were playing, my grandfather was a fantastic musician. From the age of three we lived in a house, as my mum was not Gypsy and also so I could go to school which in those days was not very usual for a Gypsy kid. I forget the number of times I have moved since I left my parents' house. I seem to be a traveller but it's not that I'm actually really searching for that."
We talked about the natural happiness and joy he shows when performing on stage.
"There is no point in doing anything that you don't like. You can earn money, I guess, by doing something you don't like, but it will never make you happy so why on earth do it? I really think, from the bottom of my heart, that we can only do the best we can, and more than that is not possible because you cannot do more than your best. But you're not allowed to do less, and I think that's incredibly important. And that's not only for music, as music is not music in itself, music is a part of life, it's like breathing, it's not some artificial thing, it's part of us and it's the only way to actually really play music."
His thoughts on Scotland…
"I love the Scottish languages and the sound of how people speak here, and I love the old songs and I love the bagpipes, I really do, ha ha ha!"
As we guided him back behind the stage, Tcha asked us to share a few Dundonian phrases so we happily obliged with "Dih yih ken wut eh'm sayin", "Ir yih goin' doon the toon the morn" and "Ee wiz we wih". Tcha's natural ear for language detected elements of Flemish and German in those first two phrases but surrendered, "what on earth is 'ee wiz we wih'?!"
Final Parting Note
He was with us wholeheartedly tonight and the world-travelling Gypsy king of jazz left us with this final deep note ringing in our ears…
"Remember, the best is all you can do, but it's the thing that you should do!"