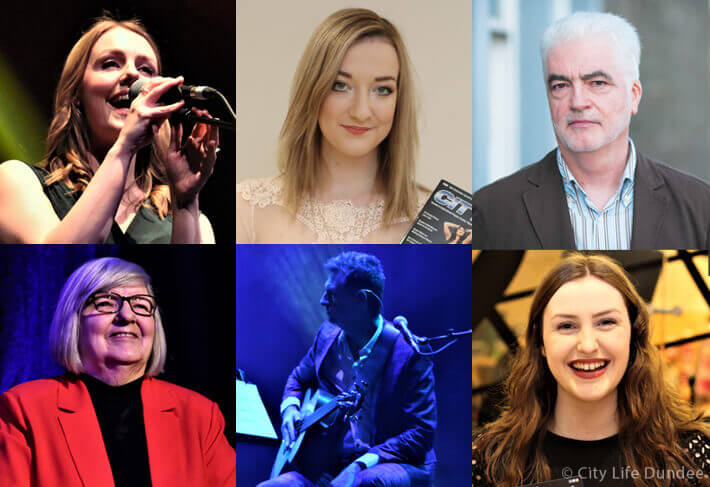 "It's an ancient language and it's oors!"
The City Life annual pilgrimage to Glasgow's Celtic Connections Festival earlier in the year, to soak up the best of Celtic music from around Scotland and the world, was the most eagerly anticipated in a long time. Oor mither tongues, 'Scots' and 'Gaelic', were being confidently celebrated like never before and Dundonians, as always, were at the forefront of this Scottish revolution. Dundee born and bred Ged Grimes, of Scottish stadium rockers Simple Minds, was leading a 'highland charge' of rebellious Dundonians, Scots and Gaelic musical mercenaries in The Bards Tale, a show that interweaved acting, music, song, video and gaming to showcase a new conceptual experience, live at the Glasgow Royal Concert Hall. Dundee's musical son, Gregor Philp of Deacon Blue, was a main co-conspirator and Dundee actor John Buick played a leading role in the creative rebellion. Others with Dundee connections supported The Bards Tale, such as the Mackenzie sisters and other independent minded musical rebels such as Sheena Wellington and Andrew Wasylyk added to the Dundonian roll call at other festival performances. We also got up close with two newly crowned Scottish queens, Eilidh Cormack, 'Queen o' the Gaels', and Iona Fyfe, 'Queen o' Scots', and we literally bumped into the national guardian of all things Scots, Dundee based award winning broadcaster and writer, Billy Kay.
Here's a look back at the celebrations and a wee insight from some of the performers on how important it is to confidently celebrate our mother languages…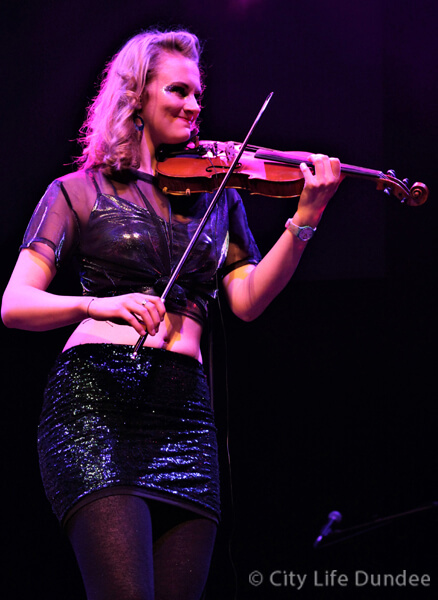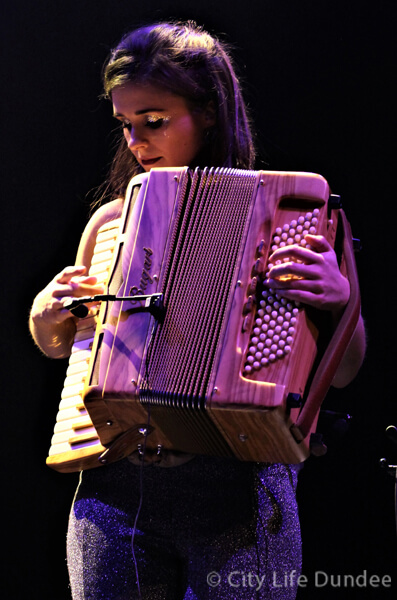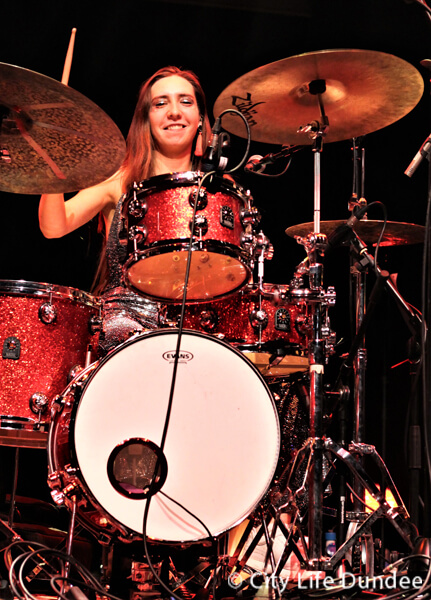 Ged Grimes
We had a wee chat with Ged Grimes after the show…
"The Bards Tale is a great mixture of the two languages, Gaelic and Scots, and I've always said you dinna need to fully understand the languages to get the emotion of the songs and where the ancient songs come from and, hopefully, what I've tried to do with The Bards Tale is not to reinvent it but to frame it in a different way. Eh think, fae meh point of view, I've just observed how important our language and music is to our culture, and how it really unites people and the pride that people have got in their roots. The fact that Gaelic and Scots is being heard in The Bards Tale music and game is a brilliant thing because it internationalises the languages and people all over are getting interested in the culture through the game. The language has to be relevant for it to exist and to survive and The Bards Tale game does that."
"Eh'm no a Gaelic speaker but, when some of those ancient Gaelic songs get played, there is something triggered inside you and you go "that's my roots from some distant past", and it's came down the millennia and here we are, on the stage at Celtic Connections, performing this hundreds of years later, so you feel especially connected to something ancient. Eilidh Cormack's emotional impact, when she sings 'Iain Ghlinn Cuaich', an old Perthshire Gaelic song still sung in the Western Isles, takes you back to another world. It's an ancient language and it's oors!"
We asked Ged what he thought about Dundee culture going positively global…
"I'm like you guys at City Life, I'm a passionate Dundonian and I realise that Dundee only really gets the right recognition that it deserves through people like us talking aboot it. It takes this kinda story and your magazine stories for people to go "wow, Dundee's a positive place to be". Your team must be sending the magazine all over the world because it was really special when I got messages from Simple Minds fans in Italy saying "we got a copy of the City Life magazine!". Ha, ha, ha!"
Ged was right, we now post copies of City Life magazine all over the world including Australia, USA, Denmark, Netherlands, France, Switzerland and Italy. The untold stories of the Dundee people really are now going global!
Eilidh Cormack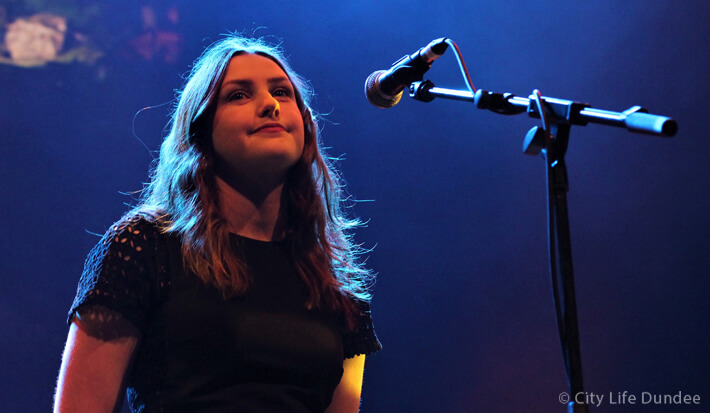 "It's really important that you keep up the passion for your language and culture."
We caught up with Eilidh Cormack, 'Queen o' the Gaels', one of the star voices of the show and Gaelic Singer of the Year 2018…
"It's totally amazing, it feels really good to have Gaelic on the stage like this and to be incorporated into such a unique show and into an internationally renowned game. It was lovely to see all different elements of our Scottish culture coming together in this one show and this one game and being put on a world stage. Yeah, it's absolutely fabulous!"
We asked her if she coped with the Dundonian dialect of Ged Grimes and Gregor Philp and what it was like working with Ged…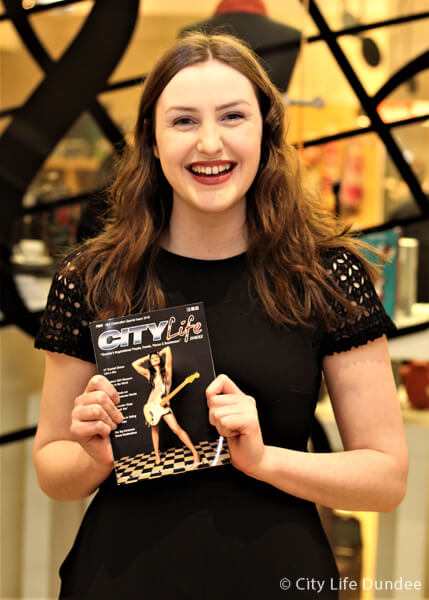 "Ha ha ha! You know, it was actually fine as I've known Ged for a while, but only met Gregor for the show. Och yeah, I'm getting there! Gregor's probably the hardest to understand but don't put that in writing, ha ha ha! It's been absolutely fabulous working with such a renowned, well-known musician, and him taking such an interest in traditional music and Gaelic culture. He's amazing to work with and he's an absolute music machine, ha ha ha!"
We asked Eilidh about the haunting Gaelic song she sang 'Iain Ghlinn Cuaich' (Iain of Glen Quoich)…
"It's a very old Perthshire Gaelic song, still sung in the Western Isles to this day, about a woman that is in love with a nobleman but he has gone and left her for a somebody more well off than her, but she's saying, "If he comes back he'll be forgiven and we can go on as if nothing ever happened". It's a really beautifully sad love song and she's saying, "Whatever happens, I'll be waiting"."
We asked where the natural passion to champion her culture and language comes from and what advice she would give to young Scots and Gaels…
"I've been raised that way. My dad is very much a Gaelic activist and my mum's a Gaelic teacher and tradition bearer of Gaelic songs, so I think just having that from day one, being brought up in the house speaking Gaelic, and growing up in the Isle of Skye and the Gaelic community. You experience a lot of the hate that the Gaelic language gets and you feel like that's a personal attack on you. So, keep fighting for what you believe in and keep going with your language and culture even though, at the age that you're at, people may not think it's cool. It's really important that you keep up the passion for your language and culture."
John Buick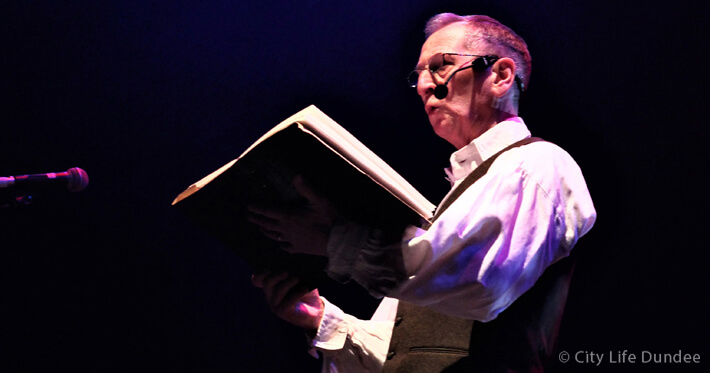 "The depth of cultural talent that exists in both the Gaels and Scots never ceases to amaze me."
We met up with John Buick, Dundee actor and narrator of The Bards Tale, to ask him his thoughts…
"It was an honour and privilege to work with all the amazingly talented singers and musicians who performed in the show. They are all exceptional and I was so happy to be asked to join them. The depth of cultural talent that exists in both the Gaels and Scots never ceases to amaze me. As far as Ged is concerned, I love him to bits; a more talented, warm, loyal and wonderful human being, you could not meet, salt of the earth."
Iona Fyfe
"It's about keeping the tradition alive and about being humble."

When we found out that City Life favourite Iona Fyfe, Scots singer of the year 2018 and recent Scots Language Award winner, was performing at the same time as The Bards Tale, we had to devise a brief escape plan and pray we could catch this angel of the North East bothy ballad culture. Luckily for us, she was performing in the same Royal Concert Hall building so hopefully we could catch Iona during her interval. Our luck was in, there she was, the 'Queen of Scots', shimmering like a mythical Celtic faerie in her beautiful Tinkerbell-esque dress, talking to some of her fans. With the grace of a young queen she politely made time for a wee interview with a spellbound City Life.
We asked what drives her passion to bring the old Scots voice and song into modern day music…
"I think it's the need to have it not mainstream but accessible, and I think it's great to voice traditional singers like Jane Turriff, Lizzie Higgins, Jeannie Robertson or the Stewarts of Blair and learn their repertoire, but don't imitate them but emulate them maybe. You need to have a contemporary voice and you need to be able to showcase yourself in a contemporary manner because the tradition will be left behind otherwise and we'll be trundling on listening to Lady Gaga forever, ha ha ha! The two worlds, traditional and contemporary music, can and have met!"
Her thoughts about Scots song on the rise at Celtic Connections…
"Yeah, I think so, I do feel Scots is kinda getting more recognition but still not enough and certainly Doric is not getting enough. It's nice to see other young Scots singers coming up, like Ellie Beaton, and there are so many wonderful Scottish Conservatoire musicians from the North East, but I think we've still got a long way to go. If you look at all the amazing documentaries and TV shows on BBC Alba about Gaelic song collections, we can have that in Scots or Doric in the North East but it just hasn't been picked up. Why don't we have that as well here in the east of Scotland? I think it would be a great addition to our culture and would make it fair, as there is so very little money for Scots."
We asked her advice to young Scots following their passion to express their traditional language and song…
"Have a sense of identity, authenticity and integrity about what you do and why you choose to do it. If you're going to change a ballad then you need to understand a ballad inside-out in order to be able to change it with integrity, and when you're growing up and learning you can't be too precious."
Finally, we asked Iona how it feels to be 'Queen of Scots'…
"Ha ha ha, thanks! Actually, someone in Living Tradition magazine said I had "the poise of Saoirse Ronan" (Mary Queen of Scots actress), ha ha ha! We place so much emphasis on awards and titles but that's not really what's important, it's about keeping the tradition alive and about being humble, but it certainly will make things easier for getting bookings which means I can go on and still champion that tradition. It's been a lot of work as last year we done eighty-six gigs in nine different countries, I think my graft paid off in the end."
A Final Verse in Scots
It was fitting that we unexpectedly spotted one of Scotland's foremost guardians of all things Scots, Billy Kay, at Sheena Wellington's performance of The Little Book of Scottish Songs. We asked the Dundee based writer and broadcaster for his thoughts…
"I came through tae see ane o' ma favourite singers, Sheena Wellington from Dundee. I'm delighted by the amazing range of Scots singing here, fae the young bands tae the mature singers like Sheena. I think for a while, because there's a lot o' professional people working in Gaelic and Gaelic broadcasting, Gaelic naturally tended tae be gee'in precedence at Celtic Connections, but I think a balance is finally coming and it's high time. There is such a richness o' Scots language songs, I've jist did a series o' programmes on the BBC where I interviewed fowk in Scots and they wir singing in Scots and talking in Scots, and that should jist be pairt o' oor culture. There should be a television programme every week because it's there, it's rich, the songs are fantastic, the singers are fantastic. It's us, that's whit we ur!"
The Bard's Tale IV game is now available on Xbox One and PlayStation 4 and has been nominated for a Best Audio Design Award at the TIGA Games Industry Awards 2019.