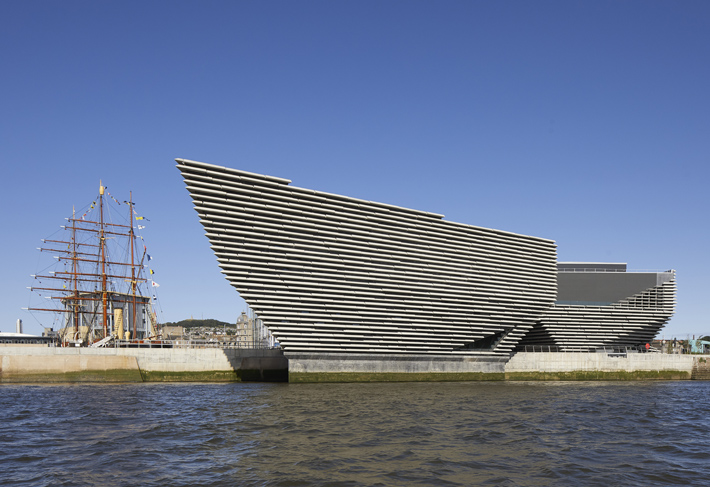 "It's incredible, what's going on with Dundee just now, but just remember Dundee's always been brilliant!"
Jim Kerr, from Simple Minds, summed it up beautifully with his quote (above) on the opening weekend of the V&A celebration week. One of the greatest showmen on the planet, who has toured the world for over forty years and has played in thousands of towns and cities all over the globe, including Dundee many times, knows exactly what he is talking about. It was fitting then that Jim and the Simple Minds travelling family, which includes Dundee's own Ged Grimes, would kick-start a week of culture, arts, music and celebration, heralding in the opening of one of the most iconic buildings ever to be built in Dundee and Scotland.
With the same pioneering and adventurous spirit that the RRS Discovery was built with in Dundee back in 1901, here we were, over 100 years later, marvelling at a brand new kind of vessel that was going to symbolically sail Dundee forward into bold, new, creative horizons. The V&A vision ship, fittingly sat side-by-side with that old ship of Discovery, was ready to be launched and the whole world was watching as the global spotlight shone on bonnie Dundee; one the world's best kept secrets.
Kengo Kuma (pictured right), the Japanese architectural genius, brought his samurai spirit to Dundee and dared to dream a masterpiece and, like a true master, he humbly described his creation as a "living room" for the city, and in doing so captured the true essence and spirit of what the Dundee people are all about. Dundee's V&A Museum "living room" is now open to the world, so come on in…
Aquatic History
So it was, that one of the most iconic buildings in Dundee was demolished to make way for the new V&A museum. The Olympia Leisure Centre, built for the people of Dundee in 1974, was a ground-breaking communal aquatic leisure project of its day, and was actually built near to Dundee's old Victorian Central Bath House, built in 1896. So here we are, all these years later, with an even more ground-breaking project; the V&A Museum. No more would generations of Dundonians be taken back to their childhood by the smell of swimming pool chlorine wafting across the waterfront! The Dundee people, and the new generations, would have to make new memories in Kengo Kuma's futuristic "living room", and what a truly amazing replacement building it is. Although it comes with one major design fault… to date, we haven't seen one coin-operated hair dryer anywhere!
3D Festival
The V&A Museum officially opened to the public on Saturday 15th September 2018, piped in by Dundee school teacher Craig Weir. There was a whole week of celebration in the lead up to the historic weekend which culminated in the 3D Festival of design, music and performance on the 14th and 15th of September. The 3-Js motto of Dundee's auld industries; Jute, Jam and Journalism, now symbolically being reimagined with its new 3-Ds motto of Design, Digital and Discovery. Simple Minds brought their Grandslam Tour, including Chrissie Hynde and KT Tunstall, to Dundee the previous weekend to kick start the week of celebrations; with the 3D Festival weekend showcasing a variety of Slessor Garden performances by children from all over Dundee, and concert performances from the likes of Primal Scream with Jim Lambie, Lewis Capaldi, Be Charlotte, Kyle Falconer, Tallia Storm, Kashmir Crows, St Martiins, Shhe, Andrew Wasylyk, and a spectacular Dundonian grand finale on the Saturday evening with Gary Clark and Dundee's Sistema Children's Choir.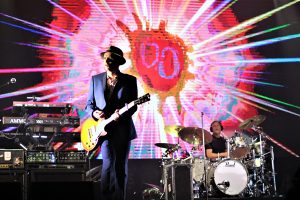 Scotland's First Design Museum
An international centre of design, the V&A Dundee presents the brilliance of Scottish creativity and the best of design from around the world. The first ever dedicated design museum in Scotland, and the only other V&A museum anywhere in the world outside London, the V&A Dundee explores Scotland's design heritage – its past, present and future; and provides a place of inspiration, discovery and learning, through its mission to enrich lives through design.
Admission to the V&A building is free of charge with some exhibitions carrying a separate charge. Opening times are 10:00am to 5:00pm, every day except 25th and 26th December.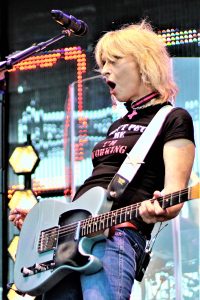 During the celebration week, City Life caught up with some of the people behind the V&A project and some of the famous faces who were in town, to find out their thoughts on the V&A Dundee. Use the links below to read more or to see our photo gallery.