"Did we think those days would last forever?
And there, across the bridge under the bold neon stars"
Not often does a Scottish band of the global magnitude of Simple Minds spin around two albums in the space of two years, but that is exactly what they have just done, oh, and they've thrown in two global tours for good measure! Where do the Minds get all that physical energy? So, with the spirit of the first line from their new "Barrowland Star" track (above), Simple Minds rolled across the Tay Road Bridge and into Dundee's neon lights for the second year running. However, this time they brought a Grandslam stadium-rock circus of musical superstars, including Chrissie Hynde and KT Tunstall, and kick-started an historic week of V&A Museum open-air concert celebrations. Beneath Dundee's very own night-time stars, they symbolically moved Dundee, and its people, out of the past and into its bright and bold new future! Jim Kerr, the Glasgow Barrowland star, also rolled up with a bit of his own music history with brand new songs from the seventeenth studio album, Walk Between Worlds.
The Album
Walk Between Worlds was produced by Simple Minds with Andy Wright and Gavin Goldberg, both of whom worked on Big Music. With its eight tracks rocketing past in 42 minutes, it is a relatively concise affair. It is also an album of two distinct sides, very much the old-school album format that singer Jim Kerr and Charlie Burchill grew up with as music fans. Side one tracks, such as "Summer" and "The Signal and the Noise" revisit the glassy guitars and new wave dance grooves of the post-punk era, while the second half explores more cinematic sounds, with the title track and "Barrowland Star" both featuring dramatic orchestrations recorded at Abbey Road Studios. The album is bookended by two songs about faith, "Magic" and "Sense of Discovery". The first is a reflection on the desire and hunger of youth – the faith in their own abilities that Simple Minds possessed during their formative years. "Sense Of Discovery", which features a melodic refrain that alludes to 1985's "Alive And Kicking", is centred on the voice of an older narrator passing on wisdom and advice to a younger individual.
Jim Kerr's Thoughts…
"As much as it has been a real pleasure to work on Walk Between Worlds, equally so, it is thrilling to observe that the Simple Minds story continues to evolve both in the studio and on the live stage. Each of these songs are destined to become individual events when played live and we look forward to performing all of them alongside already established live classics."
Charlie Burchill's Thoughts…
"After doing the Acoustic album and tour, Jim and I realised that there was a lot more space in the music than previously thought."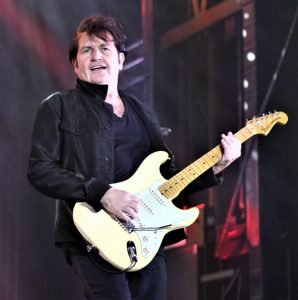 The first track on the album, "Magic", sums up the whole album, it really is. The Simple Minds sound is as clear and distinct as ever but there is a new feeling coming through. There is a wee nod to the past with a brilliant version of the folk song "Dirty Old Town", Sarah Brown's soulful voice on this is just amazing! This album really is walking between the old and new worlds for Simple Minds and it was fitting that they brought this theme to Dundee, at a time in its own history when the city and its people are walking between Dundee's old past and the new world opening up ahead. Well done Jim, Charlie, the Minds team, and especially Dundee's Ged Grimes, for bringing this magical show to Dundee, thank you.