City Life were invited to meet up with KT Tunstall, who was performing on the Simple Minds Grandslam Tour with Chrissie Hynde at the Mary Slessor Gardens V&A opening week celebrations. So, on a cold and crisp Sunday morning, with some excited anticipation, we found ourselves standing at the Robert Burns monument outside the McManus Galleries across from KT's old school, the High School of Dundee. We were told she was inside the new DC Thomson media building and here we were, outside keeping Rabbie company, wondering what to expect, pacing up and down, continually looking over to DC Thomson's for any wee signs of movement. As we stood beside our fellow street observer Rabbie, we surprisingly noticed there was a verse of a Burns' poem on the base of the monument. How had we bypassed this all these years? I suppose Rabbie has watched over many a bairn from the Dundee High School over the years, including KT, and maybe this was a wee sign from the poetic heavens. There had to be a message in this. What was it?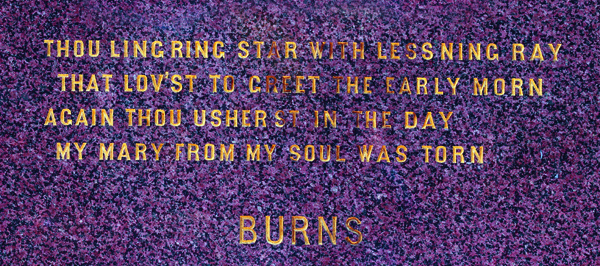 "Thou ling'ring star, with lessening ray,

That lov'st to greet the early morn,

Again thou usher'st in the day,

My Mary from my soul was torn."

– From 'To Mary In Heaven' (Robert Burns, 1789)
Here we were, about to meet a ling'ring star; and here we were, greeting the early morn' with the poetic spirit of Burns himself; whilst a symbolic day in Dundee's new history was being usher'st in with the V&A Museum concert celebrations later that day. The shivers were tingling down the spine as we turned back to look hopefully once again over to DC Thomson's. Suddenly a warm Scottish voice cheerily shouted "hey" behind us, like a familiar old friend, and, as we turned around, there she was, the new millennium's female poet, KT Tunstall, heading straight for us with a big warm smile. This shining ling'ring musical star just usher'st in one of City Life's most memorable days.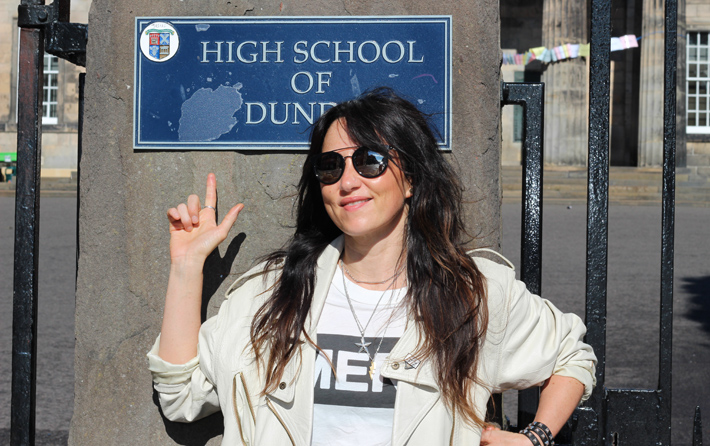 A Musical Star is Born
Kate Victoria Tunstall was born in Edinburgh on 23rd June 1975, but after eighteen days with her biological mother she was plucked like a star from the heavens and placed into the loving arms of her universal parents, Rosemary Tunstall, a local school teacher from St Andrews, and David Tunstall, a physicist who would share his passion for astronomy with KT as a child. As KT recounts, one of her fondest childhood memories is watching Halley's Comet flying through the night sky, with her father in 1986. KT attended Lawhead Primary and Madras College in St. Andrews, then the High School of Dundee, before finishing her schooling in the USA. She earned her BA in Drama and Music in 1996 from the Royal Holloway, University of London, and was awarded an honorary doctorate by Royal Holloway in 2011.
"I was adopted at eighteen days old. We had a very blessed childhood and so pretty much anything we wanted to try, mum and dad would help us. I was into music from a very early age and was trying to write musical notes before I could write, and picking up musical instruments at nursery school in St Andrews. When I started primary school in St Andrews I had a music teacher called Mrs Kingsley. She played piano and looked a bit like Dame Edna and I just got obsessed and got a piano at four years old and got into music lessons, which is pretty young."
The Girl in the Short Pink Skirt
After graduating from university and spending many years learning her musical trade, busking the streets of Scotland and performing in the 'Bean Scene' cafés of that time, she hit the musical scene with a flash in 2004 with a live solo performance of her song "Black Horse and the Cherry Tree" on the cult BBC music show Later… with Jools Holland. One of the City Life team remembers that performance vividly; on the same show as the Cure, a young KT appeared on stage with a guitar, a tambourine and a loop pedal, wearing big muckle boots, a short pink skirt and a tight fitting grey t-shirt. This girl looked different, she looked natural, and wow was she one of the bonniest Scottish lasses you'd ever seen. With flowing black hair; dark, soulful, storytelling eyes; and a smile to melt even the heart of Robert Burns himself. Where did this wee lassie come from? It didn't matter, there she was, a twenty-four hour stand-in for a performer who had cancelled. The universe was working its magic and opening up an opportunity for this young lass who had been pounding the musical streets for nearly a decade. Even if you're very lucky, such a special opportunity often only comes around once in a lifetime, just like the orbit of Halley's Comet had already done in her lifetime. Was she ready? Was she going to take it? The stage of life was set; all eyes were on the beautiful raven haired lass in the short pink skirt…
"I'd been going around Bean Scene cafés, which were a great thing and it's sad they're not around anymore, they really provided for musicians. They started this kind of Friends café style chain where the really supported new artists and you could basically do a Bean Scene tour of seven or eight coffee shops, ha ha ha! At that time it was all about indie boys with guitars and no one gave a shit about a girl with a guitar. It wasn't fashionable, people didn't really want to know. Part of the reason I called myself KT instead of Kate was cause I loved PJ Harvey and I wanted to illustrate that I wasn't just this kinda confessional therapy singer-songwriter that does open mic nights and cries while she is playing, ha ha ha!"
My Heart Knows Me Better Than I Know Myself
Primal hand drumming on the guitar set the beat, then vocalised "woohoos", a few scruffs on the guitar strings and some handclapping followed. Foot stomping and tambourine were thrown into the mix, all the while foot pressing the loop pedals left and right. Suddenly, through all this cosmic chaos, a vibe materialized in the Jools Holland studio. Some of the audience were already clapping, others were tapping their feet, getting into this new sound and getting into this unique girl's groove. Even Robert Smith of the Cure was looking on mesmerised. KT was now swaying her hips to the rhythm, like a flame on a candle. She was emanating a feel-good, free-spirited, soulful sound. Before you knew it, she was back on the guitar and all these elements were looping back. Wow, could she play that guitar. Then came that heart melting smile and dark sparkle in her eyes. Yes, she was ready, she'd been waiting and preparing for this for a long time, she was fiery, she was passionate, she was hungry. Then came the voice and that first line, "Well, my heart knows me better than I know myself, so I'm gonna let it do all the talking", and that was it, the universe had spoken and KT Tunstall had shouted back. She'd absolutely nailed it, she'd let her heart do all the talking alright, and proclaimed to the whole world that a new female musical comet was ready to blaze her trail.
"I don't have a problem saying it was an overnight success because it was, even though I'd been trying for ten years to get there. It was still a pretty extraordinary ascent after being on Jools' show. You know it's the Holy Grail as a musician to get on Jools Holland, no matter what kind of music you play, cause Jools has that magic ingredient of being a rock star himself. Robert Smith of the Cure was the first so-called famous person that I met and I'll be forever grateful because he was so lovely to me. I remember embarrassing myself by asking him, 'What are you doing this weekend', and he said, 'I'm going home to see my mum and dad', and I was like, 'Do they find it weird, your whole make-up and hair thing?', and he was like, 'To be honest Kate, I don't usually do that when I go home!', ha ha ha!"
Astronomical Success
Her debut album, Eye to the Telescope, that followed in 2004, was inspired by her childhood experiences at her father's physics laboratory, especially her 1986 sighting of Halley's Comet. The album led to her nominations for the Mercury Prize in 2005, BRIT Awards for Best British Live Act and Best Breakthrough Act in 2006, and the Grammy Award for Best Female Pop Vocal Performance in 2007. She eventually won a BRIT Award for Best British Female Artist and a European Border Breakers Award, both in 2006. The single "Black Horse and the Cherry Tree" was given the Q Magazine Award for Best Track in 2005, and "Suddenly I See" won the Ivor Novello Award for Best Song in 2006. "Suddenly I See" became a popular hit and has been featured in The Devil Wears Prada; Blind Dating; Love, Rosie; Ugly Betty; Grey's Anatomy; the video-game Thrillville; and as a campaign song of the US presidential campaign of Hillary Clinton in 2008. She has now released six albums internationally and has also written for movie soundtracks including "Boy" for The Kid; "Miracle" for Winter's Tale; "We Could Be Kings" for Million Dollar Arm; and "Float", "Strange Sight" and "1000 Years" for Tinker Bell and the Legend of the Never Beast, to name but a few.
No' bad for a Dundee school lass, eh?!
Coffee at the Counting House
After a photoshoot outside her old school we sat down for a coffee in the Counting House to ask her more about life, music, Dundee and her new album WAX.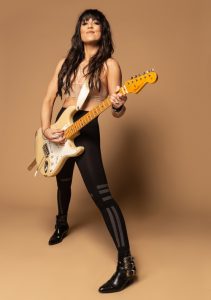 We talked about the spirit and roots of her music…
"Folk music is a really important part of the story for me, especially being Scottish. Growing up in St Andrews I was playing with Fence Collective, King Creosote, and Vic Galloway's band that was around at the time. It was an outsider alternative folk music scene and pretty out there a lot of it. So after a few years of hanging out with those guys, and trying to make a go of it in Scotland, I didn't really want to move to London and I didn't want to sign a record deal. I wanted to do it independent and stay up here but I just couldn't get arrested. I got to twenty-eight years old, a university degree, no money, nothing to my name and I was like, "ahhh, I can't do it, I've got to go down to London". I realised I wasn't just writing alternative folk music, I write pop melodies and consider myself a rock musician these days… but I love pretty traditional melodic pop."
Thoughts on being back in Dundee…
"Dundee's looking good by the way, it's really lovely seeing such regeneration, it really feels exciting. My memory of Dundee is wearing that daft uniform going to Dundee High, ha ha ha! I was at Madras College, about to go into fourth year, and I wasn't allowed to do art and music in the same year and also, because of teachers' strikes, my mum and dad had moved my brother to Dundee High to do his exams. So I did the same thing, which is a shame because I missed Madras very much as it was a great school and I had great friends, but coming over to Dundee, aged fifteen, was where I picked up the guitar for the first time. There was this guitar teacher called Tim, who was a lovely guy, and I'd been through all this classical training, and during my free periods when I was supposed to be studying I would just go off and grab a guitar and just taught myself mostly."
"A few guys who jammed at a flat in the Westport were a great help to me, and in particular a guy called Atholl McLean, who was always doing the sound and turning up with a sound system. You can't do what you do without someone like Atholl coming along and helping out because I wasn't interested at all in the recording side, so he was really helpful in getting stuff down."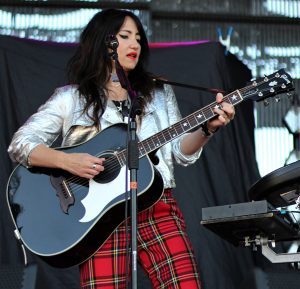 We talked about her strong, natural, female spirit and what keeps her vibe going after fifteen years in the music industry…
"It's a weird and hard life, going into music, because there are no rules and it's very easy to end up with no security and no money but you've had a good time. If I hadn't got onto the Jools Holland show who knows what might have happened. Fifteen years is a long time, it's absolutely fucking hard graft, it's incredibly hard work and I've certainly had times when I've thought I might throw the towel in, especially in 2012. The grind of promoting and feeling like you are in a competition, and you end up thinking 'hold on a minute, I did this to not be in the rat race', and then feel like I'm in a different one, you know? I'm not into that, I'm not into comparing, I love the celebration of music, it's hard enough to get by and make a living as a musician. So it's not easy and you still have to work your ass off to make it work."
On touring with Simple Minds and Chrissie Hynde…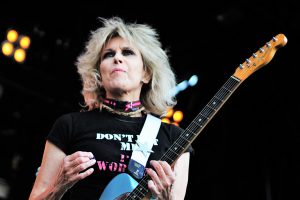 "Simple Minds are like family to me, and Chrissie's been my number one hero for years in terms of her overall credentials as a musician, in terms of her writing skills, her playing skills, her image, her attitude, her resistance to being what anyone else wants her to be, and it was really good timing for me to be on tour with her because I'm on my sixth album and I think it's the best record I've made. It's been so good having Chrissie there in my life at this moment in time, reminding me that the most important thing as an artist is to completely disengage from what other people think of you, and the only way to blaze your path doing this is to stop giving a shit what people think about what you do, because the idea is to be doing something that people haven't thought of yet!"
Life advice to young creatives thinking about entering the music industry…
"My advice is the same as it's always ever been, "get fucking good live!". Really learn your craft and the one thing that I have seen work in my favour more than anything else is to talk to your audience. It's not gonna help you staring at your shoes playing it cool. Chrissie Hynde's the coolest I've ever watched on stage and she talks to her audience, she has a laugh with them and she engages with them. She doesn't take it for granted. So, if you're shy, get over it, talk to the crowd."
Thoughts on the new WAX album…
"I came out of the album, KIN, in 2016 and I just had this vision of making a trilogy of records with the theme Spirit, Body and Mind, in that order. And so this is the Body, part two of the trilogy, so it had to be visceral and sensual and very immediate. As I'm a very observational writer I'll write about stories and I think, more than any record I've made, this record's about the moment, it's about the here and now, how do you feel, what can I feel with my fingers, how do I feel with my heart, how's my face feeling? It's about physicality, and the electric guitar for me is the most physical feeling instrument to play and it's just wild, so it's kinda all centred around electric guitar."
Where is Thy Place of Blissful Rest?
(From 'To Mary In Heaven', Robert Burns, 1789)
We asked KT about the future and City Life…
"The ultimate goal is to die well, it's to embrace leaving this plane excited because you've had a good one, and I think moving onto the next existence after life is gonna be expectedly exciting, ha ha ha! So, living well, for me, is following your highest bliss, working out what you really want and working out what you don't want, and that goes for situations, that goes for people, goes for experiences in your life. It doesn't mean you gotta have an extraordinary day every day, but I'm getting to a place where I'm older now and I'm getting to a place in my life where if I just sit anywhere on my own I'm very grateful, and that is happiness."
"Well done, it's a great magazine, by the way! Being in publications is the same as being in music, it's very difficult, so you've actually got to create something that people want to put their hands on and sit with their cup of coffee, and hopefully they will be listening to my new album while reading the City Life magazine, ha ha ha!"
It genuinely was a real pleasure to spend a brief moment in time with KT Tunstall, who had arrived back at the gates of Dundee High School like an orbiting comet all these years later. The little school girl, watched over by Robert Burns all those years ago, had returned full circle; all grown up, now a superwoman with a whole travelling ensemble of global music superstars including Jim Kerr, Charlie Burchill, Ged Grimes and Chrissie Hynde, to celebrate a new chapter in Dundee's history. She'd really done it, she'd blazed her trail around the planet, from her first days of picking up the guitar in Dundee, and yet, even now, was still shining bright, still natural, still beautiful and still passionate. So, set your telescopes up to the heavens and keep your eye on this shooting star, forever travelling, always looking through her own telescope of life to see where her next journey may take her. So, KT, keep on blazing your trail until you find, like Robert Burns says, "thy place of blissful rest"!
Check out our WAX album review here.