The 2017 festival was a celebration of 100 years of American jazz and also an insight into the exciting new horizons opening up in the jazz world with some new young innovative jazzers leading the way forward with new musical fusions and collaborative ideas. There was a real international flavour and colour to this joyous event and as we travelled through the festival we met a lot of characters eager to share their experiences with us. So here's a wee insight into what these happy jazz souls had to say.
---

ALAN STEADMAN
• Jazz promoter and broadcaster from Dundee
Thoughts on 100 years of Jazz…
I look back on the last century and think jazz was really the soundtrack of the twentieth-century. The major bits in the twentieth-century, something was happening in jazz and it's kinda transcended into the twenty-first-century. And there's no barriers with jazz, all creeds, nationalities, colours and age groups all playing together and that's one of the endearing things about it, as it's a world music that brings down the barriers.
Alan's advice to aspiring young musicians…
You just have to do it and take the good times with the bad times and if you are really passionate about your art you've just got to keep on doing it. You have to work at it and build it up over a long, long time. So many jazz musicians have to do other things to survive but a lot of them wouldn't give it up because jazz is in their soul and that's why many of them keep on playing into their seventies and eighties, why would they stop?!
---

BECCA STEVENS
• American singer, songwriter, and guitarist from Brooklyn who draws upon elements of jazz, chamber-pop, indie-rock and folk.
We asked Becca about the happy energy she transmits to her audience.
I would just have to say it's from my soul, I try to be as honest and authentic as I can be when I play and I try as hard as I can to try and not make it about myself, to let it be just whatever. Honest energy is flowing through me at that moment and the more I am able to connect with the audience the more that joy comes through. I'm just trying to make honest music that moves me.
Her thoughts on Dundee and advice to young creatives…
I've just got here and I like the people and I've had some good food. Make the music that you want to make because you're the one that has to do it over and over again every night. If people like it, good for you, and if they don't, at least you are making music that makes you happy. If you don't make music that makes you happy and people don't like it then you're really screwed, hahaha!
---
LUCA MANNING

• A young up-and-coming jazz vocalist from Glasgow.
His inspiration to get into jazz…
I think, for me, I really got into soul music first, I got into people like Stevie Wonder and Amy Winehouse and people like that and I then I kinda thought "where did this stuff come from?" and the further and further I went back I started to get into jazz and the more I immersed myself in it the more I found I really enjoyed it.
A new generation of jazzers…
At times we can get lost in the technicalities of the music and if you think about where this music came from it was African-American and not necessarily top of the social ladder or well educated, they were completely the opposite and it's important to remember that and respect that in the music, and the whole point of jazz is to do what you want with it but within respect of what came before you. As long as you know what came before you and you keep a bit of that in
---

MALCOLM 'MOLLY' DUNCAN
• Montrose born founding member of The Average White Band, has played with Marvin Gaye, Ray Charles, Tom Petty and Eric Clapton to name only a few, and is still touring the world with the original saxophone he bought from Forbes Music in Dundee over forty years ago.
What is that special magic soul of jazz?
You've hit the nail on the head there, it's soul music, a lot of feeling goes into it or it doesn't work. Stuff that's just technically great doesn't really cut it, it's got to have that little 'je ne sais quoi'. The music in general keeps us going, the music's gotta have the groove. If it's not got the groove, we're not in it, hahaha!
Advice to young aspiring musicians…
Whatever you do, get in a band as soon as you can. Playing in the bedroom is all very well but if you're not playing in a band you're not really gonna get it.
His secret to longevity…
Keep playing in a band, hahaha!
On his nickname, The Duke of Montrose…
We wanted to get into this really suave restaurant in the USA and one of us phoned up with a really posh distinguished voice and said "I'd like a very good table in the window if possible away from most people and I'm coming with the Duke" and the guy said "Who?", "The Duke of Montrose, he's coming to eat in your restaurant tonight and we want four people and we want a very nice table", "Oh yes sir, no problem sir", came the response! So I then had to pretend to be the Duke of Montrose for the rest of the night, hahaha! So that's how the name stuck!
---

HAMISH STUART
• Glaswegian singer-songwriter and guitarist, ex Average White Band member, played with Paul McCartney, Ringo Starr, Aretha Franklin and written for Smokey Robinson, Diana Ross, George Benson and many more.
Where are you still getting your youthful energy to perform?
You've got to really have a real passion for it and really give yourself to it wholeheartedly, when you're playing it's the only way to do it, half measures are no good! It's always gotta be all the stops, even in the subtler quieter moments you gotta deliver. We're lucky enough to do something that we love and there's a great spirit amongst all the musicians, they never coast, I'm always inspired because they are always pushing me from behind.
Advice to aspiring jazzers…
Find out exactly what it is you want to do and put your heart into it and work hard and find out exactly what it is you want to play and follow that. Try not to compromise, try and be true to yourself and the music you want to play, be true to the music. There's a freedom in jazz.
---
 THE VINTAGE GIRLS
• Mia Oudeh, Susan Colgan and Eve Mulholland from Dundee and Dunfermline.
What's your inspiration to sing and perform?
We started about two years ago and we're all from different backgrounds of music; some singing, one of us a trumpet player, and we started Vintage Girls three years ago. Some of us were inspired by Joni Mitchell, others by listening to our mums' old Ella Fitzgerald vinyl records and listening to Miles Davis and the Rat Pack, we're just so happy we are now doing this, it's so great. We're influenced by post-modern jazz and we're trying to do a modern twist on old songs. We also try to play a few modern well-known songs but in a vintage style, like 'All About the Bass' and 'Hey Ya'. We're making sure that we are keeping the spirit of jazz alive but trying to make it more accessible to a new audience with our vintage twist.
Advice to young creatives…
Work hard and stick to your dreams always and you'll get there. Sing from the heart, believe it from the heart, feel from the heart and it will all work. It's great to do things with friends; sometimes you can't achieve things on your own.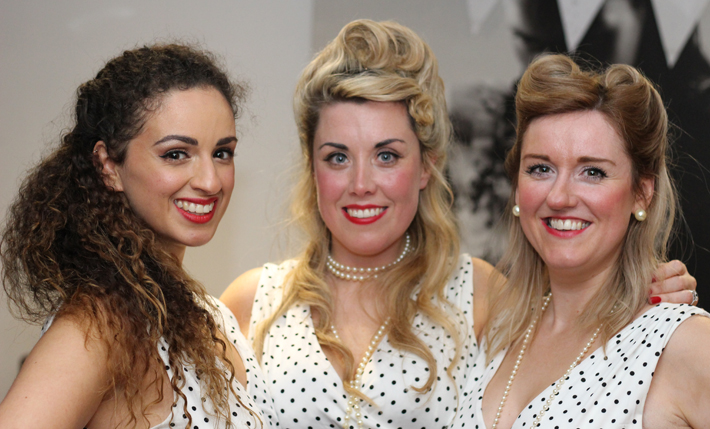 ---

KEVIN MURRAY
• Playing with Havana Swing. This lifelong Dundee jazzer has played with the likes of Tommy Smith, Michael Marra, Mafia and Jimmy Deuchar.
What inspired you to get involved in jazz?
I liked the revolutionary nature of it, I liked the fact that you didn't have to play exactly what was on the music. Jazz is always the cutting edge of wherever music is, what appears in pop next year will have appeared in the jazz world ten years past. Jazz was the punk of its day, hahaha!
The future of jazz…
The nature of jazz is multi-layered, it's got multiple characters, yeah it's probably got a personality disorder, it's not a dangerous personality it's a kind of personality with an element of tourettes, hahaha! So it will always be an important voice in music and will always be at the cutting edge of where musicians are and where music is, you never know what's going to happen next in jazz!
The origins of jazz…
Mozart and Bach and all these guys did jazz improvisation centuries ago. Bach is probably the jazzers' favourite, he played changes and moved comfortably through harmony. Bedřich Smetana, the father of Czech music, one of my favourites, was playing piano improvisation in bordellos back in the 1800s, playing requests just like in the original American jazz speakeasies. Humans have been using music as a means of engagement and relaxation and as a means of expression for centuries, I bet music was there before language, it probably was the first language. Music has always been part of the way that we as humans celebrate and relax right back to the Stone Age, hahaha!
Advice for young musicians…
Any young musician should look at jazz because it gives you a bit of an opportunity to experiment with your instrument rather than constantly focusing on developing particular skills or techniques, jazz gives you the opportunity to take what you know and expand and play. So spend as much time experimenting with your instrument as you can and if you enjoy it go along to a jazz session and see if you can come up and join us.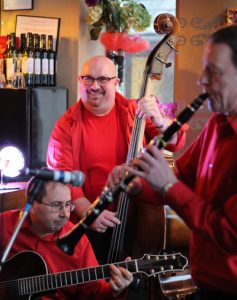 ---

THE MOUSE OUTFIT WITH DR SYNTAX
• This Manchester-based outfit partied with hip-hop, soul, jazz and reggae influences and, combined with the lethal lyrical acrobatics of UK-hip-hop MC, Dr Syntax, made it a unique night at the festival.
Thoughts on the Dundee experience…
We're having an awesome time in Dundee, crowd's lively and it's a good place to be. We just want to put on a party and take it to as many places as possible and have a good time. When we all come together there's definitely a party vibe.
Their jazz influence…
We're quite a melting pot; some of us have worked on jazz and others on funk and soul or reggae, so it all comes together really.
Advice to young and aspiring creatives…
Keep at it, don't be in a rush, make sure you've got faith in what you are doing, put it out there and surround yourself with good people who you can see yourself spending a lot of time with.
---

MIKE WHELLANS
• This Manchester-based outfit partied with hip-hop, soul, jazz and reggae influences and, combined with the lethal lyrical acrobatics of UK-hip-hop MC, Dr Syntax, made it a unique night at the festival.
On his love for jazz, blues and drums…
The love came from collecting old blues vinyls from a wee record shop I used to go to in Galashiels in the Borders and I fell in love with the music and that old raw sound. I spent twenty-odd years living in Copenhagen, travelling Europe, and playing music at various festivals, it's been my whole life.
The future of jazz…
Jazz evolves, there's a whole new generation of musicians who have got another angle on it. There's a lot of new blood coming through, it's in good hands, it's alive and well.
What keeps your passion going?
It just comes from the fact that music has been my whole life and my dad, Bobby Whellans, was a drummer in a band, and when I was six-weeks-old he tragically died at the age of thirty-four, so I suppose in a way he still keeps me going, I'm sure he'll be looking down and saying "that's ma boy!".
---

JAIMEO BROWN
• Drummer from New York who's played alongside Stevie Wonder, Carlos Santana, Jay-Z and many other musical greats has a completely refreshing take on jazz with his band, Transcendence.
What are you searching for in your music and what message are you trying to get across?
The origin of the music starts with slavery and so when we are talking about blues, jazz, rock, hip-hop; all of those forms of American music really come from a certain root. Music that was created in a time where the music's function wasn't necessarily just for performance, it was to transcend these incredible challenges and atrocities that were happening. So the spirituals and the work-songs were tools for the community, and these tools empower people and they heal people, they encourage people, and these tools were also sometimes used in revolution. So my goal with the music is to point to that period in history as an important part in history because of the great darkness that was happening there but there was also great light that came out of it. My end resolution is one of hope and optimism but in order to heal you have to face things that are challenging and difficult and also to show the lineage of where that music came from.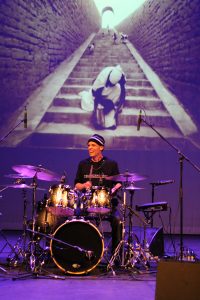 Thoughts on Scotland and Dundee…
It's so beautiful, I feel a certain earthiness and you can feel history in people's language and peoples' movements. I'm so intrigued by the rhythm of your dialects and accents, I really feel you people, hahaha! I can feel something almost, in that accent, and can tell it's been through a history of something that I can relate to and I love to take those ideas and stories as I travel around the world.
Advice to aspiring musicians…
I would definitely say that being able to protect that passion and love and curiosity that you have that produces the drive to work and practice eight hours a day and to be able to pursue those things that you only see in your mind and your imagination. The path of an artist is similar to the path of an entrepreneur in a sense that you have to build your own structure through vision. So don't allow anyone to steal that authentic vision from you and, if you can stay true to that, I believe that you will be successful no matter where you live in this world.
Above-left: Jaleel Shaw from Transcendence; Above-right: Fergus McCreadie supported Transcendence
---

CHRIS SHOLAR
• Guitarist in Jaimeo Brown's Transendence. One of the most in-demand guitar players in the world of hip-hop and R&B. Chris has worked with the top names in the music industry ranging from Kanye West to Stevie Wonder.
Advice to the next musical generation…
Don't be afraid, study the greats and pay attention to what they did but don't be afraid to add your statement to it because our generation has something to offer as well. Check out different types of music, listen, meet people, travel, play with other musicians, play outside of your idiom, study jazz, hang out with some classical cats, hang out with some folk guys and just learn some things, it might be the way to play a chord or a progression and add that to what you're doing. You have to be independent of thought and believe in your own idea. All music comes together at a certain point where it all blends and it's just one voice.
Thoughts on Dundee…
It's beautiful here and I really dig the accent and the vibe of the people, it's just like being at home.
---
ROGER SPENCE
• Producer and associate director of Jazz Scotland. It was fitting that we ended up having a beer at the end of the festival with Roger Spence, the producer and associate director of the Dundee Jazz Festival.
Future of the Dundee Jazz Festival…
The future of jazz has no problems as the new younger acts coming through have been sensational, they're performing at a level that is just extraordinary. We want the Dundee Jazz Festival to be part of the renaissance of Dundee. The whole of the city is moving and we want to move with it, we're all making a contribution to Dundee moving forward.
Advice to aspiring jazzers…
If you're inspired by music get out there learn an instrument, get yourself playing with other musicians and have fun and let's see you in the jazz world of the future.