One of Dundee's most infamous sons, Kyle Falconer, has been entertaining the Dundee public and beyond for over a decade with his chart topping music and his various well-reported antics and public scrapes. He recently hit the headlines in an air-rage incident that finally compelled him to enter a period of self-rehabilitation. Kyle has actually been living the rock and roll dream that some observers possibly aspire to, and we are sure plenty of people have easily been led on by the mainstream hysteria into criticising him without really knowing the full story or the young man himself. Kyle has maybe proved that the rock and roll lifestyle might not be all that it's made out to be, but one thing is for sure; this raw, wild, unpredictable talent that emerged from the streets of a Dundee council estate is a unique character and has already made his mark massively in the music industry at a very young age. He is now a mature thirty-year-old version of his younger rebellious self, having recently emerged from a successful period of rehab and also recently becoming a father to a beautiful baby daughter.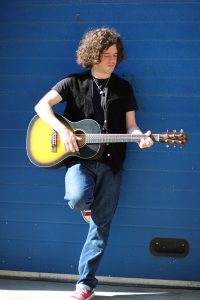 We were lucky enough to be invited to spend quite a bit of time with Kyle during 2017 and to go along to see the incredible energy and devoted following of him and his band, The View, on some of the 2017 Hats Off to the Buskers 10th anniversary tour, and also got to see one of his first ever solo gigs in Edinburgh.
We observed from our time with Kyle that he is definitely on the road to recovery but still likes to enjoy a few beers, and he is so happy at now being a loving father and family man. This young Beatles fanatic has already been described as a musical genius by other successful artists in the industry and now has a whole new world opening up to him in his next endeavour as a solo musical artist. He is still full of hunger and desire and certainly has so much more to creatively express and many more stories still to be told in his music and songs.
What a talent, what a character and what a genuine privilege it has been for the City Life team to get to know this gifted musical soul. We can't wait to hear what comes next from this very special, much loved Dundonian!
We caught up with Kyle over the Christmas holidays for an exclusive City Life interview…
How did the Hats Off to the Buskers 10th anniversary tour go in 2017?
It's been amazing! Great to get to that benchmark that we always hoped we would but thought it's asking a bit much as we thought thirty was really old back then, haha! It's great to finally get to play the tracks in their entirety and see the appreciation for the songs that we have never really played such as "Claudia" and "Don't Tell Me". What we did back in the day was a lot more ramshackle then, so we tried to get it as close to the record as we could. Loved it!
You and the boys in The View create and project an amazing energy on stage that really attracts a highly energetic youthful audience and highly partisan fans, why do you think your music and message and energy connects so well with that highly vibrant new generation of youth?
I don't know, maybe because our songs represent a lot about youth. Just finishing up school was when we started writing to our fullest and we kinda stuck to the same formula as we can relate without prejudice as I loved what I sing about it and I am still living it and doing it. All the song-writing is kinda heart on sleeve and I think people appreciate that. That thing they called "youth" everyone holds onto with every slithering last hope… we're living it man. Ride the wave!
How did your end of year and end of tour gig go at the Dundee Caird Hall?
It's our tenth or eleventh time we've done it and I think it was defo the best. Finally got the knack of putting songs into full on raj mode rather than talking shite and boozing in between and forgetting you have a massive sparkly-eyed audience waiting for you. Grown up at the finish line, how ironic aye, haha! It was quite emotional but Dundee always is as I always see my family and friends at that gig out the corner of my eye looking a lot more group happy, which is quite surreal as they're on the edge of the balcony and it's as if there on the stage. Absolute damage!
Tell us about going solo and your new single and album coming out soon?
This is my first solo record, it's been a long time coming, a long time! Every year I say this is the year I'm gonna do a solo thing, then we end up doing another project or I'm away doing something else, so last year I told the band… "right! I'm doing it!". I need to get this out my system and they were supportive as I always harp on about it.
It doesn't sound the way I imagined before going into the studio, it's weird. Every time we go in the studio with the band we have a sort of process like write track, mess around, leave it, come back, fairy dust, spill a few beers on the desk, get distracted, get a new desk, talk shite, then the magic all happens in amongst everyone's individual craziness. But this time it was only me playing on it apart from my drummer, Scott Duffy, who's incredible by the way, and it gave me a chance to let down the tent posts and get drowned in water that I've never been in. Although it was just me at times I swear there was someone else taking over the mic or the bass, I was playing like John Entwistle, hahaha! Not to mention getting let loose on my very own orchestra, haha!
These are the things I always dreamed of and my new management team made it happen which is always good to have someone who's willing to push the boat out for a crazy idea! Either way there's a few different genres that I haven't really touched on before, like country, thrown in the mix and just a different take on my normal song writing that fans would be used to. Hope you enjoy it as much as I loved making it.
What advice do you have for our Dundee audience on music, life or following a creative passion?
Being creative can be the most amazing thing in the world and never get swallowed in the dull lagoon that is blank, white, boring, normal shite, but be aware that being creative is non-stop! You've gotta be in it to win it!
---
If you missed the The View's 10th anniversary tour you can still celebrate a decade of Kyle and co. with their debut album Hats Off to the Buskers, available from Amazon, iTunes and other record stores.