Schemers, Dundee's first ever full-length feature film, has nearly finished filming in the streets of Dundee and is now well and truly in the editing stages. Keep your eyes open over next couple of weeks as there is just a little bit of extra filming taking place right now in various parts of Dundee. City Life were invited along by Dave Mclean, the Dundonian dreamer and producer behind Schemers, to all six weeks of filming earlier in the summer, and what an amazing experience it turned out to be. It was incredible watching the funny, inspirational, real life story of Davie and his Dundee pals, John and Scott, coming to life right in front of your eyes, being played out by a whole new generation of positive and talented actors. What was even more amazing was that everyone involved in the making of this movie, whether it was the cast, the crew, the volunteers or the extras, were all absolutely determined to make this movie work. This was going to be different, this was going to be rebellious, this was going to be fun!


"It's Dundee 1979, Davie is a dreamer, a tycoon-to-be who is constantly hustling for his next buck. Determined not to rot away doing nine-to-five in an office or in a factory, he will do anything to avoid a real job. With his promising football career ending in tatters after an injury, and while recovering in hospital, Davie falls in love with beautiful trainee nurse Shona. Davie follows her to college where he discovers that although he may not be suited to academia he can certainly turn a fast buck running discos. Good thing too as his gambling debts are catching up with him. Along with his bold and business savvy friend John, and utilising the shadier talents of a young mate Scott, the trio try and fail at various schemes – culminating in them putting on a hugely ambitious Iron Maiden gig at the Caird Hall, Dundee. With ambition so grand they go deep in debt with the ruthless Fergie, a gangster of legendary violence. With gangsters, games and girls, and an increasingly despairing father on his case, Davie needs to use all his tricks to pull off the biggest scheme of his life; or it could be his last."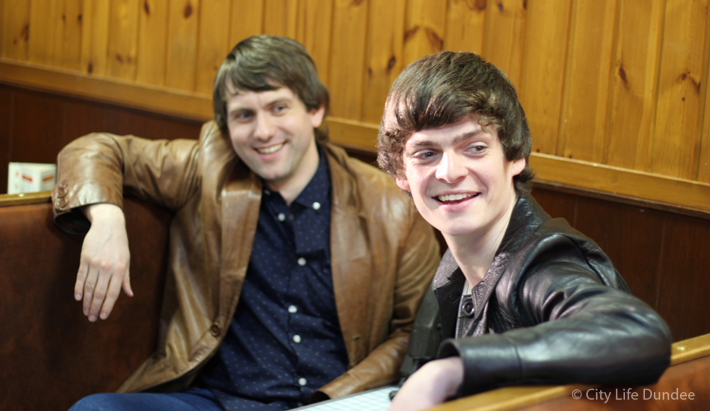 All sorts of Dundee characters were turning up on set; Kyle Falconer from The View was playing a street busker; Dave Bowman, the Dundee United football legend, played a football coach; Saint Andrew of Word on The Pavey cult status played a heckler; Mo, the drummer from The View, played an Iron Maiden drummer; Billy Mitchell, a local musician, played Billy MacKenzie; Kit Clark from Danny Wilson fame played Davie's dad Wullie; Kevin McCabe, a pioneering street poet, played a Jakeball; and Steve Merton, a local actor who recently appeared in The Scaffies, also appeared. Even Jim Sturrock of Fortes café in Stobbie got in on the act!
This is Dundee's story, told by Dundonians, supported by Dundonians and filmed right here in the streets from Lochee to Stobbie. This is not the establishment or the mainstream media telling us who they think we should be. This is us from the streets, from the schemes, telling our story as it is and as it was. This is oor toon, this oor culture, this oor story, this really is Made in Dundee…
 MADE IN DUNDEE
A Poem by Gary Robertson
Come step in meh shadow, come wak wi me
An ehl show you life in the REAL Dundee
See eh wiz boarn in the city's sprawlin hoosin skeemz
Wahr wih forged oor wills an wih dreamed oor dreams
A product o eight hunder colourful years
Through invasions, wars, graftin blood sweat an tears
Jute jam an vandalism, journalistic glory
An a dialect unique, ane thit we ca'd Oary
See the silhouettes trawl through the dimlit streets
Hear the marchin rythym o a hundred feet
Mob rule, rampage an return o the gangs
Sprayed graffiti on the wahz wi the HUNS an the SHAMS
Skeem borders guarded, this is how it is
A real sense o belangin, how it ayewiz wiz
This is wah we are, wear wir herts on wir sleeves
If yir no fae here, then yull nivir believe
Stull amid bouts o chaos, smiles breed good fun
Kerry-oots in hoose perties, usual sangs tih be sung
Togged up fir the toon, jump a double decker bus
Fowk queuin in chippers, then stuffin thir pus
Bairns playin in the streets, rope sweengz ower the Burnie
Summer spent at the berries an the chance tih mak money
This is OOR Dundee, nae airs nae graces
Itz the place eh love, among familiar faces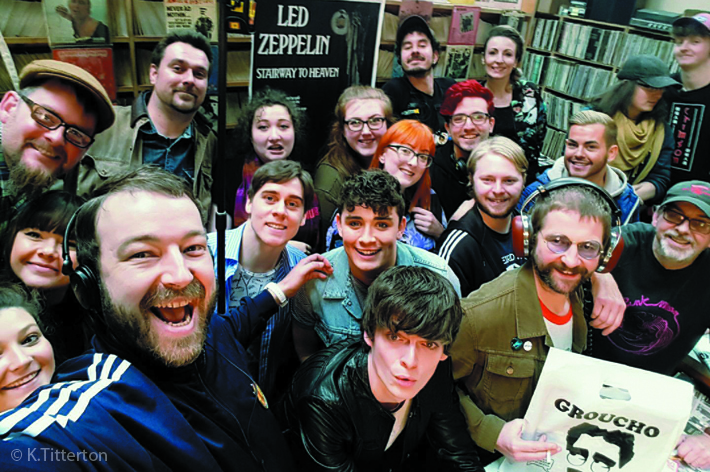 MEET THE SCHEMERS
City Life Dundee caught up with some of the colourful cast, talented crew and well kent cameos behind the Schemers movie. Click the links below to discover more and visit our behind-the-scenes gallery for exclusive on-set shots and photos of many of the wonderful people involved in making the movie.
You can also also read our Schemers article from our Spring 2017 issue by clicking here.
All content and images © City Life Dundee