Autumn is a fantastic time to travel. Not only are prices lower than in spring and summer, but popular attractions are less crowded. We have the perfect autumn break for you whether you want city lights and culture, some late sunshine or an unforgettable adventure, all a direct flight from Edinburgh.
Munich
Oktoberfest is to Munich what Hogmanay is to Edinburgh. It may be too late to get there this year (the festival runs from mid-September to early October), but the Bavarian capital is still a beautiful place for an autumn city break.
Start by walking around Marienplatz (pic below), the largest public square in the city. It's where the famous Christmas Market is held every year (from 27th November to 24th December in 2017) and is lined with cafes, restaurants and shops, making it a popular meeting place. In the centre of the square is the Mariensäule, a large column topped with a gold statue of the Virgin Mary. St Peterskirche is also in Marienplatz. It has been rebuilt several times and features an altar built in 1517 and the gold and jewel decorated skeleton of St. Mundita. You will get a fantastic view from the viewing platform at the top of the church's steeple.
You can enjoy authentic Bavarian flavours at Hofbrauhaus (pic below-left), which dates from the late 1500s. Soak up the multitude of types of beer with a meal at one of its several restaurants. The BMW museum is a favourite with car enthusiasts, while kids love the Deutsches Museum. Munich has beautiful parks and gardens such as the Nymphenburg Palace (pic below-right) and Tierpark Hellabrunn.
Munich has a variety of hotels to suit all tastes and budgets, but it is best to stay in the old part of the city if you can, to be closer to the main attractions.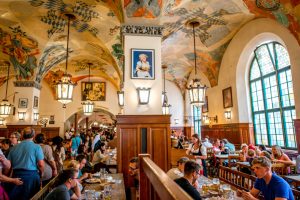 Lanzarote
Lanzarote's location off the coast of West Africa means it has a warm climate almost all year round, enjoying average temperatures of 21°C and eight hours of sunshine a day in November. The sea temperature is a pleasant 20°C so you can enjoy a beach holiday while everyone in Dundee is dressing in thermal layers.
Hobnob with the rich and famous in Costa Teguise (King Carlos of Spain has a holiday home there). Arrecife, the capital, is a great mix of old and new with a lovely promenade and the Castillo San Gabriel, now a museum, which is a well-known city landmark. If you're after nightlife, stay in Puerto del Carmen, while the Costa Teguise has a lot of family friendly attractions on offer.
Lanzarote is a volcanic island. Take a day away from the coast to see the Timanfaya National Park where you can walk through a lava tunnel and eat food cooked on geothermal heat. If you're feeling adventurous, take a camel ride up to the crater.
Picture top-left: Matagorda beach in Puerto del Carmen, top-right and above: Inside and outside a volcanic cave in Jameos del Agua
Istanbul
A holiday in Istanbul is mind blowing. This incredible city is as ancient as they come with evidence that people lived here as far back as 6,800 BC. Its location made it a jewel in the crowns of the Roman, Byzantine and Ottoman Empires, and it was the gateway into Europe on the Silk Road.
The Blue Mosque (main pic), Grand Bazaar (pic below) and Hagia Sophia Museum should all be on your itinerary. If you don't feel confident exploring on your own, some excellent tours cater for everyone including a shopping tour where you'll learn to haggle like a pro, and a foodie tour that takes in incredible restaurants you'll only find if you're with a local.
Thousands of years of civilisation and the influence of some of the strongest cultures and religions in the world has created somewhere as captivating as it is unique.