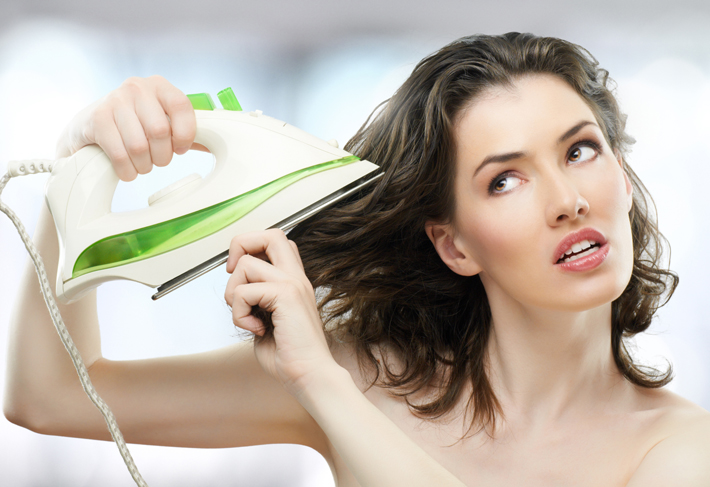 Frizzy hair is no joke, and the drying effect of autumn wind and central heating can make it worse. There is no need to despair because, even if you don't have the money for a daily professional blow dry, there are several practical things you can do to keep unruly locks under control.
Start by limiting your shampoo usage to around three times a week. Shampoo strips natural oils which can help to smooth your hair. If you have greasy hair, try a dry shampoo at the roots on alternating days, or just use conditioner.
Speaking of conditioner, choose one that is right for your hair. It is worth spending a few extra pounds on a good quality product which contains keratin and protein. Once a week, apply conditioner or a hair masque like Hask Keratin Protein Deep Smoothing Conditioner, to damp hair before wrapping your hair in plastic wrap and covering with a towel for 20-30 minutes. It may sound strange, but heat from your head will help the conditioner penetrate the hair shaft so that when you rinse it out, it will stay smooth. Kiehl's Amino Acid Conditioner is a favourite with beauty editors.
Instead of roughing your hair's cuticle up with towel drying, squeeze the excess water out and wrap in a microfibre hair towel which will soak up water gently. Comb your hair and allow it to dry naturally when possible. If you must use a hair dryer and straighteners, use a heat-protective serum or spray that will help your hair retain its moisture. Redken's Frizz Dismiss range is a top choice.
If all else fails, a Keratin blow dry, also called a Brazilian blow dry, costs around £150 with results lasting two to four months. It does take three to four hours, depending on hair length and thickness, but the time it will save you wrestling with frizzy hair every day will be worth it.