Modern shapewear may not work miracles, but it comes pretty close by smoothing bumps and creating a sleeker silhouette to help your clothes fit better and give you a confidence boost. Unlike Bridget Jones, who had to choose between control knickers that would get Daniel Cleaver's attention, or tiny knickers that wouldn't scare him when her dress came off, today's stylish shapewear lets women have their cake and eat it while still looking fabulous.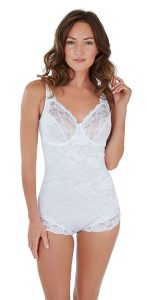 A bodysuit is an excellent solution to smoothing a bloated tummy, while a style with a built-in bra will also help to eliminate unsightly bra-bulge. You're not limited to boring beige, either. New season shapewear also comes in black, white and red, with the feminine addition of lace and mesh that looks the world away from your granny's old corset. (pic right – Charnos White 'Rosalind' Lace Body £35)
If a bodycon dress leaves you feeling a little too conscious of your body, a control slip could be the answer. Intelligent designs skim the hips and finish mid-thigh to give ample support without worry that you'll be flashing horrible control top tights when you walk. Control slips come either with built-in bras or a scoop front design that enables you to wear your own bra for added versatility.
An alternative to a control slip is a corselette which is alluring enough to wear in the bedroom while being comfortable enough to wear to work.
Waist cinchers (pic below left  – Miraclesuit Waist Cincher £40) and longline bras are another way to help women feel good about how they look without having to squeeze themselves into uncomfortable undergarments that chafe and irritate their skin.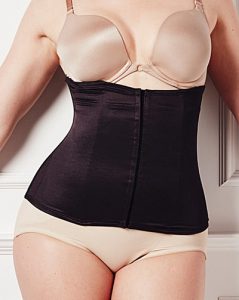 Shorts (pic above right – Spanx Thinstincts Shorts £52) and mid-thigh shapers are ideal under skinny jeans and fitted trousers. You can even get knickers with padding and lift to give you the appearance of a posterior pert enough to rival the Kardashians', and tops with compression sleeves to eliminate bingo wings (main pic – Marks and Spencer Light Control Lace Armwear £22.50). Remember to buy for the size you are and not the size you want to be, and no one need ever know your secret.