"It's a big world out there… so what are you waiting for?!"
Ged Grimes; born and bred in Dundee, and schooled at St. Matthews Primary and St. Saviours High; has now undoubtedly become one of Scotland's most successful musicians, producers and composers. He already reached the stellar heights of pop stardom in the late 80s with Dundee band Danny Wilson, whose international hit 'Mary's Prayer' took the cool sound of Dundee and the cool looks of Ged around the world. After Danny Wilson he focused on writing, performing, and producing other artists and developing new talent. He toured extensively with Eddi Reader on her 'Patience of Angels' world tour and recorded with Aussie Grammy winner, Natalie Imbruglia. He was also a part of another Scottish musical success story for a while with Deacon Blue, fronted by fellow Dundonian Ricky Ross. He has done a substantial amount of work for television and film and now runs his own creative business producing soundtracks for the global computer games industry.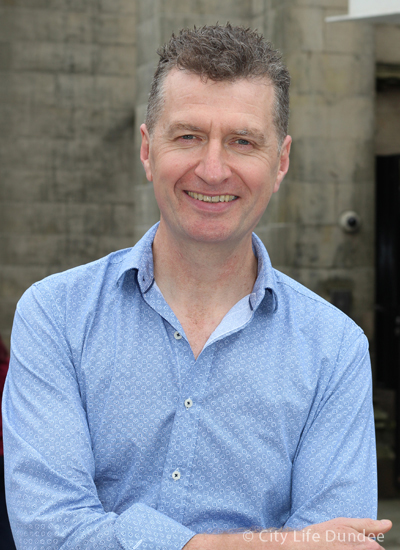 He's still flying high at the top of the music world, and has been since 2010, as the bass guitar supremo in Scottish art-rock stadium band Simple Minds, fronted by the legendary Glaswegian Jim Kerr. Oh, and he also speaks pretty fluent Spanish, having lived in Southern Spain with his wife and two sons for a year, and he's still as youthful and good looking as he was in his Danny Wilson days; must be a' that road cycling he does! No' bad for a school janitors son brought up in Happyhillock, eh?!
"My whole background in music was from my family group, The Grimes Folk Four, with my two brothers, my sister and me. So from the age of ten I was playing at old-folk's homes and clubs. And my love of music came from my mum and dad. My mum's a great singer and my dad was very encouraging with buying me guitars and getting us involved."
Dreaming The Dream
Ged invited City Life to come to the recent Simple Minds Acoustic Live world tour at the two Scottish gigs, in Dundee and Glasgow. This was a dream come true, to see Ged Grimes, Jim Kerr and Charlie Burchill in their Scottish heartlands doing what they do best. The shows were rock spectaculars and the distinct stadium sound of Simple Minds was still alive and kicking, now with a softer acoustic rock touch to reflect the new Acoustic album. The nights started with a tremendous drum intro and an incredible light show. Cherisse Osei's energy on the drums was absolutely sensational!
Then, shimmering like a mystic warrior walking out of the Celtic twilight, hungry and ready, with his musical clan, Jim Kerr entered to the hypnotic tribal pulsing and drumming of the 1980s classic 'New Gold Dream'. The new golden acoustic rock dream was here, this was real, this was live, this was Simple Minds and this was magnificent! "La, la ,la" came the battle cry from Jim and his clan, they had done it, the partisans were connected, clapping and stamping in harmony. The crowd were now fired up and ready to go wherever Jim took them, echoing back their battle cry… "81-82-83-84". This really was a New Gold Dream, an acoustic version that was just magical! The Glasgow and Dundee tribes were ready to dream the dream with Simple Minds.
"Jim is one of the most giving performers you'll get. No matter what show we are playing, within the first two minutes of a song he can determine whether we are going to have an amazing night or not. It's Jim who takes the Simple Minds show to the audience. On the Acoustic tour he started doing this thing where he'd be in the audience for New Gold Dream. We're a minute in and I'm looking out and he's up at the back row sitting on somebody's knee, ha ha ha! It was incredible, as immediately the audience was part of the show! He knows that every night it has to be something special and he has to feel it!"

On Danny Wilson Success
"Back in the day, when we were in St Saviours High School, me and Gary Clark formed our own band and we could'na get a bass player, so I ended up switching from guitar to bass and out of that we started cutting our musical chops in the late seventies with Michael Marra and the guys from The Mafia. Then we moved to London and I ended up seriously focusing on the bass guitar. Those were the years where we really struggled so we moved back to Dundee in 1984 and that's when we started attracting record companies. We were supremely confident in the records that we were making. When you're hot everyone wants a piece, one minute we were in the studio and the next we were supporting Simply Red in the USA, it was exhausting but we felt immensely proud that we wore our Dundonian roots on our sleeve. Some of that stuff on the first album was timeless and I've been spoiled since the age of fifteen, working alongside Gary Clark who sings like an angel. Although Danny Wilson split 25 years ago we've really kept an eye out for each other."

Don't You Forget About Me
Kit Clark of Danny Wilson…
"I'll always remember as a teenager when New Gold Dream came oot, Ged would listen to it constantly. Him and his bass lines, it was his favourite thing and now that's his gig, know what I mean, ha ha ha!"
Gary Clark of Danny Wilson…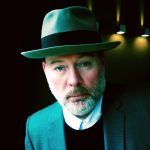 "Back in the early 80s, when Ged and I first moved to London, we spent a summer where New Gold Dream was pretty much the only record we played. Ged used to warm up, jamming out on those great bass lines. So now, to go see him up on stage with Simple Minds in front of thousands of people rocking those songs (and he does rock them) is actually quite moving. I wish they didn't tour as much though, I have to book six months in advance if I want to have dinner with him these days. Ha ha!"
Gregor Philp of Deacon Blue…
"It makes me feel proud to see him doing what he does best, he is one of my best pals and he's also the best you ever want on stage. He is making a real difference to Simple Minds who are one of my favourite bands of all time. I've played with Ged a lot and I know what it's like to play on stage with him, he grabs you by the lapel and off you go, it's a great feeling."
Gaelic Mind Games

"The move in the mid-nineties into soundtracks for games came from an old pal, Chris van der Kuyl, who wanted me to do a soundtrack for his team's first game. The timing of this opportunity was really good and I ended up spending about 10-12 years solely doing soundtracks for Japanese and American companies. I'm working on a new game, 'The Bard's Tale', for the Oculus Rift virtual reality headset. The game has been developed in New Orleans but it's about Scottish myths and legends and folklore. I've produced for Gaelic folk artists in the past and I've got some great singers involved like Kathleen MacInnes from the Robin Hood movie. Who would have thought that Scottish folk music would be used in a game that is pushing the technological boundaries of gaming?! It harks back to the fact that no matter what technology you've got, you still need story, authenticity and brilliant voices to tell the story."
Hablas Dundonian?
"Back in 2005, after being burnt out from work and losing my dad, I headed off with my wife and two sons to live in southern Spain for a year to recharge our batteries. We had a brilliant year and when we came back to Dundee I started a Spanish-Dundonian group called Inter Cambio Dundee. We get together with other people in Dundee that are interested in Spanish culture. We've ran this now weekly for years and we run wee trips and tapas nights. The great thing for me is seeing someone from another country coming to Dundee to live, and I want them to go away with a positive everlasting impression of what oor city's about and, more importantly, what oor people are about."
We're All in Dundee Together

"If you live here then you should celebrate being here. Dundee's the perfect size to foster a creative community and get a feeling that we are all in this together, after all we're a' Jock Thomson's bairns. Everyone has a vested interest in the success of Dundee, whether you are a plumber or a musician or an artist. With Simple Minds I can live anywhere and travel the world but when I come back home I never forget that this is where it all came from."
Advice to Young People
"You've got to keep working away and getting better and it may be one person that opens the door for you. All the years of giving 150% paid off in the end as when the opportunity of Simple Minds came along I was ready for it. There is no point in waiting for the opportunity, you've got to keep working with a passion, and work and collaborate with other passionate people no matter what field they are in."
Thoughts on City Life Magazine
"It's another positive affirmation that Dundee has all these characters that are proud of the city. Whether you're young or old you can pick up the magazine and enlighten yourself about the people living on your doorstep. Gee' me the bag and I'll start delivering them, ha ha ha!"
Final Note with Jim Kerr
City Life were delighted to catch up with Jim Kerr after the Acoustic world tour…
CL: After all these years, where are you still getting the energy and hunger to tour the world and still keep that distinct Simple Minds sound well and truly alive?
JK: We continue to get the energy and hunger from the same place we always got it from. Basically, ever since the age of sixteen, we've not only dreamed about being in a great live band, but more importantly we've dedicated ourselves to making that the reality. The challenge of that continues, and far from tiring with it, the drive alone to succeed within that on-going challenge seemingly energises more than ever.
CL: What's it like working with one of Dundee's finest; Ged Grimes?
JK: We have worked with many fine and talented musicians. As a result many have helped us become a better band and Ged has certainly done that. However, Ged has an extra influence outwith the music. He is obviously from good people and surrounds himself with good people, resultantly, the way he carries himself, his outlook on life, always wanting to give his best, while always focused on what is truly best. Well, that attitude is contagious, it impresses on all of us. Therefore it is possible to suggest that Ged, a proud Dundonian, has not only made us a better band, but hopefully also better people.
CL: What people or characters have inspired you in your life?
JK: When I was younger, of course I looked up to the kind of characters who achieved things that were previously unimaginable, and usually celebrated for doing so. These days I am much more inspired by every day, hardworking types, the sort that alone manage to successfully have careers, while perhaps also bringing up families. Feeding them, clothing them, educating them, putting a roof over their heads. Maybe juggling between more than one job, looking after their young, and increasingly their elders, while also trying to live healthily and keen to improve themselves. All of that is heroic enough in my view. Those types inspire me.
CL: What words of wisdom do you have for young Scottish musicians or young people in general?
JK: We are all different and therefore we are all attracted to different paths. At a very young age I realised that, while for some the world seemed to end at the end of their street, city or country, the opposite was true for others, and for them the world seemingly began at the end of their street, city or country. I belonged to the latter camp, and it has shaped my life as a result. My words of wisdom if pushed… 'It's a big world out there and so much of it is just waiting to be enjoyed by those who are keen on exploring it. So what are you waiting for?'
Simple Minds: www.simpleminds.com
Inter Cambio Dundee: www.intercambiodundee.com