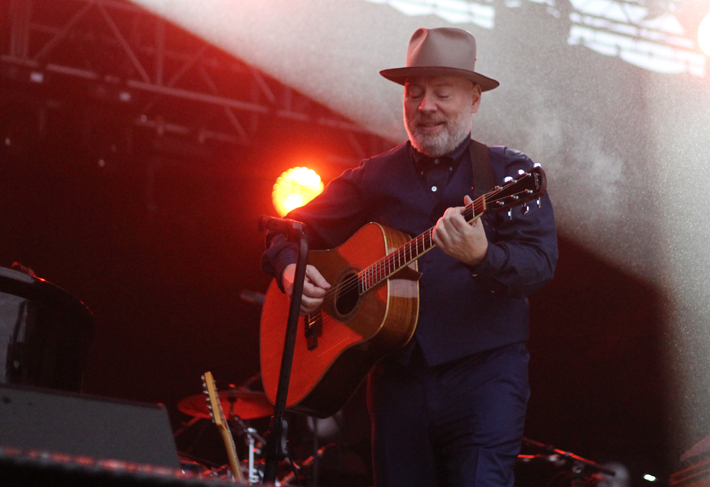 Gary Clark, of the 1980s band Danny Wilson, has rarely played live, never mind solo, in the last couple of decades. However, this summer news rumbled through the Dundee music scene that the Dundee music legend was not only going to be playing a live solo gig but he was supporting another Dundee music legend, Ricky Ross and Deacon Blue, and doing it live at Edinburgh Castle. Hold on a minute, was this really happening?
It's Never Gonna Be the Same
There was a wee feeling in the City Life camp that Gary's performance was never gonna be the same as his classic Danny Wilson and solo pop arias and ballads of the 80s and 90s. Understandably it was natural that, after all these years, it could be difficult to maintain the dizzying vocal heights of his 80s and 90s classics. After all, he has been an in-demand mega-successful international music producer and songwriter for the last two decades, so performing has not been his top priority. It didn't matter to us or the fans awaiting his appearance but the pressure really was on; it was a huge Edinburgh Castle stage, it was pouring with rain and he was playing his first full solo set in years. It doesn't get any more challenging than that. What had Gary let himself in for?
The lights dimmed and there he was on stage looking as cool as ever. He looked happy, he looked relaxed, and bloody hell he looked exactly like the real Gary Clark. He confidently took his seat at the grand piano, the spotlights were on him in more ways than one, a lone figure on that big stage with the rain lashing down, sparkling like little musical notes in front of the stage. The suspense was exhilarating as he teased the rapturous audience with a few recognisable notes before quietly drifting into his immediately recognisable sweet vocals. There it was, the real sound of Gary Clark, like a rock-pop Peter Pan, he instantly floated us all back to a special time and a special place. There it was, that familiar Dundee sound. Yes, this was happening, it really was 'Never Gonna Be The Same'.
So Bring the Lightning
What a start, what a relief, and what a cool cat this Dundonian really is. He'd nailed the first song with absolute character and, with the blood of a Dundee whaler, he easily navigated into his next song 'We Sail'. The stormy waters being thrown from the Scottish heavens tonight were stirring him up and he was certainly bringing the musical lightning tonight! The weight on everyone's shoulders was lifted even more by an absolutely spine-tingling rendition of 'If You Love Me Let Me Go'. This was followed by 'Loneliness' and a wee surprise from his King L days, 'The Dumbest Story'. Then a blast from the past, from the Ten Short Songs About Love album, 'Baby Blue No.2' proclaimed "it's all over now", but there was more to come. Already settled onto the acoustic guitar by now, he launched into a familiar radio tune 'The Second Summer of Love' and then promptly followed it up with the mother of all radio classics, 'Mary's Prayer', which still bounces around the world's airwaves to this day. Before we knew it, he fittingly finished this piece of Scottish musical history with one of his most recent compositions, 'To Find You', from the 2016 movie Sing Street.
Simply beautiful, Gary; the vocals, the music and the sound were genuinely brilliant, City Life were so happy for you!
We caught up with Gary back in his Dundee heartland after the gig…
So, Gary, how was your rare solo performance at Edinburgh Castle?
Well, it wasn't quite as I'd expected. When Ricky Ross called me to ask if I'd do the show with them, I pictured a warm summer evening with the sun setting and the castle bathed in light behind the stage. As it happened, the weather was dreadful, biblical even. I thought Noah's Ark was going to come floating down the Royal Mile. It's the first gig I've ever played in a cloud, the castle was invisible. Even if it did soak the piano and guitars, I refused to let it dampen my spirits, and thankfully the crowd took the Scottish summer in their stride, and they and I and Deacon Blue all had a rare old time.
You've been asked to participate in the new Dundee movie Schemers, what's your contribution?
Oh, I'm dying to see that, from everything I've heard, it sounds like it's going to be fantastic. I've been asked to contribute a track and I've sent over a couple of ideas. I'm looking forward to seeing my bro', Kit, acting again. He's a natural and doesn't do it nearly often enough.
What's new for you in the music industry?
I'm working on two big and involved projects that I unfortunately can't name right now. The Xcerts album, Hold on to Your Heart, on which I'm co-writer/ producer, is coming out in January and the first single, 'Feels Like Falling in Love', was already voted Radio 1's Rockest Record. It's a big loud hug of an album and I'm really proud of it. Perhaps most exciting of all, Adam, the new artist I've been developing and working with for a year or so, is getting ready to roll out his music in 2018 and is playing his first gig at Clarks between Christmas and New Year. Oh, and I'm doing an Alzheimer's benefit show in Edinburgh in April. It's an acoustic show with an amazing line-up of singer-songwriters all on stage together.