The latest trend for 2017 is to bring the inside out by turning your garden into an outdoor room. Far from being merely functional areas, gardens are being thoughtfully designed and furnished with everything you need to entertain your friends or for somewhere to simply relax.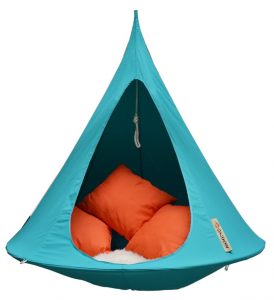 The first thing you will need in your garden is appropriate seating. Before you buy anything, consider how you are going to use your space. There is no point in buying an outdoor dining table and chairs if you will use the area more for escaping with a cup of tea and a book. Outdoor sofas have been around for a few years and the trend for comfort has continued to new extremes. Indulgent day beds, such as the Maze Rattan Peach and Milan Daybeds (pics below – £1,349 & £1,099),  and soothing hanging seats, such as the Armadillo Swinging Garden Sofa (main pic – £2360) or the Cacoon Hanging Chair (pic right – from around £200), are now the ultimate way to relax in your outdoor boudoir.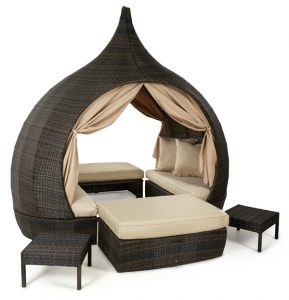 Next, emulate Scandinavian style where they don't let a drop in temperature stop them from appreciating the outdoors. Paint decking and furniture in muted, chalky shades of white and grey, and use accessories like plush cushions, knitted blankets, and sheepskin rugs that you can easily bring indoors when necessary.
Outdoor lights aren't only for Christmas. String them around your seating area and steps for an enchanting look. The Hyperion 20 LED Star String Lights (pic right) are perfect and just £15. Candles are another solution to dark evenings. Fill galvanised pots with sand and stand candles in them for an inexpensive and romantic effect.
Finally, a chiminea or firepit, like the La Hacienda Naxos (pic below – £60) will ward away the chill in the evenings and extend the number of months you can enjoy your garden. Not only will it help to keep you warm, but it will also give your garden a welcoming focal point around which to chat and socialise.