Simple Minds, one of Scotland's most successful bands, are currently on their world tour showcasing their new album Acoustic. Having achieved six number-one albums in the UK, as well as hitting the top spot in countless other countries with their iconic art-rock sound of the eighties, they have now stripped back some of their popular classics into a beautifully crafted acoustic album. Who are these guys that, all these years later, can still sell out concerts all over the world and yet still produce an album that sounds and feels distinctly like the same old Simple Minds we fell in love with all those years ago? Maybe Jim Kerr himself can enlighten us…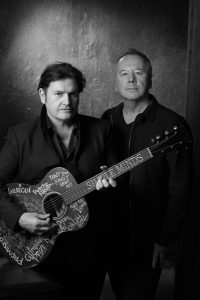 "One of the things I'm most proud of is that people say to me, what Simple Minds are you talking about? The avant-garde, the art-rock, the pop, the ambient, the instrumental group, the political, the folk, the stadium band? We've been on one hell of a journey. To play all those different styles but at the same time be quintessentially Simple Minds is an amazing thing."
Acoustic Notes
This new album is absolutely brilliant, what a sound, what memories. If, like us, you have maybe aged a wee bit since the eighties then this album is just perfect. The archetypal sound and feel of Simple Minds is still there and plenty of favourite tracks reworked with a soft warm acoustic touch. This album feels intimate and personal and just like a finely aged Sicilian red wine full of note, Jim and the Simple Minds team have produced a sound that is natural, bright, fruity and full of life. 2017 is definitely a classic year for this acoustic splash of Simple Minds.
Dundee's Alive and Kicking
One of the main characters helping Simple Minds on their continuing journey of sound since 2010 is none other than Dundee's very own Ged Grimes. Ged, who has already reached the high heights of pop stardom in the late eighties with Dundee band Danny Wilson, is very much still alive and kicking at the top as the bass guitar supremo in Simple Minds. The Simple Minds world tour will be hitting Dundee's Caird Hall on the 17th of May and Glasgow's Royal Concert Hall on the 18th of May, so hopefully we'll catch up with Ged and the team and report back to you in the next issue.
For more information visit: www.simpleminds.com