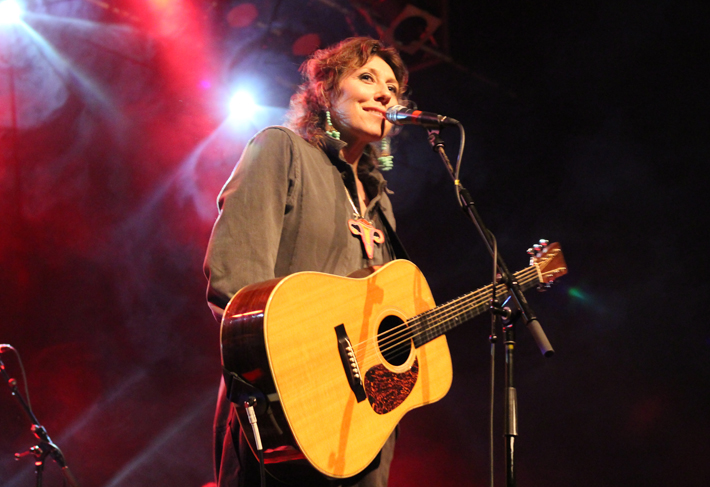 "The future of our past is in very safe hands"
Founded in 1994, Celtic Connections is now our Scottish nation's foremost international Celtic music festival and attracts hundreds of thousands of visitors every year from across Scotland and around the world. Artists who have appeared at the festival include Joan Baez, Bob Geldof, Clannad, Kate Rusby, Sinéad O'Connor, Shane MacGowan, Eddi Reader, Evelyn Glennie, Carlos Núñez, Dougie MacLean, Billy Bragg, Beth Nielsen Chapman, K.D. Lang, Steve Earle, Teenage Fanclub, Snow Patrol, Bert Jansch, Barbara Dickson, Bobby Womack and Dundee's very own the late Michael Marra.
When we heard that Michael's daughter Alice Marra and The Gaels Blue Orchestra were headlining the closing weekend of the festival with a debut of Alice's new album Chain up the Swings, we dropped everything to be there. Alice was going to perform a whole album of her favourite songs from Michael's work. This was going to be magical; a wee piece of history was in the making. So in early February we set off for Glasgow, the people's capital of Scotland. Alice was performing on the Saturday night so we decided to head over the day before to soak up the whole weekend and experience some other talented female artists for our Dundee audience.
Parlez-vous Dundee?
It was actually quite fitting that Martha Wainwright (main pic), the headline act on the Friday night, had a Michael Marra connection. Daughter of American folk singer Loudon Wainwright and Canadian folk singer-songwriter Kate McGarrigle, she was raised in a musical family along with her older brother, Rufus Wainwright, in Montreal, Quebec. Martha's father Loudon now covers one of Michael's most iconic anthems, 'Hermless', however he has subtly changed it to 'Harmless' to accommodate the non Dundonian speaking North American audiences.
Martha's individual, rebellious style of music and performance, with a little bit of French weaved in, was powerfully alluring. We scrambled around the dark press pit trying to capture this rare enigmatic musical lioness in her prime. She was delightful, she was free and wild, and she was absolutely hypnotic.
Brahan Seer
Lauren MacColl (pic right) from Fortrose is considered one of Scotland's most expressive fiddle players. She won the BBC Radio 2 Young Folk Award in 2004 and was Instrumentalist of the Year 2009 at the MG Alba Scots Trad Music Awards. On the Saturday afternoon Lauren and her multi-talented Gaelic collaborators Fèis Rois launched a new musical work called The Seer which depicts the life and prophecies of Coinneach Odhar, the Brahan Seer, a 17th Century Scots prophet from Easter Ross. Lauren was a strong, fiery, dark and passionate Celtic presence on stage. You could feel an ancient voice rousing from her melodic spirit. Coinneach Odhar, the Brahan Seer, was brought back to life; rejoicing and foretelling once again. Backstage we asked Lauren where her deep musical roots come from…
"I've read and known Brahan Seer prophecies since I was a young child. They were part of my upbringing and local life, we were taught them at home and in school. I've read a lot of the books and visited places and connected with stories that resonated with me. Stories of such characters are part of the fabric that makes our culture. Sometimes I feel I was born two-hundred years too late."
A Dundonian Calling
If ever there was a person that was about to come of musical age, then Alice Marra's time had arrived. Saturday night, Glasgow's St Andrews in the Square, headline show, final weekend of the festival, following in the footsteps of her father, debut performance, new album, a packed audience with hordes of fellow Dundonians; yes, the scene was set for a piece of Dundee history. The songs of the late Michael Marra were about to come alive again on a national stage. The Gaels Blue Orchestra was ready, electricity was in the air and on she walked. That wee cheeky Alice Marra smile said it all, who else could step into the legendary musical shadow of her father? This bonnie wee lassie fae Dundee was ready and she knew it!
Alice sang a mesmerising opening with the rarely heard 'Soldier Boy' and calmly wandered into 'Taking the Next Train Home', that song should be a hit! Her jazzy tones swirled her confidently into 'Australia Instead of the Stars' and now she was grinning ear to ear, she was happy. Her incredible voice, the brilliant musical support of The Gaels Blue Orchestra, and her father's lyrics weaved their magic. This was meant to happen, this was wonderful, Alice Marra was singing like a joyous wee bird, set free and proclaiming her inner self confidently to the world.
'Frida Kahlo's Visit to the Taybridge Bar' was followed by 'Mother Glasgow'. Another rare song 'Goodnight to Lovely You' was followed by an auld classic 'Chain Up the Swings'. Then 'Schenectady Calling Peerie Willie Johnson' and 'Mincin Wi' Chairli' stepped us into 'The New German Waltz'. Some of the Dundee crowd joined in the fun and started their own celebratory dance. There was a real feeling of celebration in the air as the travelling Dundonians listened to another rare beauty, 'Megan'.
Alice had done it and done it in style, she represented us and we were so proud of her! Then came the perfect finale, 'The Lass Wi' The Flax in Her Hair'. Alice Marra had walked in her father's footsteps and confidently shown she was very much her own woman. It felt as if these songs were made for her, it felt like this was Alice's calling.
We caught up with Alice's mum Peggy immediately after the show to get her thoughts…
"One of my friends just said there, it was like Michael had written the songs for her. I was confident she was going to be okay. After the first rehearsal she said this is going to work, and if she says it's gonna work, it's gonna work! When I first heard the album I was in tears, it was very emotional."
We also chatted with Alice backstage…
"It felt amazing. I was a bit apprehensive, having the security blanket of Hazey Janes for all these years and coming out on my own with The Gaels Blue Orchestra, it's a different thing. I usually get nervous at shows but I wasn't really nervous, I wanted to enjoy every second. I didn't want it to pass and not remember it. I savoured every second, I really, really enjoyed it."
Was she now ready to take her father's songs to the world?…
"He wanted other people to cover his songs. He wanted to write and other people to sing them. If only he could hear some of these things that happened like 'Harmless' and others. I'm sure he would have been happy with what I have done; I hope he would! Our job now is to keep his music alive and I feel lucky to be able to do it."
Touch of Stardust
Fraya Thomsen (pic right) was commissioned by Celtic Connections to compose a concert piece for their New Voices series. 'Community and Stardust' explored how interconnected we all are. After Sunday lunch we headed along to see this leading female Scottish harpist and composer with the cosmic touch. There was an inspirational female spirit to this weekend and Fraya and her collaborators encapsulated that in her dramatic and thought provoking Scottish work. Close your eyes and you were transported into a dreamscape of your own imagination, floating free and wild, just like Fraya. Even Phil Cunningham the 'Silly Wizard' and king of the Scottish accordion made time to be in that audience. We were lucky to get a wee bit of time with Phil just after the show…
"This concert was incredibly musical and incredibly thoughtful and a really vibrant thing to watch. We can only be proud of Fraya and the young performers."
We shared our observation that Scotland's new female musical generation are so vibrant and talented,
"Very true, not just females but young performers in general. There is less fear of going into unknown waters. People are really willing to experiment and they are learning how to separate the wheat from the chaff and if they try something and it is not working they are learning to get rid of it and stick with the positive. It is showing through the music."
Phil summed up this Scottish musical enlightenment,
"The future of our past is in very safe hands."
We eventually caught up with Fraya…
"I was thrilled to work with seven musicians spanning folk, through classical and jazz, and a filmmaker to make the piece, and it's really cool that you are doing a focus on women composers and that you have a champion for Dundee in Alice Marra, I'm also a massive Michael Marra fan. My brother and nephew live there now. I'm just getting to know the city. I would like to try and organise myself a gig there sometime soon."
Queen of Scots
We hung about Glasgow until the Sunday evening to take in the atmosphere of the BBC Radio Scotland Young Traditional Musician 2017 final. Full access to the BBC press area allowed us to get close up to our bothy ballad hopeful, Iona Fyfe (picture right). We've interviewed this young lassie before and we have been enchanted by her ever since. Iona is such a unique vocalist with a strong passion for bringing auld Scots bothy ballads to life, and here she was, representing the whole of that North East culture in front of the television cameras. What a beautifully evocative voice, she really did herself proud when she sung an absolutely amazing version of 'Baltic Street', you could hear a pin drop in the packed City Halls audience. She transported us all away to an auld place once upon a time in Baltic Street, Montrose. She also took a solo position on the grand piano to sing a stunning rendition of 'Queen Amang the Heather'. She was the Scots queen that night and, although the final honours went to young fiddler Charlie Stewart (pic below), a local Tayside lad from Drunzie, we were so proud of Iona for magnificently showcasing the bothy ballad culture in such a memorable way.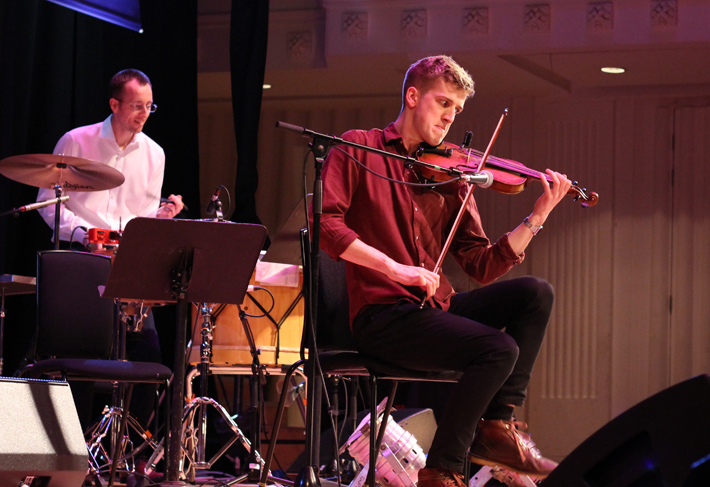 We spoke with Charlie Stewart to find out his secret to success and for his advice to young Drunzonians and Dundonians…
"I was lucky to have a lot of nice people around me playing music, I'm from Drunzie just over the hill from Glenfarg and I used to go to the local Glenfarg folk club. I hope the folk in Drunzie are happy. If you like music then just do it and see what happens, you might as well do it and have fun."
That wise musical seer Phil Cunningham is right; the future of our past is definitely in safe hands with Iona Fyfe, Alice Marra, Fraya Thomsen, Lauren McColl and Charlie Stewart.
Martha Wainwright: www.marthawainwright.com
Lauren MacColl: www.laurenmaccoll.co.uk
Alice Marra: www.facebook.com/alicemarramusic
Fraya Thomsen: www.frayathomsen.com
Iona Fyfe: www.ionafyfe.com