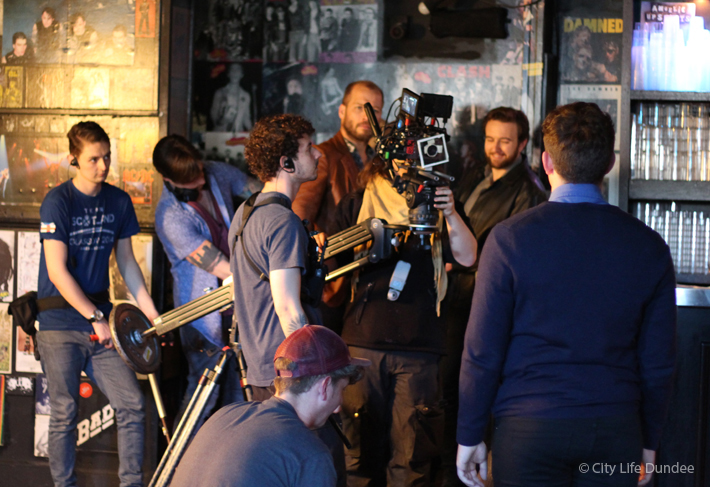 Back in our summer 2016 issue's The River Man Has a Plan article we revealed that Dundee's first ever feature film was being planned. Well, a year later the dream and vision of Dundonian Dave Mclean is now becoming a cinematic reality. Schemers the movie has already started filming in the streets of Dundee and from what we have experienced so far this movie is going to be brilliant!

What's It All About?
Based on real events and local people, Schemers is a heady mix of Gregory's Girl's laconic confidence, the anarchic freewheeling energy of Trainspotting, the charm of Local Hero and something quintessentially Dundonian. It promises to be fast, funny, dangerous, sexy, poignant and dazzling…
'Everyone in the late 70s thought Scotland was all Bay City Rollers tartan or drunk football fans smashing up Wembley. But in Dundee it was rain, pish and football. The newly built council flats, known as schemes, the pride and joy of the so called swinging 60s, had become crime ridden ghettos. They called us Schemers… the folk that lived among the new concrete streets in the sky… the old industries were dying all around us and the outlook for anyone like me was grim… but as the Clash said the real ice age was still to come… Thatcher was about to be elected… not that I gave a fuck like… after all I had a new leather coat..!'
Davie is a dreamer, a tycoon-to-be who is constantly hustling for his next buck. Determined not to rot away doing nine-to-five in an office or in a factory, he will do anything to avoid a real job. With his promising football career ending in tatters after an injury, and while recovering in hospital, Davie falls in love with beautiful trainee nurse Shona. Davie follows her to college where he discovers that although he may not be suited to academia he can certainly turn a fast buck running discos. Good thing too as his gambling debts are catching up with him. Along with his bold and business savvy friend John, and utilising the shadier talents of a young mate Jake, the trio try and fail at various schemes – culminating in them putting on a hugely ambitious Iron Maiden gig at the Caird Hall, Dundee. With ambition so grand they go deep in debt with the ruthless Fergie, a gangster of legendary violence. With gangsters, games and girls, and an increasingly despairing father on his case, Davie needs to use all his tricks to pull off the biggest scheme of his life; or it could be his last.
Meet the Schemers
City Life tracked down some of the Schemers whilst out filming, to see how things were going.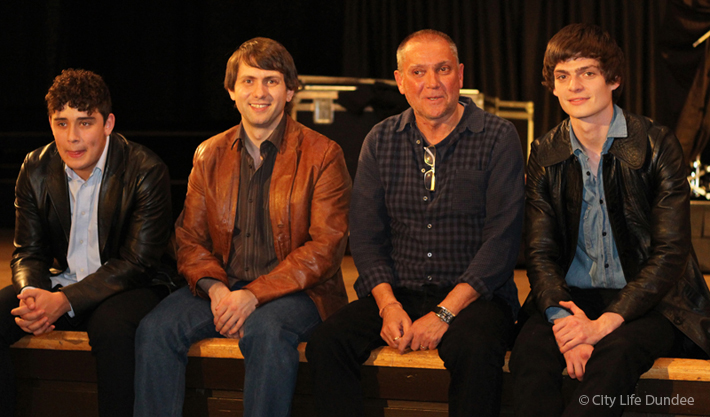 Dave Mclean, the producer and the vision behind the movie, and the real life Davie…
"It's going beyond my wildest dreams, it's everything I wanted plus a hundred times more, I'm not joking. Locations, camera crew, actors, the whole parcel is superb; we're on a winner, seriously trust me! I've been watching the filming on the monitors and honestly it's like going back in time, the attention to detail is fantastic, it's tremendous, honestly! It's got a Trainspotting vibe but it's all Dundee."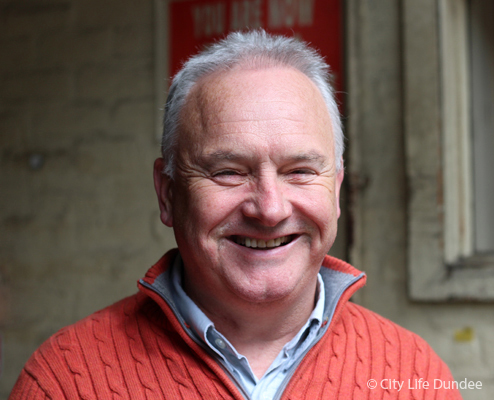 John Gibson (pic right), one of Scotland's most successful entrepreneurs, originally from Dundee's Fintry housing scheme, is one of the main backers of the movie…
"It's going to be great and it's good to be involved even though I'm just on the periphery, sort of helping to finance it. I'm a born and bred Dundonian and I just want to see Dundee things do well."
"The movie's got a bit of fact and a bit of fiction and it'll portray Dundee, put it up there again and get people to hear what a great place it is and that things really happen here."
John Gibson is also the real-life incarnation of the character John in the movie, so we asked how he felt about his younger self being portrayed to a possible worldwide audience…
"I just hope it's an inspiration to other people, I've always said that I spent forty-five years in poverty before I made any money. The reason for that is that I found a hundred ways not to make money before I made any!
I hope the movie is going to be an inspiration to young people to go out and find their way in life, if at first you don't succeed then try and try again. That is exactly what this story is all about!"
Tara Lee from Wicklow in Eire plays the lead female character, trainee nurse Shona…
"It's the funniest story ever as to how I ended up in the movie. Dave was stuck in traffic in Bangkok and he started watching The Fall, a BBC series I'm in. When he'd seen me he contacted my agent and when my agent emailed me I was like, 'oh my god, I have to do it'. He was so passionate about it, and the story I think is so authentic and has that musical element I love, and set in 1979 – what's better! So I was well in for it at that point and then I saw the script and that was mind blowing, a real story with real people and the three lead roles in it are amazing! I love Dundee, it's beautiful, people are so lovely and helpful, I've been in every single charity shop within a two mile radius. This is my second day on set, I'm so happy it's fun, everyone knows what they're doing, they're all pros and it looks great. I think it's going to turn out really well."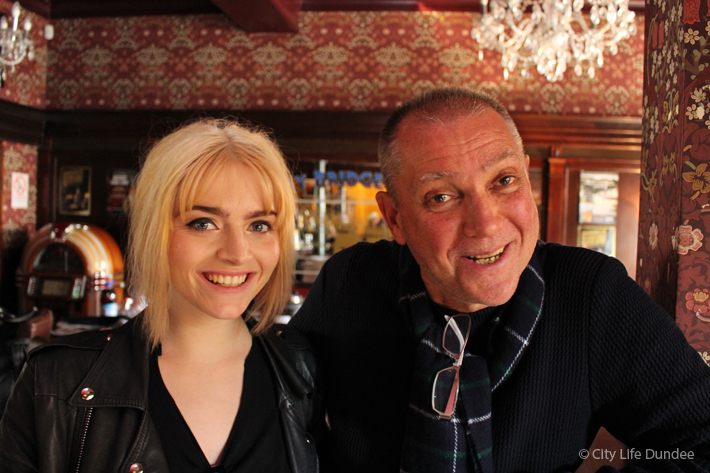 Conor Berry from Edinburgh plays the movie's main character Davie…
"I've been filming every day on the set and it's a strange one for me as I'd never been on a film set before. So a lot of it is all new to me, the first day I turned up I had no idea what to expect, then all of a sudden there was all these people. It's a great feeling to be honest, it's nice to be doing something that you want to do, yeah it's happy days."
"The lead actress Tara is great fun, and has the perfect personality for the role. Dave Mclean has been great, he's given me licence to roam pretty much, he's just allowed me to work his character. My biggest worry was coming in and trying to impress and trying to do Dave proud, but he's really not interested in that, he just wants me to tell the story, it's a real winner!"
Behind the Scenes
It's amazing to see the army of talented and enthusiastic people that are involved in the making of this independent movie. The directors have set a very strong, determined pace and have lead the whole team from the front with absolute focus. The cast and crew are all working so well together and you can feel that their passion and dedication is going to be a major factor in helping this movie to be a success.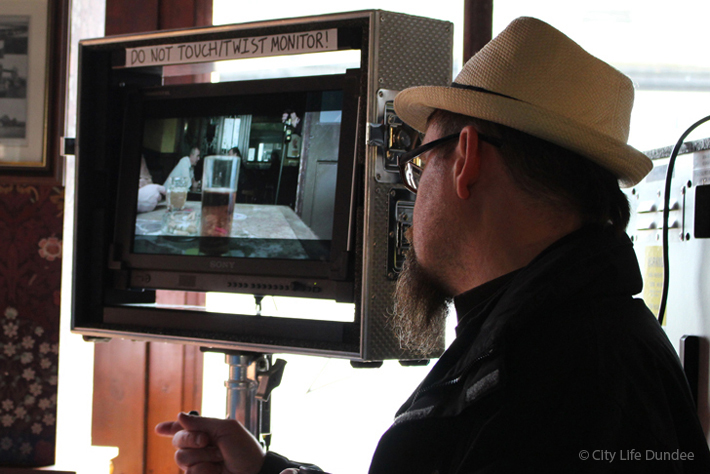 Other Schemers we bumped into on set included Kit Clark, the well kent Dundee musician and performer, who plays Davie's dad Wullie, and Kyle Falconer of The View who has a walk on musical cameo. City Life are going to be following the whole Schemers journey from start to finish, so don't worry, we'll be keeping you regularly updated in our print magazine, our online magazine and on our Facebook page. The Schemers team are still looking for extras and small walk-on parts so if you feel you have the talent to be in Dundee's first ever feature film then get in touch with City Life and we will pass on your details.
Email us at: hello@citylifedundee.com
www.facebook.com/SchemersDundeeMovie