Even with Scotland's unpredictable weather, the beauty of our landscape and great sites still makes it one of the best places in Europe to have a camping holiday. Whether you're packing the car for a week or just looking to escape for a night or two, here are ten of the nicest places to sleep beneath the stars.
Woodland Camping
It might be on another side of the country, but the Red Squirrel Campsite in Glencoe (pics below) is worth the drive. It is in lovely woodland with a river flowing through it, and the relaxed pitch-where-you-like rules also allow for campfires. Closer to home is Comrie Croft in Crieff (main pic). Erect your tent under the trees and enjoy the feeling of wild camping with the benefit of a hot shower. Bliss!
Beachfront Camping
West Beach Caravan Park (pic below left) bills itself as a "midge free zone", which is a significant benefit beaches in the east have over campsites on the west of Scotland. The campsite is on the Moray Coast with direct beach access and was revamped by the current owners in 2015 to give a retro feel with mod-cons. Clachtoll Beach Campsite is in a lovely coastal location in Lochinver (pic below right). It is a family-run, all grass campsite with excellent facilities that offer convenience without spoiling the sense that you are escaping the trappings of a busy lifestyle.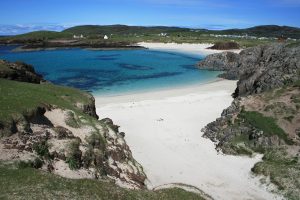 Wild Camping
Thanks to the Land Reform (Scotland) Act 2003, you are allowed to camp on most unenclosed land around Scotland although some areas, like the shores of Loch Lomond, are subject to bylaws that restrict camping. Loch Enoch in Galloway Forest (pic below left), and near Loch A'an in the Cairngorms (pic below right) are two beautiful places to consider.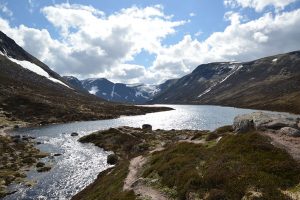 Glamping
Glamping is hugely popular with those who like the idea of camping but who don't want to rough it. If you work hard for your time off and want to feel incredibly comfortable in the great outdoors, glamping is for you.
A glamping holiday could be anything from a few nights in a basic camping pod, which is a small, insulated wooden hut not much bigger than a garden shed, to a yurt that, while only one room, is large enough for a proper bed and some other furniture, to a luxurious eco-cabin.
Loch Tay Highland Retreat provides a range of glamping accommodation encompassing everything from ultra-cool geodesic domes each with private picnic area, king-size bed, bean bag seating and a wood burning stove (pic above left) to luxurious wigwam cabins (pic above right), each furnished to a home-away-from-home standard, with a separate bathroom, mini-kitchen, private picnic area with a fire-pit, and spectacular views of Loch Tay and Ben Lawer.
Unique Camping
Some camping experiences are one-of-a-kind. A good example is Roulotte Retreat near Melrose in the Scottish Borders (pic above). These colourfully decorated wooden caravans have been handcrafted in the Romany style and are set in a peaceful and secluded meadow beside a gentle burn. The caravans sleep 2-4 people and can also be hired for groups.
The Beer Moth (pic below) is a 1954 Commer fire lorry that has been meticulously transformed into a quirky sleeping space complete with roll-up sides and an antique brass bed. The truck lives on the grounds of Inshriach House in the Cairngorms, where you can also stay in a rustic bothy or cosy yurt so secluded you will feel as if you are the only people for miles, and where you will never tire of the amazing natural scenery.
Wherever you stay, always be a responsible camper by taking your rubbish when you leave. Scotland is a breathtakingly beautiful environment, and there is no finer way to appreciate it than by spending as much time in it as possible.