The weather might not show it, but the makeup aisle of your local pharmacy or department store indicates that spring is here. And the latest trend for beauty products in 2017 is versatility.
One of the best examples of this is the new range of long-wearing lipsticks. When they first hit the market, the payoff for lasting colour was dry lips, but Smashbox has sorted that with their Always On Matte Liquid Lipstick (pic below left). Using cosmetic alchemy, they have created a pigment-rich lip colour with a unique lip smoothing primer oil that keeps it in place without cracking, flaking, or drying out your skin. It is also water resistant, so it is ideal for your summer holiday makeup bag (and your Dundee's spring showers!).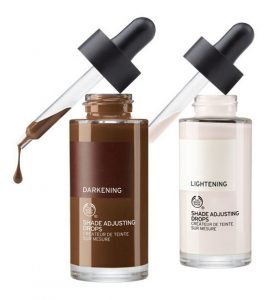 The Body Shop has the solution to finding an affordable foundation that perfectly matches your skin tone. Their Shade Adjusting Drops (pic above-right) can either darken or lighten your foundation until it's the ideal colour to give you a flawless look. It's an excellent purchase if you find that, after a few sunny days or a holiday in the sun, your usual foundation is suddenly too pale.
Urban Decay's Naked Palette has long been a staple for fashionistas, but Naked 2 (pic below) is proving even more popular with a range of neutral colours that are as flattering on eyebrows as they are on eyelids. Urban Decay is known for their vibrant, long lasting colours and by adding slightly cooler tones to this palette, they have created something that will suit most people.
Do double duty when removing makeup with L'Oreal Paris Age Perfect Smoothing Cleansing Wipes (pic below). The wipes, which are biodegradable, are enriched with almond oil, vitamin C, Pro-Calcium, and Dermoliss – a product which helps give skin a smooth appearance.
Spring is a great time to clear out old makeup and freshen your look with new products.