25th January – 1st February 2017
This was the week that Scotland celebrated our national poet Robert Burns, the Chinese New Year, and the much anticipated release of Trainspotting 2, but we were here in Dundee celebrating the release of Scaffies 2 with our own local hero and street poet Gary Robertson. Gary and his team of Scaffies had just sold out their eight show extravaganza and the lads on the bin lorry were about to take us on another hilarious journey back to the 1970s. We had already seen the first run a couple of years before so sort of knew what to expect but we were reminded just how funny this play is and what a great team of locally based actors these guys are. Gary and the lads have created an important piece in Dundee's theatrical and cultural history and also broke box office records along the way.
What's the Story?
The year was 1978 and Scotland was experiencing social and political turmoil with a cold winter forecast and industrial action and strikes looming. The lads on the bins were heading for their own 'Winter of Discontent' and for this merry band of Dundee scaffies hard graft, hard drinking and hard banter were just part of the everyday routine. The lads took us on a real life journey of what it was really like in the powder keg, slapstick comedy atmosphere of the depot canteen, and what it was like to work outdoors on the bins; where a verbal kick up the arse from the gaffer was always just around the corner. They take us on Scotland's 1978 Argentinian World Cup journey and then ultimately and poignantly introduce us to the realities of social upheaval and industrial unrest against the backdrop of the main character Tam's own personal struggles.
All Aboard the Bin Larry
Gary Robertson's hilarious character 'Wham-Bam- Thank-You' Tam led the crew brilliantly on stage and took a new punk upstart apprentice Donnie, played by local actor Keiran Duncan, under his fatherly wing. Kevy Parr the well kent local voice-over actor played the larger than life Larry the lorry driver. Larry has a penchant for exaggeration as apparently he was once in the SAS and the Douglas Toddy. The SAS we could barely believe but the Douglas Toddy, now that's elite! Gerry, played by sometimes River City actor and reformed local gang leader Steve Merton, seems to be the butt of everyone's jokes, however he's no as daft as abody thinks. Big Scott Petrie, a real life Dundee scaffie who City Life see regularly in the streets, plays the tough verbal arse-kicking gaffer Andy with sheer unmissable presence. He's a boy you dinna want to mess with! Barely holding the riotous crew together were local actors Kenny Cathro and Chris Wylie who both played their characters, Boab and Benny, like seasoned pros. These boys may have had less vocal roles to play but their stage craft was there for all to see. This play just wouldn't be the same without the seasoned double act of Ged Ryan and Ronnie Whyte playing a couple of crafty auld scaffies, Eddie and Frankie, who have seen it all and tell it like it is to the young anes. Frankie Kent appears briefly with his brilliant posh accent as the new gaffer Cornelius while John Reilly, the ex-Dundee United footballer, and Trotsky Cundee, the local punk legend from the band The Cundeez, both executed their quiet Barman roles with Charlie Chaplin finesse. That must have been hard for they twa to keep quiet for longer than five minutes!
Final Act
After the boys took their well-earned stage bows it was left to Gary to say a few final words…
"I just want to say a wee thanks for supporting us with this nonsense! On behalf of this band of brothers thanks a million for coming and supporting us all the way. I want to dedicate the whole show to Malcolm Dougie, we lost him before Christmas. This is for him."
Meet the Scaffies
We caught up with some of the Scaffies after the show and asked them how they felt about it all…
Scott Petrie as 'Andy' (pic below left)
"For me, this time there wasn't as much apprehension, as last time was the first time I did any acting. I'm walking away from the theatre feeling happy, it's been that kind of performance, we all worked together. It's good the Dundee people come oot to support local plays."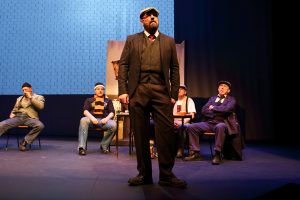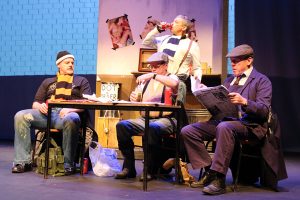 Steve Merton as 'Gerry'
"It feels great showcasing the social reality that still goes on in the toon. It's great to stand oot there and rattle oot yer ane language withoot somebody saying 'hey, what's that your saying?' To be on that stage and to hear the buzz o' people laughing and clapping ye cannae beat it."
Keiran Duncan as 'Donnie'
"The best thing for me is that the play attracts people that would never usually step foot into a theatre or auditorium. Eh think that is the magic of Scaffies and Gary's work. It's a totally different crowd. Its great being on in the Rep, especially when there is barely an empty seat in the house."
Ged Ryan as 'Eddie'
"I've done stuff in theatre and you come onto stage and there are eight people in the audience but the Dundee people will come out in droves if it is about Dundee. The humour takes you back to the days of the auld tenements and old jokes like 'If you go to the toilet, never wipe your erse with the Sporting Post cause you'll get scores on your bum.' It is keeping the stories alive; it is part of Dundee history. It is like living history in a way, you are saying this is who we are."
Kenny Cathro as 'Boab'
"Sometimes we struggle to keep laughs in; you have to hold it back. It almost steps out of the realms of being a play to the point of pantomime. I would love to be out there myself, sitting out there in the audience watching the show, it would be brilliant. Gary is such a talented guy; his sense of humour is legendary."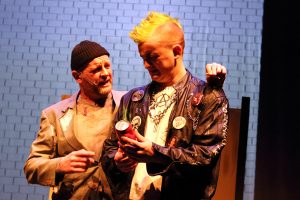 Chris Wylie as 'Benny'
"I have never done anything before in my own accent. It has always been like an American thing or whatever. We're just normal boys that work for a living and then come and do this as well. It is a total privilege for me, somebody who was born and bred in Dundee and today in a play in my hame toon aboot things and characters that you can relate to from your own life. For it all to go down so well and for it to be a sell oot and everyone's laughing, what a treat!"
Trotsky Cundee as 'Barman 2'
"I had John Reilly to follow, so watched him and all the moves he made. The boys are feeling great, there were real team hugs mano a mano. I'm so honoured to be involved with it and to be in their company was fantastic. We are just Dundee fowk, being part of Dundee is fantastic, be proud, get on with it and just enjoy life."
Gary Robertson as 'Tam'
"Ken what, I am nearly speechless an' eh ken fowk winna believe that but eh nearly am. Eh'm just blown away and cannae believe the nonsense that's in ma heid that comes oot on the page and then when we go an' act it oot it's so greatly supported by the Dundee public. Eh love this city and eh love the people, so it's great tae gee something back and eh feel when we a' go on stage we are geein them something back. To hear an audience laugh at something you have written; it's just unbelievable, eh'm totally blown away. It is crazy but the guys are like the dirty dozen, a hand-picked load of guys just aff the street. What a crazy load o' characters that hiv come the gither to eventually produce the finished article."
"Dundee has such a wealth o' banter and culture; it's great to bring it a' back to life. The whole inspiration really is to keep the Dundee language alev. Dundee has got such a story to tell, such an important place in the whole o' Scottish history. It's great to bring some o' that back to life with The Scaffies and The Berries. Dundee's story uh'll continue to grow over the years. It's good to hae a wee step back intae the auld days and show how times were and to put a smile on people's faces, that's joab done!"
Berry Up
We hope you have enjoyed this wee insight into the amazing home grown talent we have on our Dundee doorsteps. Even more of that same talent can be seen in January 2018 when Gary Robertson brings The Berries back to the stage. Tickets are now on sale so make you sure you get a front row seat on that berry bus!
www.dundeerep.co.uk/event/theberries
Main photograph: Back row, L-R: Chris Wylie, Kenny Cathro, Keiran Duncan; Front row, L-R: Kevy Parr, Gary Robertson, Steve Merton