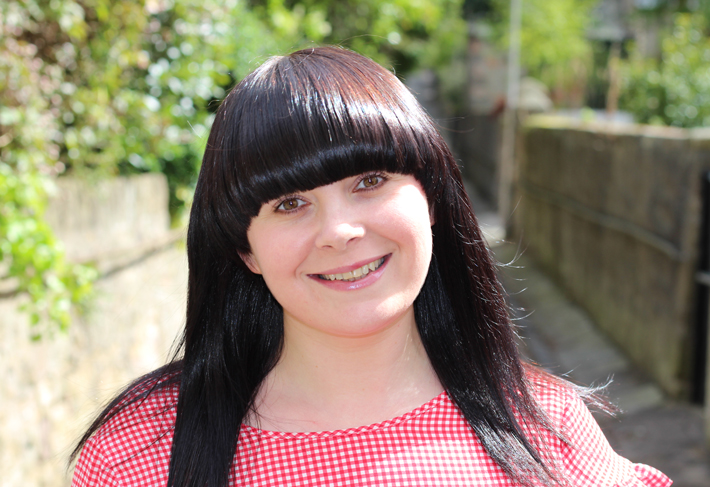 Over the last couple of years, whilst out and about at various events in Dundee and meeting many amazing characters from all over the world, there has been one person that we keep bumping into around every musical and cultural corner. One minute we saw this lassie orchestrating Loadsaweeminsingin at the McManus Galleries, the next minute she was presenting and singing at The Bard Is Well annual fundraiser. We then saw her directing a youth choir at a Dundee University cultural event about Dundee. She's also recently been on television, on radio, and has featured in many national newspapers. We had to find out what the hell was going on…
Alice in Wonderland

Alice Marra, singer, musician and choir director from Dundee was born into the wonder of music and song from a very early age, after all her father, the late Michael Marra, is a local music legend. She is probably most well known for being the female singer in Dundee's well-travelled indie-pop band The Hazey Janes. For over ten years Alice, her wee brother Matthew, Andrew Mitchell and Liam Brennan have been playing and recording all over the world. The band has released five studio albums and has collaborated with others including her father and Liz Lochhead. Not bad for starters, eh?!
Alice's personal passion for years has been working with various choirs and singing groups in and around Dundee. After travelling the world and benefiting from music herself, she wanted to inspire and encourage other people, young or old, to get involved and gain confidence through music. The list of singing groups she is involved with is pretty extensive, including The Lochee Linties, East Side Youth Chorus, Sing Dee, and Hot Chocolate but the main group she now directs, Loadsaweeminsingin, are a ground-breaking all female community singing group, established in 1994, that have performed at various events and concerts around Scotland. The group came under the new direction of Alice in January 2015 and are now based at The McManus in Dundee.
"The group are a very powerful and passionate bunch of women from around Dundee and although the group has changed over the years there are still some of the earliest members still singing."
Optimistic Sound
One project that has really energised Alice, as well as her family and friends, over the last few years since her father's passing is The Optimistic Sound fundraiser for the Sistema Scotland Big Noise Orchestra project. This participative project is designed to change lives by fostering confidence, discipline, teamwork, pride and aspiration in children through music. Alice's passion to help fulfil her father's wishes to bring this transformative project to Dundee led her to co-found and organise numerous fundraisers. One in particular The Bard is Well has now become a permanent feature in the annual Dundee musical calendar. Singers and musicians from all over gather at Clarks Music Bar to celebrate the songs of the late Michael Marra and raise funds in the process. The campaign has already been a success as Big Noise is now a reality.
"When we first heard that Douglas was to be the area for Big Noise it just seemed to make sense as so many great artists have already come from that area such as Gary Clark and Kit Clark from the band Danny Wilson, also Gavin McGinty from the Sinderins. We've still got a lot of money to raise to keep the project going long term. Once the children become an orchestra they can then start performing and fundraising themselves. Meantime 'Optimistic Sound' and 'The Bard is Well' fundraising will keep going as long as we have to, that's the promise we made."
Chain Up The Swings
The thing that really defines Alice now and the thing she is most passionate about, is taking her father's musical songbook to the world. That's what's been causing a stir in the Scottish media, as she has recently launched a debut album of her father's songs, Chain Up The Swings. Even City Life got in on the media frenzy and travelled to Glasgow to see Alice and The Gaels Blue Orchestra launch and showcase the whole album at the Celtic Connections festival – see our article here.
We asked Alice about the new album…
"There's one song on the album, the first one actually, that no one would know and there are a few hits and a few less well known tracks, hopefully there is something for everybody. We've only scratched the surface of Michael's songbook as there are so many songs and hopefully if we keep on performing there will be more songs that people haven't heard before."
We asked where her passion comes from to drive herself on in everything she does…
"I've had such an amazing musical experience since I was very young and I've had so many amazing opportunities and done so many amazing things. I just want to somehow have a part in helping other people to be able to do that, it's giving other people the chance to have a wonderful musical experience like I've had. One of the most satisfying jobs I have is working with the young people in Mid Craigie, who wouldn't normally have access to this without the group that we run, it's been life changing for some of them, and how can you not do that! Music absolutely does transform lives but unfortunately not everyone has access to it and that's what we're trying to fix to give everybody the opportunity."
We asked her to share a final piece of advice with our City Life readers…
"As my dad always told me to do, just get on with yer work!"
It has been an absolute pleasure getting to know Alice as she truly is an inspiration to us all. Her father's musical legacy has been such an important thing to leave for generations to come, but we think he has left us something even more amazing… Alice Marra, a very special Dundonian.
For more information about Alice and her new album Chain Up The Swings please visit: www.facebook.com/alicemarramusic
Chain Up The Swings is now available to buy on CD or MP3 download from MusicScotland.com, Amazon and iTunes, as well as streamed for free on Spotify.
There will be a one night only performance of these songs at the Gardyne Theatre on 30th June backed by her ten piece band The Gaels Blue Orchestra.
Tickets are available from: www.dundeebox.com
WIN A COPY OF CHAIN UP THE SWINGS!
We are giving away a free copy of Alice's new album, Chain Up The Swings. For a chance to win just like and share our Facebook page quoting Chain Up The Swings, or email hello@citylifedundee.com with the subject Chain Up The Swings and tell us what you like about City Life magazine. Good Luck!