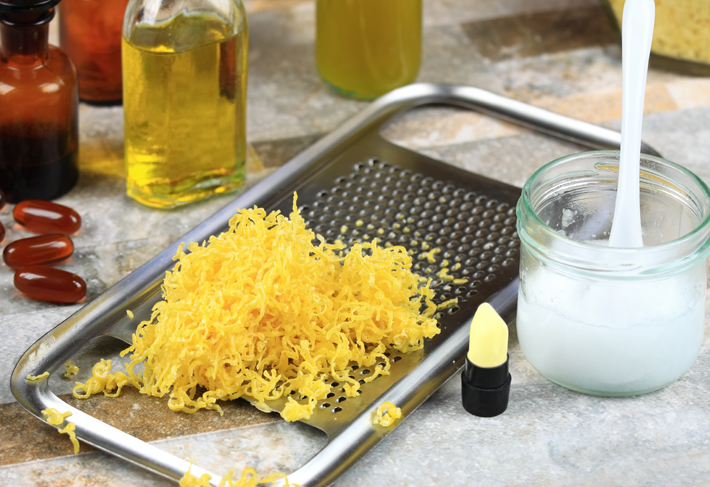 Have you ever wondered why your poor lips suffer terribly in cold winter weather? It's because the skin is thinner there than on other parts of your body, with only three to five layers instead of up to 16 as are found in other areas. Lips also lack sweat glands and have no way of keeping themselves moisturised, making a decent lip balm essential for keeping them soft and smooth.
Take a few minutes once a week to show your lips some TLC and scrub them gently using a mix of honey – Manuka if you have it – and brown sugar to remove any dead and dry skin. Avoid heavy and drying lipstick in favour of tinted lip balm, and drink lots of water to keep your skin hydrated. Pull your scarf up to protect your lips when you're outside, even if it's not windy.
The best way to protect your lips is with a lip balm but don't spend a fortune on expensive shop bought products with lots of chemicals. Here is an easy recipe you can make using ingredients you may already have in your kitchen.
Ÿ 2 tablespoons of grated beeswax
Ÿ 1 tablespoon of coconut oil
Ÿ 2 teaspoons of almond oil (or substitute for vitamin E oil)
Melt in a bowl that's suspended over a pan of simmering water and stir gently until all the ingredients have melted and there are no flakes of beeswax remaining. Take if off the heat immediately.
You can spoon your lip balm into your chosen containers, but a large plastic syringe is an easier and cleaner way to do it. Pots and tubes are readily available online, or you could wash and reuse any suitable containers you have.
DIY lip balm is a great Christmas present. Personalise your lip balm by melting a slice of pink or red lipstick in with the other ingredients, or add 5-10 drops of pure vanilla or peppermint extract (make sure it's certified "food grade") after you take it off the heat. You can also sprinkle some edible glitter or shimmery eyeshadow for a lovely effect.
If your foray into DIY beauty products has emboldened you, you could use glycerin and distilled water with food colouring to make lip and cheek stain just like the ones you'd pay £15 or more for in a department store. If you want an entirely natural product then mix beet powder with almond oil or shea butter.
Who says that Christmas cooking should only be turkey and pudding? Try experimenting with different combinations of ingredients and turn your kitchen into your own Santa's workshop.