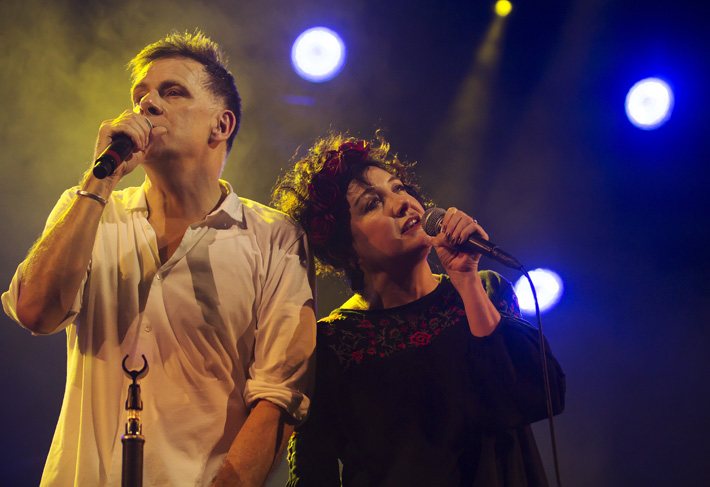 City Life Dundee were lucky enough to be invited by the Deacon Blue team to soak up part of their recent UK and Ireland tour at the Dundee Caird Hall and the Usher Hall in Edinburgh. Having been life-long fans, brought up on the sound of Deacon Blue within the 1980s and 1990s Scottish soundscape, along with other greats like Simple Minds, Danny Wilson, The Proclaimers, Runrig, and others, it suddenly dawned on us that, although we had bought most of their albums from that era and we had seen Ricky performing solo a couple of times, we had actually never been to a Deacon Blue concert. How did that not happen? Now here we were, entering open doors to two concerts in the same week and we were honoured to be a part of the media coverage surrounding this 'Believers' tour.
The Believers
Simply arriving outside Edinburgh's Usher Hall at 7.00pm on the first day of December was exciting enough. Deacon Blue were on at 8.30pm and the believers were already queuing up en masse. There was a positive atmosphere around this theatrical hotspot which also houses the Traverse Theatre and the Royal Lyceum Theatre. Local bars and restaurants were absolutely buzzing with customers and this was only a Thursday evening. We could sense this was going to be a good night as we had already experienced a fantastic concert in a full Dundee Caird Hall a few nights before, where Ricky and the band totally nailed it, and you could feel this night was going to be even more special! Something was in the air, Ricky and the team had been on tour for over two weeks already, so they had really settled into the swing of things. The end of the tour was near and it felt like Deacon Blue were about to peak tonight in the concluding run up to their Glasgow Barrowland finale.
Entering the venue you could tell straight away this was going to be a memorable and intimate night as the old fashioned theatrical design of the concert hall, with grand balconies overlooking the stage, made it feel like we were entering a Roman arena. This passionate Scottish crowd excitedly rumbled in anticipation for their musical gladiator. We wandered around for a wee while soaking up the history and atmosphere of this beautiful setting and blethered to the friendly staff. The believers were surging in, it was time to take our gallery position. What a great view we had and what a surprise we got when we sat down, another legend of the Scottish musical soundscape, Rory MacDonald (Ruaridh MacDhomhnaill) of Gaelic rockers Runrig, was sitting right next to us! The spirit of Alba was definitely calling for one of its greatest musical warriors, Ricky Ross, tonight, right here in the heart of our ancient nation. It was time to believe…
Here's How it Went
The atmosphere was already electric as Deacon Blue hit the stage. The mass roaring crowd really were plugged in with the powerful, deep emotion of the evening's first song, 'Come Awake' from the new Believers album. What a wonderfully atmospheric and symbolic introduction to the concert. Then the crowd surged into a spontaneous clapping of hands with the next upbeat tune, 'Gone', also from the new album. Wow, the show was confidently launched with two cracking new songs that were still soaked in that unique Deacon Blue sound. That familiar sound continued when 'Your Town', 'Bethlehem Begins' and 'Circus Lights' set up the second mass roaring cheer of the night when the 'Chocolate Girl' guitar riff was launched by none other than Dundee's own Gregor Philp. For a moment we were all back in a special place and time!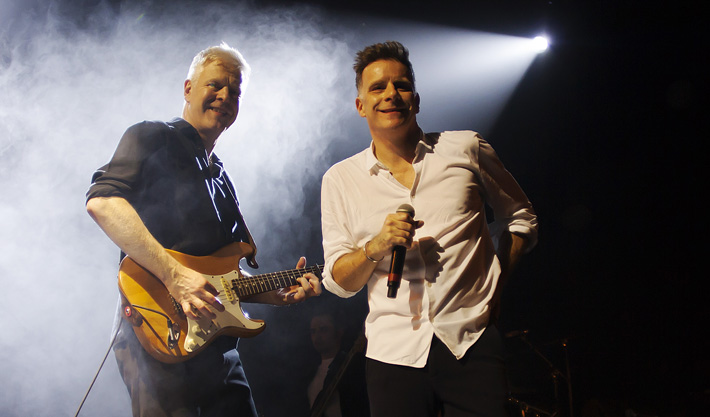 'The Outsiders', 'Twist and Shout' and another cracker, 'This is a Love Song', from the new album, set up the next two songs perfectly. 'Real Gone Kid' got the whole theatre, from top to bottom, on its feet and then 'The Believers' swept Ricky off his feet when he ran to the front of the crowd giving everyone high-fives and then all of a sudden he back-dived into a sea of welcoming arms and, before you knew it, he was safely wrapped up in a Scottish saltire flag. The crowd were loving it! The whole band were having fun and the audience fed off that energy. Lorraine McIntosh was just amazing, what a voice she still has. Gregor Philp was rocking on lead guitar, strutting confidently around the stage like a Dundonian should. Lewis Gordon, on bass guitar, was reliable as ever; Dougie Vipond was the ever-smiling beating engine on the drums; James Prime, on keyboards, was the master at the musical helm as always; and Ricky Ross, well, he was on fire!
The brilliant sound and energy just kept flowing with 'A Brighter Star', 'Birds', 'When Will You', 'Delivery Man', 'The Hipsters', 'Wages Day', 'Fergus Sings the Blues', and 'That's What We Can Do'. Then Ricky and the team bowed out but were compulsorily cheered back on stage for a triple encore. First with 'I Will and I Won't', from the new album, followed by a spine tingling rendition of 'I'll Never Fall in Love', in which Lorraine's voice was just magical. Then, when that ship called 'Dignity' finally set sail, the mass chorus of believers joyfully proclaimed their own personal story in Ricky's immortal lyrics and, like an old photograph, this mass chorus, for just a moment, captured two thousand memories all at once and freeze-framed them right there and then at the Usher Hall, Edinburgh.
What a song, what a sound, what a band, what a concert, what a tour! After all these years, Deacon Blue, we still believe in you!
Thoughts of a Kindred Spirit
After just watching one Scottish musical legend pull off an amazing show, it occurred to us that here we were sitting next to another in the form of Rory MacDonald, he had played concerts all over the world since 1973 with Gaelic rock group Runrig and he was still performing and touring. He knows a thing or two about music, so we just had to ask him what he thought of the concert and, like a wise Highland clan chief, Rory calmly shared his thoughts in his majestic Gaelic brogue…
"I've often thought that Deacon Blue are probably the best in Scotland, Ricky's song writing and presence as a frontman is fantastic. A lot of these songs played tonight are classic songs, they can stand up anywhere in the world, they deserve to be heard all over the world, 'Chocolate Girl' and 'Dignity' are fabulous!"
We talked about Ricky's electrically charged and powerful performance and asked Rory where that energy comes from,
"The adrenalin when you go on stage and what you get back from the audience sometimes feels like you're being wired to a battery and supercharged. As soon as you step on it's like 'whooosh!', invisible jump leads. It's incredible and that just stays the same way right through the whole concert, it's amazing. It's thrilling to watch Ricky and really nice to see how he works the crowd, he's great with the crowd, he has a very strong presence on stage and of course Lorraine is the perfect foil for him."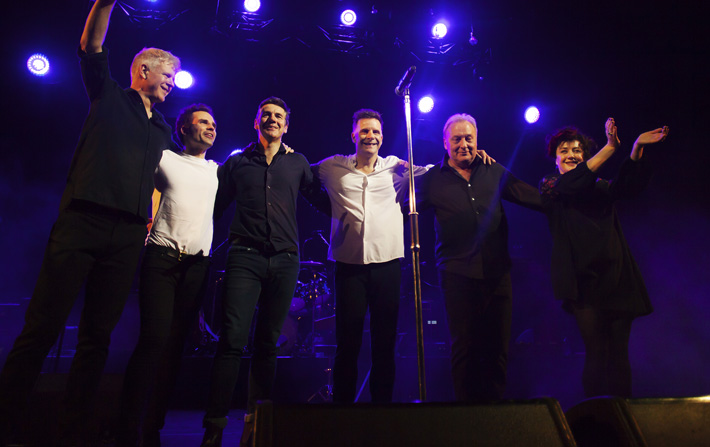 Thoughts of a Free Spirit
We were delighted to get a wee bit of Ricky's free time after the concert, so we asked him where he does get his boundless energy from to perform live,
"The physical energy now has to be trained for a little more than it used to. Most of us keep pretty fit, running, cycling and doing yoga."
We also asked what it's like, after all these years, to still be singing and performing with his musical soulmate and wife, Lorraine,
"It's great. We both enjoy the singing we do together. She's a real singer – she loves singing harmony which I can't and don't really do."
Knowing Ricky to be so proud of his Dundee roots, we asked him to share his thoughts on Dundee and to pass on some 'life advice' to his fellow Dundonians,
"Dundee is a great city. When I was growing up it felt as if it was a million miles removed from the music industry. All that has changed hugely in the last 35 years I feel. Dundee has grown in confidence as more and more musicians find a route into making their own records. The important thing is to decide what you want to do, stick to your plan and not to lose sight of the thing that drove you on in the first place. There is always room for creative, fresh ideas and people."
Tell Them Your Story, Tell Them What You Dreamed About
Some of the band members shared the spirit of 'The Believers'…
James Prime…
"It's got everything in it that you can possibly musically have, the kitchen sink is in there as well, it's very Deacon Blue."
Dougie Vipond…
"There's something about the spirit of the song, the lyrics, the melody, the chorus and the way that it all comes together."
Ricky Ross…
"A big part of growing up for me was people telling their own stories and where they came from, in a sense I was tapping into that language."
And the golden voice of Lorraine McIntosh, beautifully summed it up…
"It was written about love, and written about hope, and written about believing that you matter."
For more information on Deacon Blue and their brilliant new album Believers visit their website at: www.deaconblue.com
Photo credits: simonmurphyphotographer.com