Christmas shopping for the gadget loving car owner in your life has never been so easy! Here are a few gadget and gift suggestions to tick off your Christmas list.
Bluetooth Speaker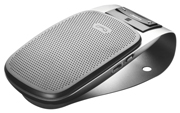 Why spend hundreds of pounds on an expensive car stereo when for around £50 you can have an adapter like the iSimple that allows you to listen to music, radio, and internet radio wirelessly from your smartphone through your car's speakers. Another excellent Bluetooth accessory is the Jabra Drive which gives you hands-free access to talk on your phone, listen to music, and get GPS instructions all for less than £30.
Mobile Phone Holder
If you use your smartphone as a sat-nav, then you need a stable mobile phone holder to secure it while you drive. A vent mounted phone cradle ranges from £15 to £20 without requiring a suction cup or glue to stay on. Look for one that can be adjusted to fit your phone and which has the ability to rotate, so you can view your phone's screen in either orientation.
Cordless Tyre Inflator
So it's not the sexiest present in the world but being able to top your tyres up without having to queue or pay for air at a garage is one of those little things that will make driving even more of a pleasure. Keeping your tyre pressure at the right level will not only make your drive safer, but it will also extend the life of your tyres and brake pads.
Jump Starter
Jump leads are great until you find yourself stranded alone on a rainy night with a long wait for roadside services. For somewhere between £40 and £60, you can keep a jump starter like the Phaze 4-in-1 in your boot to get your engine going with no other car needed.
Car Shampoo
Protect the finish of your vehicle's paint with a good quality car shampoo. Autoglym is a reputable brand suitable for most cars, but if you are very particular about the way your car looks you might want to splash out a little more on Meguiar's Gold Class. Throw in a lambswool wash mitt and a chamois or microfiber towel, and you will find your recipient on their drive on Christmas day happily washing their car.
Toasty Tools
Why would you freeze your fingers scraping ice off your car when you can slide it off in seconds with a heated ice scraper? An alternative to frosted fingers is a windscreen protector that stops ice forming on your windscreen or a top cover that protects your window and rear windshield as well. Together with a heated car seat pad, winter mornings will almost be a pleasure.