One thing that struck us when reviewing volume two of this musical project was how the hell did we miss volume one?! It's so refreshing to hear the authentic sound of a new generation of Dundee artists and enjoy the variety of musical talents and voices, all cosily delivered into one unlosable dayglow pink album cover! We just can't stop listening, really, this album is bloody brilliant!
Who are Art of the Memory Palace, are they the guys trying to sunblind us with the album cover? Does Jonny Jewel really think he's Something Cool and can Sonny Carntyne tell us what Salstraumen really means? The Sinderins always play Fayre and we can't Getaway from the voice of Gillian Dee! Does Vladimir really try, can Esperi really give us hope, and does that child of yesterday, Paul what's his name, really know his left from his right? STOOR infect us with their sound and Broken Stories promise It'll Be Alright. We can't remember how to spell the title to Flight's song and Kaddish leave us crossword puzzled. Marley Davidson floats us to an Island of Dreams and if you listen to Nicola Madill long enough you can hear her sweet Invisible Strings! Courtney Elena confidently proclaims the 'World is You' and The Onion Club assures us the kingdom is coming, but when?
1. Art Of The Memory Palace – Sunblinded Capsule Memory Haze – (pic below left)

The quirky swishing electro tones and resonating voices takes the listener on a space odyssey of Dundonian sound. Very clever and inventive, and a perfect intro to a great album.
2. Jonny Jewel – Something Cool – (pic below centre)

Guitars, drums, vocals and a live feel give this youthful, energetic wee arrangement a radio sound all of its own. This is such a cool track.
3. Sonny Carntyne – Salstraumen – (pic below right)

What a beautiful wee number. The band takes you on a reflective journey of the self and bring you safely out the other end of the turbulent musical current.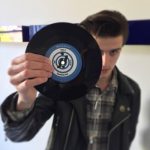 4. Sinderins – Fayre – (pic below left)

The Sinderins really take you to the Fayre with their mature, confident, brilliant and unique sound. Close your eyes and you are there dancing; trancelike, free and ready to fall in love at the Fayre. Another masterclass from the Dundee maestros!
5. Gillian Dee – Getaway
Wow, we really can't get away from the voice of Gillian Dee, and what a sweet wee arrangement this is! Who is this lovely lassie? We need to hear more! What a song, what a recording voice, what a hit!
6. Vladimir – I Try – (pic below centre)

Vladimir brings things right down to ground level with an earthy, post industrial, punk city sound that would be just right in a Trainspotting movie. Vladimir have definitely tried with this song!
7. Esperi – Bydand – (pic below right)

If you listen to the free deep heart of Esperi you hear the sounds of hope and happiness. What a magnificent electronica storytelling sound and those rainbow bells, just magical. We are definitely free after listening to Bydand!
8. Paul Lefty Wright – Child of Yesterday – (pic below left)

This multi-talented musical experimentalist puts together a song that is simply unique. Is that a sitar we hear? Paul may be a child of yesterday but his music is so today!
9. STOOR – Infect Me – (pic below centre)

We just love the confident capital characters of this band that apparently have been running generationally since World War I. Infect Me really is infectious, we just can't stop listening!
10. Broken Stories – It'll Be Alright – (pic below right)

Kevin Thomson and Gillian Ramsay combine to create a contemporary folky, acoustic, Scottish sound full of youth and vitality. It'll definitely be alright for these two up and coming storytellers.
11. The Mnemonics – Flight – (pic below left)

Wow, what an inventive and intelligent song and what a mature sound coming from these fifteen-year-old musicians! Their flight is definitely ready for take-off into the music industry.
12. Kaddish – End, As In Aim – (pic below centre)

These guys may be deep and dark but the hardcore sound they create is mature and accomplished for the genre. This tune aims to connect with something, listen if you dare!
13. Marley Davidson – Island of Dreams – (pic below right)

Just let yourself go into this song and what a delightfully brilliant piano and vocal journey you will experience. Close your eyes and let young Marley take you to an emotional island where dreams do come true. Absolutely beautiful!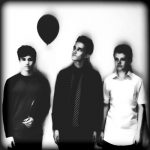 14. Nicola Madill – Invisible Strings – (pic below left)

Acoustic guitar, drums, other magic and the warm vocals of Nicola Madill combine to create a lovely wee story about life, love and invisible strings that never give in. This one is a real winner.
15. Courtney Elena – World is You – (pic below centre)

Acoustic rock chick Courtney gets you in the party mood with this lively upbeat tune. This bonnie lass has already supported Scottish acts such as Sandi Thom and Kyle Falconer. The world is yours, Courtney.
16. The Onion Club – When The Kingdom Comes – (pic below right)

A quirky, surreal, Germanic intro and back sound quickly unveils a wonderfully composed soulful piano composition by Stephen Lee and a beautiful peaceful vocal by Pauline Meikleham. What a thought provoking way to complete such a special album.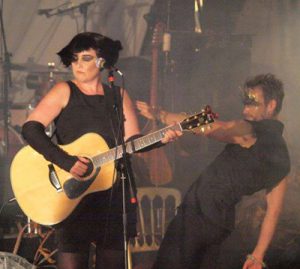 These sixteen songs of all shapes and sizes have been brought together to forever capture a special moment in the musical kingdom of Dundee.