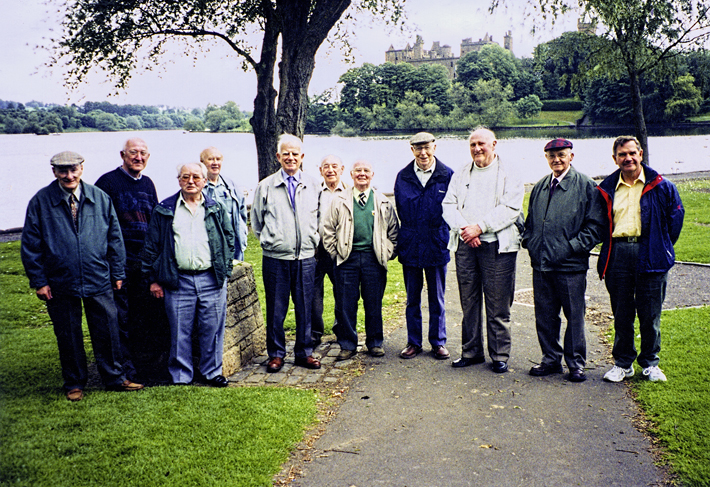 Written by Andrew Ferrie of Menolej
A group of retired gentlemen called "The Menolej Experience" has now existed in Dundee for twenty-five years. Membership is open to any retired gentlemen within reasonable distance of the city and the membership fee at present is just £18.
Back in 1991 there was a ladies' group which was operated by a department of Dundee City Council and it occurred to one of the members that her husband should enquire if there was any similar group for men. There was not any such group at that time but the seed was sown and recruitment began.
Then, from such a chance beginning, the group blossomed forth. They opened a bank account and chose a name, calling themselves "The Menolej Experience" – Menolej being an acronym of 'Men of Leisure'. However some of the members' grandchildren refer to them as "The Auld Mennies", which is exactly what they are, but their record shows that they have been very active and adventurous for their age.
The group is quite autonomous; compiling its own programme, driving a hired minibus, and submitting its annual accounts to the relevant council department for examination prior to a grant. They have taken part in sponsored walks for charity, attended all the events for over 50s organised by the council and by their good friends – Scotland's Learning Partnership. They have also taken part in a cross party meeting held in the Scottish Parliament Building.
The group have visited many historic sites including most of the castles in Scotland, Bannockburn, the Wallace Monument, New Lanark and the Housesteads Roman Fort on Hadrian's Wall. Along with these visits the "lads" are taken to museums and art galleries where one very knowledgeable member gives them detailed information about the paintings and their artists. Other visits have been made to industrial establishments, printing works, old prisons, and old reconditioned schools.
The physical and outdoor aspect of their activities is always considered extremely important by the group. To start with, any walks which they undertook usually involved a hill. This was great but over the years it became more difficult. The climax being when they were on a three day outing to Loch Tay and it was agreed they should attempt the ascent of the famous scientific mountain Schiehallion. Of the fourteen who started, only five reached the summit and the others were all very proud of them.
The members have all come from varied backgrounds; have had different types of education; worked in schools, factories, offices or shops; and were manual or white collar workers. Now that they are retired, any status is no longer valid and they are "a Jock Tamson's Bairns". It does not mean that they forget their lifelong occupations, because they can pass on to others information regarding the place they are visiting. Overall, there is no room for snobbery or elitism – all are equal.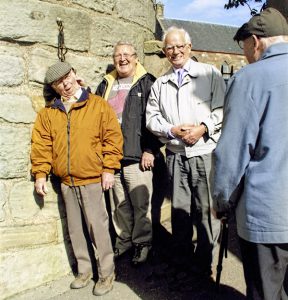 The Menolej Experience lives up to its Latin motto, "Sui Generis Sodalitas"(an organisation of its own kind). Much of the good nature displayed is due to the humour and joking between one another. For example, if a member has an idiosyncrasy it is usually noted and utilised by fellow members in banter.
Not long after the group was formed, the Dundee City Council decided to form a committee to compile a booklet, similar to one which gave school leavers help when they entered employment. The booklet was called Mature Scot because it was intended to provide assistance to people who were about to retire. Menolej volunteered to take part and were duly asked to research the law in relation to retirees. This they did with the able assistance of a young lady from the Town Clerk's Office.
This experience seemed to trigger a desire to produce more such books and over the years they produced three. The Face of Christ in Dundee, which described Christianity in Dundee between the first and second millennia, We Did It Their Way, which was an account of life in the armed forces at the start of WW2 and the National Service movement thereafter. Finally the "lads" compiled a selection of personal schoolday stories entitled Short Breeks, Scabby Knees and Silly Wee Laddies. They were promised that there would not be any further journeys into the literary world… but who can say?
Unfortunately, the men now find that the Demon of Old Age has joined with the De'il of Apathy and both seem to be intent on closing their ranks. The answer to this is simply to publicise the benefits of their organization, not only in their own area but also further afield. They have already put flyers in public houses – sorry, public places – but so far have had little response. Experience has shown that the personal approach has been the most effective method of recruitment and with their successful record of achievements they must continue with this approach. Nevertheless they shall also continue to push flyers, attend seminars and exhibitions, and boast to all and sundry about what they can offer the retired man as a substitute for the bookies, the golf course, the local hostelry, and also an excuse for not cutting the grass!
If there are any newly retired gentlemen who are wondering what to do with all this newly found time, why not contact the Menolej? Their meeting place is at the Mitchell Street Centre, Mitchell Street, Dundee. Telephone: 01382 435808.
To obtain a copy of the group's recent 25th Anniversary Commemorative Journal just pop into the Mitchell Street Centre or telephone the office on 01382 435808.