Stobswell has been a welcome haven for travellers, even back in its earliest days as a water-well just outside of the city. The name 'Stob' derives from the Scots word for a post indicating that it was one mile to Dundee. The industrial revolution of the 19th century reinvented the area and that history still hauntingly stands among us in the old buildings that remain. Whether it was Irish families escaping the potato famines; Scottish highlanders drawn off their farms; or Italians, Polish and Pakistanis settling after World Wars; travellers of all kinds, including City Life, have found a home in Stobswell. Even the most famous family in Scotland, 'The Broons', come from auld Glebe Street and one of Dundee's most famous sons, Brian Cox, was born and bred in Stobbie!
All Roads Lead to Stobbie
Many of the main arteries leading in and out of the city centre go through Stobswell – Arbroath Road, Forfar Road and Broughty Ferry Road to name but a few. So what a great centrally located place with plenty of passing trade. That's probably why there is such a variety of traditional traders still available – butcher, bakers, fishmonger, hairdressers and much more. Wendy Sturrock, of Forte Cafe & Room 39, shared her family's thoughts…
"All roads lead into Stobswell, it's the one stop shop before the town. It's the people that have kept us here for over 30 years, our customers are generational, we have grown up with them and their children, it's a family community."
Stobswell Village
Various community investment programs, combined with the abundance of amenities here, is making Stobswell one of the best places to live and work in Dundee. It's amazing what we have on our doorstep – Baxter Park, Stobsmuir Ponds, Arthurstone Community Library, Dundee International Sports Centre, shops, cafes, bars, bus routes, community facilities and numerous public festivals including Stobfest, the Dundee Motor Show, Celebration in the Park and the annual firework display. Also with the city centre and City Quay just a walk away, Stobbie is fast becoming a cultural hotspot, yet housing prices in this area are brilliant value! Julio, the well kent happy Italian owner at Doras Fish and Chips, told us why he was so fond of the area…
"My family have been trading in fish and chips here since the 1880s, Stobswell is a happy community, Stobswell has everything you need from start to finish."
A Traveller's Vision
Exciting developments are occurring with the Dundee Museum of Transport's plan to gain funding to relocate to Stobswell's historic old tram depot on the Forfar Road. We caught up with the Stobswell based visionary behind the dream, Jimmy McDonell…
"We've already raised nearly £700,000 of our £3 million target so far and are awaiting a funding bid of £2 million from the National Lottery. We're working to have the new museum interlinked with all the other cultural events in the city such as the V&A, Discovery Quay and the McManus Galleries. The museum will be in the hub of the community. Stobswell is a fantastic place to live, I've lived here for over 30 years and I wouldn't live anywhere else in Dundee!"
So, to live well and do well, go to Stobswell! For more information about Stobswell please visit:
www.stobswell.org.uk
www.dmoft.co.uk
www.boomerang110.co.uk

Stobswell's favourite fishmonger for over 21 years welcomes all. Bill Swankie offers a wide variety of fresh fish, seafood, shellfish and more including Arbroath smokies, breaded haddock, smoked trout, hot smoked salmon, oysters, scallops, mussels and more. You can even pick up eggs, oat cakes, soup mix, tatties and jars of beetroot. Make Arbroath Fish Shop your next stop!
164 Albert Street    Tel: 01382 450690
Tue – Fri: 9am – 5.30pm, Sat: 9am – 3pm
Lyndsey Bertie and her bevvy of bonnie lassies at Berties Barbers welcome gents and kids of all ages. Where else can you sit in the décor of the rock n' roll 1950s and get a professional haircut at a great price? The friendly team offer a great service and great prices- Under 4s £4.00, Kids £6.00, OAP £5.50, Crew Cut £4.00, Beard Trim £4.00 and a full gents cut for only £8.00!
158 Albert Street   Tel: 01382 451231   Facebook
Mon,Wed, Fri: 8.30am-5.30pm, Thu: 8.30am-6.00pm,
Sat: 8.15am- 3.00pm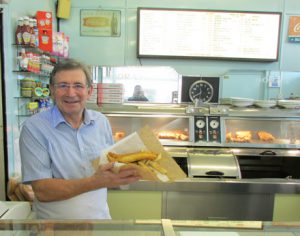 Authentic Italian fish and chips have been served here since the 1880s so it's no wonder Dora's Fish and Chips is a Stobswell favourite. Giulio Dora and the family team welcome you to taste their award winning cuisine. You can even sit inside and enjoy a freshly cooked supper. So make sure Dora's is next on your menu!
61 Dura Street    Tel: 01382 462121
Mon, Tue, Thu, Fri: 11:30am-1:15pm, 4:30pm -10:30pm,
Wed: 11:30am-1:15pm, Sat: 4.00pm-8.00pm
Walking into Forte Café is like stepping back into Philip Forte's Stobswell of the 1950s. Dundonians of all generations still drop in for a cup o' tea, a bacon roll or even an ice cream. A warm welcome is always given by Jim Sturrock and family who have been feeding Dundonians here for over 30 years. Next time you visit, also be sure to check out Wendy Sturrock's new Room 39 salon and boutique next door.
96-98 Dura Street    Tel: 01382 452616    Facebook
Mon-Sat: 9.00am-5.00pm,
Sun: 11.00am-4.00pm
Stobswell's favourite butcher for over 100 years has been in the capable hands of Sandy Neave for now over 30 years. A friendly, traditional butcher right on your doorstep serving up a variety of fresh meats, black puddings, pies and much more. Everything you need for your Sunday roast or your full Scottish breakfast is available here at David Grewar & Son and all at great value prices.
144-146 Albert Street    Tel: 01382 58831
Mon, Tue, Thu, Fri: 8.00am-5.00pm,
Wed: 8.00am-12.30pm,
Sat: 8.00am-4.00pm
You can't get any more traditional than knitting and you can't get any better than The Knitting Pin. This big wee shop is an Aladdin's cave stocking yarns from Sirdar, Wendy-Peter Pan, Stylecraft, Brett, Rico, Teddy, Designer Yarns, Woolcraft plus all the latest scarf yarns, buttons, lace, thread and ribbons you'll ever need. You have knitted the rest! Now knit the best!
165 Albert Street    Tel: 01382 458008    Facebook
Mon, Tue, Thu, Fri: 9.00am-5.00pm, Wed: 9.00am-1.00pm,
Sat: 9.00am-4.00pm