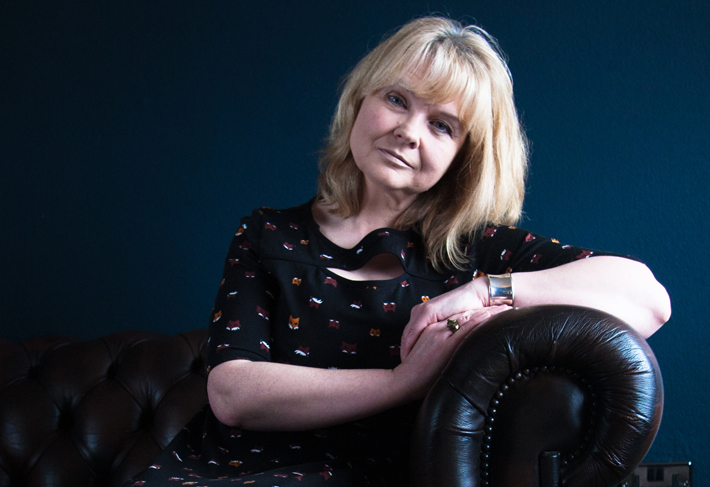 Born and bred in Dundee, where her mum worked in the jute mills and her dad in various factories, Lorraine has never stopped facing forwards and always seems to be on the move, like many other Dundonians, onto the next positive horizon. She has lived a life in magazines, newspapers, radio and a wee bit of television for over thirty years.
From her teens she learned the trade from the bottom up at Dundee's very own publishing giants, DC Thomson, in popular publications such as The Jackie. She has also worked with Express Newspapers, IPC Magazines in London, The Herald in Glasgow, and the world's oldest magazine – The Scots Magazine. She has even been a singer in Dundee band Miami Vince. So as you can imagine here at City Life, one of Scotland's youngest magazines, we've been very excited to be writing an article on this well kent author, editor, singer, "Abbanorak", and freelance scribbler.
Tak' it to the Bridge

Although Lorraine's main lifework was her writing for various publishers over the years, her real labour of love was her passions for music, Dundee and its colourful characters, which were weaved together in 2011 to produce a piece of history – Take it To The Bridge. We read this wee book a few years ago and were amazed at the colourful past captured within. This has got to be the best book ever written about the Dundee music scene, Lorraine captures memories, stories and legends that will now forever be remembered.
The book takes you on a journey from the heyday of the dancehalls and the Beatles, through to today's diverse music scene, now littered with famous names including the Average White Band, Billy Mackenzie and the Associates, Danny Wilson, Ricky Ross, Michael Marra plus local heroes such as Saint Andrew and Dougie Martin. Lorraine opens up a behind the scenes look at the funny side of the Dundee music scene that otherwise you'd never hear about. A profitable return is assured on this now collector's item!
One Summer, One Woman, One Continent

Over the summer of 2015 and after selling her house and most of her worldly possessions, homeless Lorraine travelled solo for three months around Europe by train, some ferries, and a bus. She then turned this soul searching, brave adventure into her second book and called it Facing Forward. Aged forty-eight and following a few challenging years of poor health, financial meltdown, heartbreak and bereavement, she knew it was time to make a change in her life. There was no other option but to face forward and go…
City Life read this book cover to cover and we even got a £2 fine from the Arthurstone Library for hogging it a bit too long, ouch! This emotional journey is genuinely honest, deep in places, and funny in others. Lorraine's attention to detail ensures you live the adventure with her and experience all the wee ups and downs and observations that she had along the way (my god, she must have carried some size of notepad!). This book is heart on sleeve stuff, and that is what makes the story so captivating, as, whether you like it or not, Lorraine is taking you with her!
This expedition from west to east and back north again introduces you to some funny places and characters along the way. The Museum of Broken Relationships in Zagreb – what a laugh! Meet the Kale sixteenth-century Scottish Gypsies still flourishing in Finland. Feel Lorraine lighting up in Stockholm and then hitting Abba's high notes in a Bratislavan duet. She even successfully gate crashed a family church funeral and a nudist beach (not in the same country) by total accident!
One thing you find out about Lorraine is that she is a loving and caring person with such a respectful warm heart for humanity and animals – especially wee terrier dogs! So, face forwards with Lorraine, share her brave emotional voyage around twenty European countries, and see how you come out at the other end.
Home Sweet Home
When City Life recently caught up with Lorraine we asked her what life on the road was like, what challenges she faced along the way and what kept her going,
"It was my life for fourteen weeks. Like life anywhere there were highs and lows – only these were more exaggerated. There were moments of absolute joy, like singing an ABBA song with a Slovakian piano player in a beautiful square in Bratislava. There were lows, like getting hideously lost in Budapest, having no idea where I was in the dark and thinking I would miss the night train."
Lorraine also shared with us what she had felt in the wake of such an epic adventure,
"It did clear my head, but achieved much more, my confidence levels have soared following the journey, it allowed me to reconnect with the woman who had been lost under the crushing weight of the everyday."
So now, after a year of reflection, and introspection through writing the book, we were curious to find out what she had taken away from the experience and if she still felt as she had when she returned from her travels,
"The overriding thing the trip taught me, was to take a deep breath and know that whatever a day threw at me, I could cope."
"It has raised my confidence and helped me to worry less."
Finally, we wondered what she thought about her home-city,
"I love the fact that Dundee is such a great size – big enough to have everything you need in a city, but small enough to walk around and always meet someone you know."
"Dundee has shaped me. In the years I was living away from here, I never lost my sense of identity and was always proud to say I am a Dundonian."
Well, no matter where your life journey takes you next, Lorraine, Dundee is proud of what you have achieved in its name, and remember there is always a home for a free spirited, Jack Russell loving, warm hearted Dundonian scribbler here at Dundee's youngest magazine!
Facing Forwards is available in Waterstones Dundee, Groucho's Record Store, and online from: www.facingforwards.com
On Wednesday 16th November, from 7pm, on board the HM Frigate Unicorn, Lorraine will be talking about her travels. Tickets for the evening are £5 and Lorraine will be having a lucky dip of the postcards she collected on her trip for everyone who comes along. Tickets can be booked by calling 01382 200900, or emailing: education@frigateunicorn.org
For more information about Lorraine, her work, and her travels please visit: