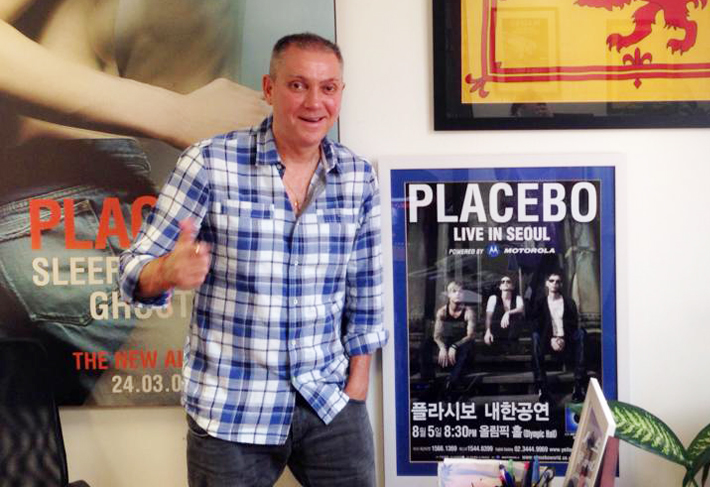 Dundonian Dave Mclean founded the concert promotion company Riverman Management in 1989 with his partner Alex Weston. Through the years they promoted some of the most iconic names in the music industry, including Nirvana, Foo Fighters, Green Day, Roxy Music, Smashing Pumpkins, Rage Against the Machine, and Pearl Jam to name but a few. Then in 1994 Dave and his London based team came across a band, little known at the time, called Placebo (pic below). The rest is history, as Dundonian singer-songwriter Brian Molko and co. have now sold over 12 million albums, in over thirty countries worldwide.
Riverman continues to evolve and now features Mercury and Ivor Novella nominated Wild Beasts, Jasper Steverlinck, Officers, Deaf Havana, Postaal, and Dundee bands Sahara and The Mirror Trap. Riverman have offices in Bangkok, London and now Dundee enabling them to advance the careers of all their artists throughout Europe and Asia. Dave was instrumental in putting together one of the biggest two-day music festivals in Bangkok with artists such as Snow Patrol, Oasis and Franz Ferdinand. Dave is also now involved in the management of Myra Molloy, a winner of Thailand's Got Talent (pic right).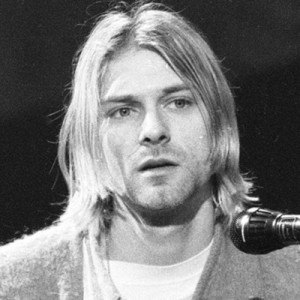 "When Kurt Cobain died we started to give up on the promotions, then Placebo came along and we sold twelve million albums!"
We were delighted when we were approached by Dave, a keen follower of our City Life Dundee Facebook page. He was planning a visit to Europe and wanted to meet and blether about a couple of exciting Dundee based musical ventures he was planning to announce. What got us really excited however, was the offer to take us out for a slap up meal!
Dundee Music Fest 2017
While enjoying a delicious steak and chips washed down with a glass of red ale at Dundee's Beer Kitchen, we couldn't believe our ears when Dave announced that he was planning a Dundee music festival in the summer of 2017 with headline acts already primed for the event! That was spine tingling news, a Dundee music festival headed up by one of the most experienced music promoters in the game, who is from Dundee and is hugely passionate about putting Dundee on the music festival map. Wow, Dundee just got even more exciting than it is already becoming! This makes so much sense and after talking with Dave for over an hour it was obvious he is the man to do it and make it a success…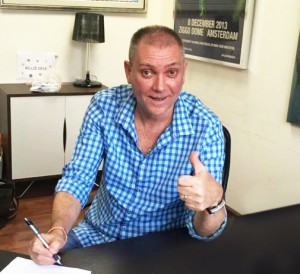 "I've been back twice already in the last year and I just love this place, it's brilliant. I still feel fifteen years old, my energy is boundless"
"What I want to do with this festival is the Caird Hall, Marryat Hall, Mary Slessor Green, Gardyne Theatre, The DCA, and other places like Clarks Bar and so on can get involved. I want to do it with film, arts, literature, plays, and a whole range of arty musical stuff. I hate to say it but it's very easy for me to do, it's like falling off a log. It's one of the main things I have on my life's bucket list. I'd really like to get Simple Minds, as that was one of the first bands that I promoted"
"This could be one of the best festivals in the UK, small with around 10,000 people, with people eating in places like this, going to see the bands. I am going to do it. That's it, next year, June! [clinking of glasses]"
Lights, Camera, Action
It was time for another red ale when Dave hit us with the next exciting bit of news! He was already in the process of putting together a low budget movie about two likely lads fae Dundee back in the 1970s trying to make it in the musical promotions game. Loosely based on Dave and his old buddy John Gibson (now a well kent Dundee entrepreneur and long-suffering Dundee United supporter) trying to escape their housing scheme and make it to the top…
"It was a bit rock n' roll back in the day to put it mildly. The movie is loosely based on two Dundee guys in the late seventies who, in a bid to escape the boredom and poverty of Dundee housing schemes of Fintry and Whitfield, decided to make money by promoting a series of concerts and discos. What followed was a catalogue of misadventures and hilarious gigs. It's amazing any shows actually happened, as they often forgot to book the PA or organize the catering. On one occasion when they had sold no tickets for a gig they decided that one of them should die, so they put a sign at the venue cancelling the show due to the sudden demise of the promoter, that was ok until the manager of the band knocked on the door looking for the fee and the dead man answered! We even tried to book Fleetwood Mac and Pink Floyd from a phone box!"
"We are scheduled to start shooting in August. Brian Molko of Placebo is writing the original score for the movie. My mate Ewen Bremner (Spud in 'Trainspotting') and Vicki McClure (Lol in 'This is England') are going to help with the movie stuff. We get the finished script shortly. My dream scenario would be to get Brian Cox involved, that would be the cherry on the cake"
Dundee's Got Talent
Dave and John are very keen to have a strong local involvement and they start casting in a few weeks, they are currently finalising production companies and are looking at confirming a director shortly. Dave has used all his contacts to secure a number of cameo star appearances in the movie plus a few guest bands. We hinted to Dave that the City Life team are readily available for the movie auditions…
"You have the perfect faces for radio, I'll be in touch!"
Castings for Dave's new movie are happening soon, so if you fancy seeing yourself on the big screen please send an email to: dave@rivermanbangkok.com
or alternatively contact City Life at: hello@citylifedundee.com