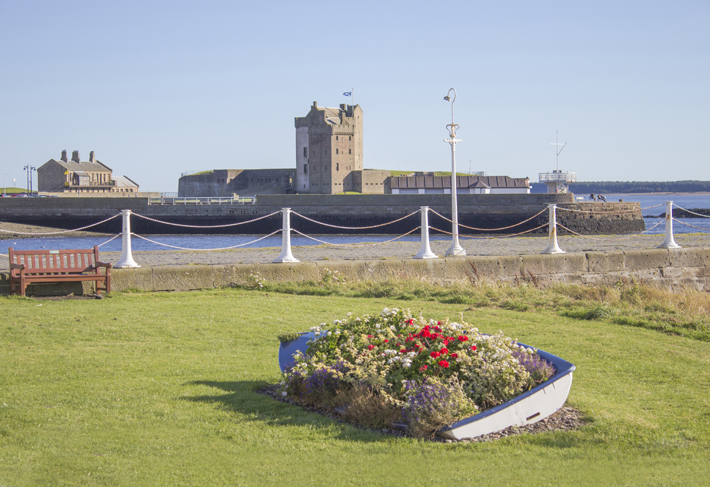 The beginning of the school holidays, and the annual Broughty Ferry Gala, herald in summer time in Broughty Ferry. This blooming flower in the Dundee garden awaits families from all over, who are planning a wee day trip 'doon the Ferry'. The beautiful views over the River Tay, the fresh seaside air, iconic Broughty Castle, the sweeping beach along the esplanade, the Barnhill Rock Gardens and, of course, Visocchi's ice cream, are all just some of the reasons families flock to the Ferry every summer!
Dundee is so lucky to have such an easily accessible bustling river front, and we are also lucky that we have so many independently owned family shops, salons, boutiques and eateries adding excellent value into the bargain! So have a wee wander down to the Ferry this summer and discover what great offers, unique gifts, tasty cuisine and friendly service you can find, right here in the heart of Broughty Ferry!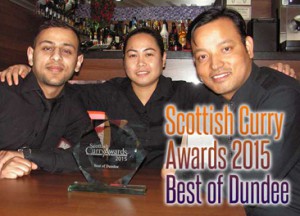 This award winning restaurant has been open since March 1999 and customers are still flocking to sample the high quality food and attractive surroundings. Bombay Joe's recently won the 'Best of Dundee' 2015 Scottish Curry award. The food is cooked in a style, different to anything else in the area, it is authentic Punjab cooking with a home style flavour… delicious!
44 Gray Street.   Tel: 01382 776448   www.bombayjoe.com
Summer Offer: 3 Courses £11.95 (Sun – Fri: 5-7pm, Sat: 5-6pm)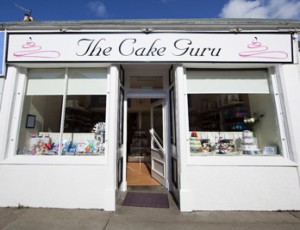 Stocking an extensive range of sugarcraft and baking supplies. The Cake Guru also designs and bakes bespoke cakes that are as individual as their customers. Their popular sugarcraft evening classes are also held in the shop. Whether you are a complete novice at cake decorating or a skilled sugarcrafter they have everything you need to make your cakes beautiful.
163 Brook Street.  Tel: 01382 690017   www.thecakeguru.co.uk
Open: Mon – Sat 9:30am – 5:30pm
Bring your creative side to life this summer. From cups and plates to mugs and tiles, Ferry Potty has plenty of crockery for all the family to colourfully decorate. It's the perfect place to spend an afternoon getting creative and the ideal gift for arty types young and old! Once you've washed the paint off your hands the lovely staff will dry, glaze and fire your artwork for you. Then just pick it up another day!
339 Brook Street.  Tel: 01382 770009     Facebook
Tue-Fri 10:30-5, Sat 10-5, Sun 12-4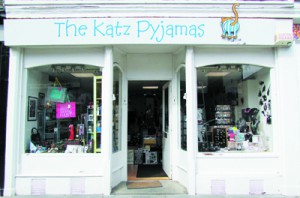 Looking for something different to buy? Need to get a tricky gift for someone? Then Katz Pyjamas is the ideal place to shop this summer. They sell unusual, stylish and distinctive gifts, handbags and jewellery to suit all ages and pockets. Scottish gifts with distinction, Harris Tweed, leather, hand crafted silver, witty cards and gifts, all presented with friendly service!
55 Gray Street.  Tel: 01382 698554     Facebook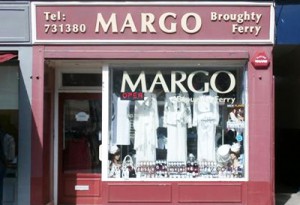 Margo Broughty Ferry has built up a reputation of providing an excellent service to the many happy customers shopping at their boutique. Their friendly and dedicated staff will ensure that you receive advice and assistance to achieve that perfect classic look. They specialise in special occasion wear for weddings, graduations, parties, race days, and more.
79 Gray Street.   Tel: 01382 731380
www.margodundee.com
Multiple-award-winning Partners has been on Gray Street since 1998. They pride themselves on delivering a great salon experience, whether you are visiting their hair, beauty or retail departments. They even offer complimentary scalp massages, hand treatments and make-up touch ups to enhance your visit and to ensure you leave the salon feeling truly pampered.
128 Gray Street.   Tel: 01382 732737
www.partnershairandbeauty.co.uk
Well known and loved since 1954, Visocchi's Cafe brings a taste of Neapolitan Italy to the Ferry. Visocchi's has become famous for its award winning ice cream, authentic Italian cuisine, artisan coffees and warm welcome from all the Caira family. Mama Antonietta's traditional Italian recipes have been passed down through generations.
40 Gray Street.   Tel: 01382 221721
www.vcaffe.it       email: vcaffe@vcaffe.it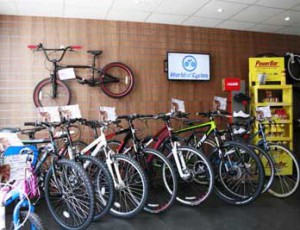 Broughty Ferry's newest family-friendly locally-owned bike shop. Alex and his team at World of Cycles are ready to help you with any cycle requirements you may have over the summer. Only the work that is required is undertaken. They have a free collection and delivery offer on all full price servicing or £3 on any repairs. They also stock quality bikes starting from only £130!
57 Gray Street.   Tel: 0330 223 2254     www.worldofcycles.co.uk
Summer Offer – Free water bottle when you spend over £20