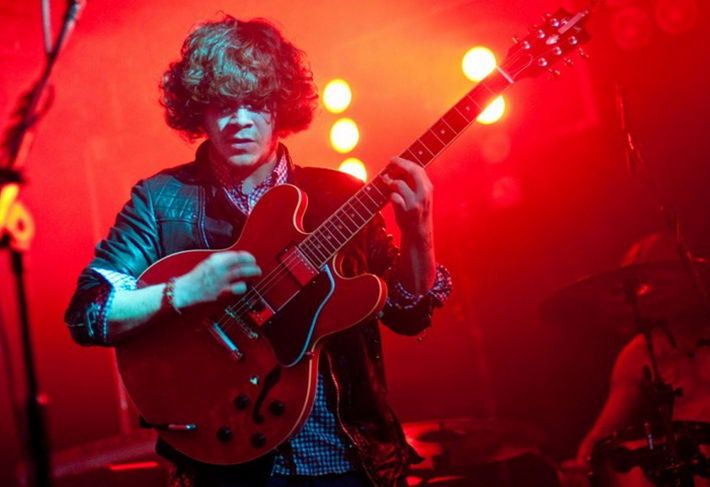 "It was what eh wiz born tae dae, ken."
City Life were recently invited to the solo performance of one of the most recognisable Dundee musicians in a generation, and who has one hell of an infamous industry reputation behind him – Kyle Falconer of the Dundee band The View.
Show Cancelled?
We turned up on a Thursday night at Clarks on Lindsay Street only to be told the news that Kyle had cancelled the show the night before because of illness and no one was sure if he would turn up for this only other night. People in the packed bar were checking Twitter and Facebook for any news of his movements and in general there was an excited anticipation and uncertainty buzzing around the venue. There was a crowd of young confident Dundonians ready and hoping for their main man to appear. Wow, this was exciting. We had never seen Kyle perform live before and, to be honest, we didn't know what to expect, but I'll tell you what, we have never been so excited in a long time, the suspense was brilliant!
Amazing Grace

Was that a guitar case being shuttled through to the stage? Surely that was a good sign? Kit Clark's setting the instrument up, that's definitely a great sign… then 'bang!', like a cowboy entering a wild west saloon looking for a fight, the front doors swung open and there he was, Kyle Falconer in the flesh. Looking a bit worse for wear, he headed straight up to the stage, jacket off, guitar on, and away he went, nae messing! As soon as he plugged in his guitar he transformed into a man on fire, singing from the depths of his soul, song after song of just pure brilliance, it was absolutely amazing! He kept swinging with The View classics for over an hour, starting with the classic 'Grace.' Then moving onto 'Superstar Tradesman', 'Same Jeans', 'Shock Horror', 'How Long', 'Sunday', 'Face for Radio', and many more hits just kept flying.
Special Soul
Chewing gum as he sang, eyes closed, and wearing a crucifix around his neck, there was a real love and vulnerability glowing from this very special soul. We don't really know or care what they have said about Kyle in the mainstream press, all we know is this young man is probably one of the most brilliant singer-songwriters we have seen in a long time, what an energy, what a sound, what a voice, what a talent… what a Dundonian!
We caught up with Kyle after the gig for a wee chat about his music and asked him what he enjoys so much about performing solo…
"I just like playing sangs ken, I like people hearing what eh'm writin and when ye dae it like that and people hear the sang broken doon they go f-ing hell is that the lyrics eh've never heard them before ken. It's just what you write aboot, just like your magazine you just write what you feel and it just comes oot ken, it was what eh wis born tae dae, ken."
For more information about Kyle and The View, including live tour dates, visit their website or Facebook page.