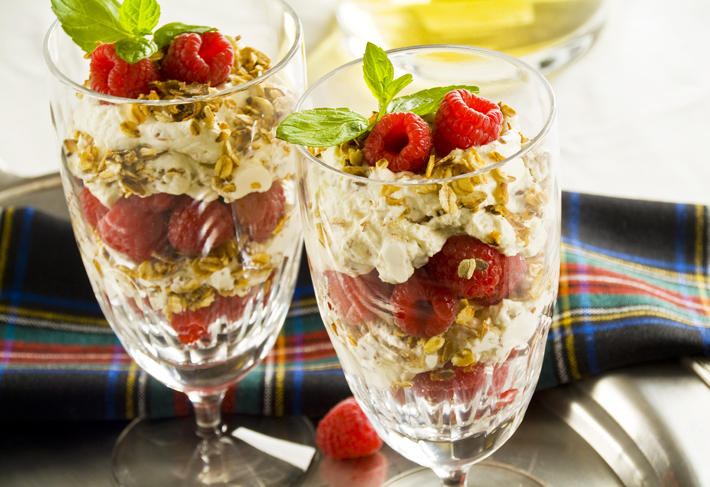 Cranachan is a tasty and traditional Scottish dessert which makes the most of the variety of seasonal berries that are readily available at this time of year, such as raspberries, strawberries, tayberries, redcurrants, blackberries, and blueberries, to name a few.
Whether grown in your own garden, foraged from a nearby field, picked at a farm, or simply bought from your local green grocers, cranachan is the perfect way to enjoy these deliciously sweet jewels of nature that are so abundant throughout Tayside and the rest of Scotland.
As it does not require baking, you can easily prepare this yummy treat while enjoying a lazy summer's day, especially if you manage to grow some of these berries yourself, or, even better still, a refreshing and rewarding way to end a day out foraging for wild berries in the Dundee countryside.
You will need:
ŸOats
Whisky
1lb of strawberries
1 lemon
3 tablespoons of sugar
1 pint of double cream
Honey
Fresh seasonal berries
Fresh mint
Method:
If you plan to make cranachan in advance, soak 2 tablespoons of oats overnight in 1 tablespoon of whisky. However, for an impromptu treat, just lightly toast the oats in a pan before drizzling them with whisky or alternatively with honey for an alcohol-free version.
To prepare the strawberry sauce, place a pan over a medium heat and add 1lb of strawberries, a small amount of water, juice squeezed from 1 lemon, and 3 heaped tablespoons of sugar.
Sit this mixture over medium heat for 20 minutes, occasionally whisking before straining it through a sieve.
In the meantime, whisk 1 pint of double cream in a mixing bowl until the cream starts to thicken, add 2 tablespoons of whisky together with 1 tablespoon of honey and stir until the cream has a light consistency.
To Serve:

Place a handful of berries in the bottom of a dessert glass.
Pour 1 tablespoon of the strawberry sauce on top, add a layer the cream mixture, another handful of berries, and drizzle 1 tablespoon of honey over it.
Then add another layer of cream, more berries, more cream and top with the whisky-soaked oats.
Finally, top it off with some freshly picked garden mint for the finishing touch. Now just sit back and enjoy!