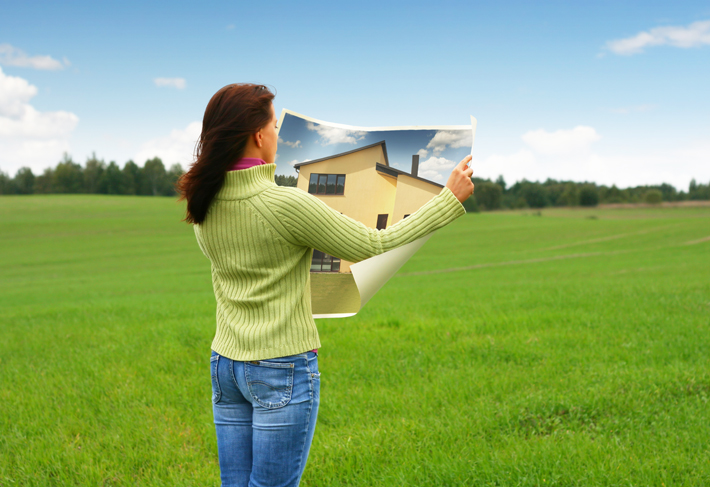 New build housing developments have the convenience of modern technology and a warranty in case something goes wrong, but they are built on increasingly smaller plots and can lack character thanks to their biscuit-cutter similarity. Older properties may be brimming with lovely features yet come with their own set of maintenance issues. Imagine being able to have a home with character and plumbing you can trust… well, you can with a self-build!
The first step to a successful self-build is finding a plot. There are a number of online resources to aid this, such as Plotfinder and Plotsearch, as well as real estate agents like the local TSPC centre in Dundee. Your ideal plot may already have a building on there but if your budget doesn't stretch to demolition and clearing then it is not the right plot for you. The average building plot in Scotland costs £92,000.
Once you have found your plot you need to secure finance. A self-build mortgage releases funds at specific points in the build. Some products pay in advance, while others only release money once a building stage has been completed satisfactorily, so choose your product wisely. Be sensible and realistic about your budget from the beginning and include a contingency of 10-20% of your overall budget.
Building the Dream
You have the choice of a package, where one company designs and builds your home, or working with a separate architect and project manager. It can be beneficial to talk to your local authority's planning department even before you have a design as they can give you an idea of what they are, and are not, willing to accept, in terms of size and design features. While you might be in a rush to get started it is important that you have all the correct permission in place and that you are sufficiently insured.
Kit homes are another option. These can take longer to get started as the parts are made to order, however once they get underway are often faster than traditional bricks and mortar due to the way they are erected, and that building is normally done by the kit company's own contractors.
Clearing the ground and preparing your plot comes next followed by laying the foundations, building the structure, making it watertight, first fix (utilities, interior carpentry, plastering), second fix (skirting boards, radiators, enamelware), and decorating. While the actual construction of a self-build home takes 6-9 months there can be an extra 12-15 months spent securing planning permission and organising contractors, so expect it to take up to two years from your decision to do it until the moment you turn the key in your new front door.
No matter what you do, always ensure that you seek professional help at every stage of your project. If you do it properly and within a reasonable budget you could build your dream home for much less than a normal purchase price, so your dream home can also become your number one investment vehicle.