"Dundee is a light across my heart" – Michael Marra
Earlier in the dark winter months, City Life were invited to one of the must-see musical nights in the annual Dundee calendar, when the Optimistic Sound annual fundraiser for Dundee's Sistema Musical Project, and the celebration of the songs of the late Michael Marra, comes to light inside its natural cosy home at Clarks on Lindsay Street.
Scott Clark cheerily manned the cauld front door, whilst a tapestry o' the Dundee musical scene poured in. Familiar faces were everywhere. Gregor Philp was at the bar; Kit Clark was busily setting up musical equipment; two guys who looked like the young Proclaimers seemed primed for mischief; the Marra clan were warmly gathered near the stage; David Webster, Stevie Anderson and Gavin McGinty of the Sinderins were here; and was that Drew Larg standing over there? The musical maestros Derek Thomson, Chris Marra and Kevin Murray were eager to get started, and Alice Marra and the Hazy Janes crew were mingling. We even bumped into the mysterious and rarely spotted 'king of the Dundee dialect', Saint Andrew, sharply dressed and coolly absorbing the crowd's Dundonian murmur, like a Transylvanian Count under a blood moon sky.
These were only some of the well kent faces present, here to remember and celebrate Michael Marra, his Sistema musical dream more alive than ever. 'The Bard of Dundee' was to come to life tonight, in the hearts and minds and songs of his loyal family, friends and followers. Is this how the disciples of Robert Burns felt in the early days of his immortal memory?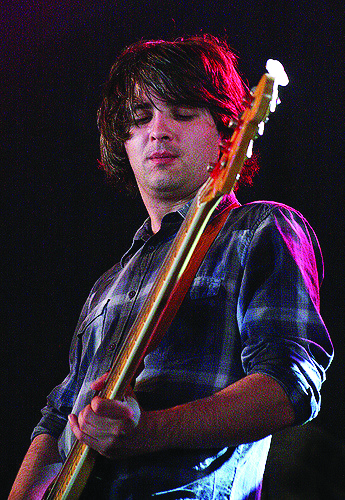 Above pics: Alice Marra and Matthew Marra

First Half
The night's performance was fittingly introduced by the passionate Alice Marra with a "Gaels Blue" tribute and then a rarely heard song, "The Altar Boys", was bravely sung by Matthew Marra. Their dad would be proud! Thereafter, it was just song after song of character, memories, emotions and pure love for The Bard of Dundee.
Liam Brennan and Andrew Mitchell gave us "Angela Gunn". Pauline Meikleham sweetly sung "Australia Instead of the Stars". Drew Larg, Derek Thomson and Chris Marra calmly gave us their rendition of "Julius". Callum MacCrimmon and Laura-Beth Salter produced a hauntingly beautiful version of Frida Kahlo's "Visit to the Taybridge Bar". Next "Beefhearts and Bones" was belted out by Colin Reid, whilst the well kent face of Howard McLeod wangled out "Constable le Clock". Then a City Life favourite, "Chain up the Swings", was played by Ian Macaulay and followed up with a crowd stopping performance, when Alice Marra and Derek Thomson passionately performed, what should have been a top ten hit back in its day, "Taking The Next Train Home". What a song this is, and what a sweet Dundee voice oor Alice has; just beautiful…
Taking the next train home,
Following lines that I've followed before,
Taking the time alone,
Honey, when you're leaving would you close my door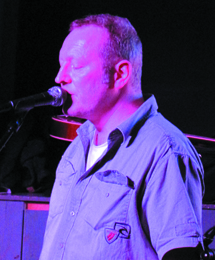 Above pics (left – right): Kit Clark, David Webster, Drew Larg
The Count is On
Then a Dundonian murmur came from the back of the room, the patron Saint of the Dundee dialect was finally let loose and, like a Caledonian heavy weight champion, he light footed onto the stage, ready to pummel the crowd with his comedic genius! Saint Andrew and The Rare Wee Helps (pictured) opened the first of four rounds with "This World is Phuhl O' A number O' Things" and crivvens, help ma boab and jings, he really let loose! A terrified voice in the front row said it all; "thank God he's on the stage and no doon here!". Even Jenny Marra was scared!
"A Secret Commonwealth of Elvis Fans" was pulled out next, to try and subdue the crowd, but only caused confusion amongst the Elvis fans in the audience who had never heard anything like it! Bloody hell, this Dundee legend was on fire, as next up came one of Saint Andrew and Michael Marra's last collaborations together, "Cattlebaistquine"; let's just say, some of the audience are still stunned to this day! Then, after announcing to the crowd that their applause was being recorded for less fortunate acts, the knockout blow came, an old classic "Behd in the Shed"…
When eh wis a laddie eh wis awfy sheh,
Eh wis that sheh eh behd in the shed,
Eh could hardly waak and m' tongue wis tehd,
And that's how eh behd in the shed (Ged),
That's how eh behd in the shed
The ringside bell sounded. It was time for a breather and a pint of the black stuff!
Second Half
Up first was self-confessed Broughty Ferry man Gregor Philp, the Deacon Blue and Balamory musical wizard, with his version of "If I was an Englishman" (pictured below left), quickly followed by Matthew Dempsey and Nicole Richie performing "Here Come the Weak". A double whammy of "Reynard in Paradise" and "Like Another Rolling Stone" was confidently crafted out by Andrew Mitchell.
Then a creative treble of Dundonians in the form of David Webster, Stevie Anderson and Gavin McGinty, aka the Sinderins, each took on a Marra classic; "Hamish", "Scribbled Down Drunk (But Posted Sober)" and "Niel Gow's Apprentice". Then Chris Marra was back up on stage with Kenny Martin to nail a version of a rarely sung "Farlow" (pictured below right).
Next was Orc Mischief, those two young guys that looked like the Proclaimers, who got up to create their own musical mayhem. Peggy Marra was right, these boys are funny! They played their own unique version of "If Dundee Was Africa" and a Saint Andrew and the Woolen Mill inspired version of "Baps and Paste", what a laugh!
Alice Marra then invited the Danny Wilson legend and Swiss Family Orbison front man Kit Clark to do a wee song, "The Lass Wi The Flax In Her Hair", which was just magical! "Goodnight to Lovely You" and a personal Burns favourite of Michael Marra, "Green Grow the Rashes", was aptly chosen and performed by Alice Marra and Chris Marra, to symbolically complete the night?
Hearts in Oor Mooths
Wi oor hands on our hearts and our hearts in oor mooths, the fast talking heavyweight champion of the Dundee dialect, Saint Andrew, made a final appearance with Alice and company to lead the crowd into a collective, emotional, finale performance of the Lochee national anthem, "Hermless".
Wi' ma hand on ma heart and ma heart in ma mooth,
Wi erms that could reach o'er the sea,
Ma feet micht be big but the insects are safe,
They'll never get stood on beh me
Hermless, hermless,
There's never nae bother fae me,
Ah ging to the lehbray an' tak' oot a book,
And then I go hame for ma tea
After the show we had a wee blether with Alice Marra about the evening's success and what she thought her father would have made of it all,
"The fundraising has been going on so long now and it's exciting to feel that we are so close. It's so exciting to put on amazing nights like tonight and bring everybody together to raise money to make this happen, it's just incredible."
"It was Michael's dream to have other people singing his songs. If he could have seen the amount of different people here tonight, singing his songs, he would have been so proud. These new arrangements are breathing new life into the songs and there are so many amazing songs there still to be heard!"
Stop Press!
As a result of the Optimistic Sound fundraising and extra funding recently announced by Sistema Scotland, Michael's family's dream of bringing Sistema to Dundee is now finally being realised, dreams do come true!
For more information or to donate to Optimistic Sound please visit: www.optimisticsound.org
For more information on the music of Michael Marra please go to: www.marra.me.uk
For more information on the Music of Michael Marra & Saint Andrew please visit: www.saintandrew.biz
For more information on Sistema Scotland please visit: www.makeabignoise.org.uk/sistema-scotland