Thanks to a recommendation from Helen Brennan of 'Loads o' Weemin Singin', City Life were lucky to gain last-minute entry to one of the hottest comedy gigs in Dundee. It's not often that you get to see one of the hottest comedians live in Dundee, and it's not often that they are also Dundonian. Well, enter the Shakespearean trained, comedy hell-raiser, Paul Pirie.
This bearded and bespectacled, ex-Morgan Academy pupil; who once upon a time ended up living with his gran up the Hulltoon after forfeiting the keys to his flat in a highly competitive pub quiz; is now confidently making his Dundonian mark on the London comedy scene and, thankfully for his gran and his young family, now seems to be staying clear of pub quizzes!
This man is just hilarious from the word go! He could even make Shakespeare's murderous Macbeth funny! Paul's physical, theatrical presence on stage and his sharp, rapid-fire comedy onslaught didn't give the 'heckle ready' Dundee crowd a chance. Paul was totally comfortable in the presence of fellow comedy hungry Dundonians, and the partisan audience even made him laugh when one member of the audience heckled another; just brilliant! Paul took us on an improvised journey of life, Japanese accents, pregnancy and much more. He made the crowd howl with a "kids have ruined my life" routine and really got everyone thinking when he asked why the definition of dictionary was in the dictionary.
It was great to witness such a confident and intelligent comedian really working and entertaining his audience. It was even more enjoyable knowing that he was one of us, a wee lad fae the tap o' the Hulltoon! Paul has clearly learned his comedy trade and has natural comedic talent to match. Dundee is proud of you Paul!
After the show we met up with Paul for a chat. We asked him how he became a stand-up comedian and if it had always been his ambition in life,
"I wasn't very good at school, wasn't attractive, no good at sports. The cooler people didn't want to hang out with me because I couldn't do keepie-ups, so I would make people laugh. Then I got into acting but I always wanted to do comedy. The only thing I thought I was good at for real was making people laugh but wasn't sure if I could do it on stage… I've now been doing live comedy for twelve years!"
Now that Paul successfully doing what he loves, we asked him to share some advice on how he made his comedy dream happen,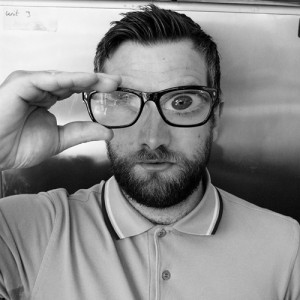 "Understand nerves are good, don't get overly nervous, if you're nervous it means your passionate, they make you perform better and mean you don't want to balls something up. Don't be scared, try something out for a while and, if you really like something and maybe lack some of the performance skills, then write something that somebody else can perform. If you've got it, then you've gotta sleep in doorways, you've gotta hitch hike now and again, you've gotta get the Megabus. Then the rewards are amazing!"
Before we left, we asked him for his final thoughts on Dundee and, now that he spends so much time in London, what he misses most about his hometown,
"Some people think Dundee is cold and miserable but when people come here they don't want to leave. The people are lovely, Dundee is such a talented place and it's my home!"
"Sunday nights up the Westport, the singing and the banter, wandering up the Perth Road and looking at the strange mini-bandstand, it just tickles me every time I see it, and also going into the Keiller Centre and trying to figure out where you're gonna end up coming out… 'I'm on Commercial Street now, how did that happen!'"
Keep up to date with Paul on his Facebook page.