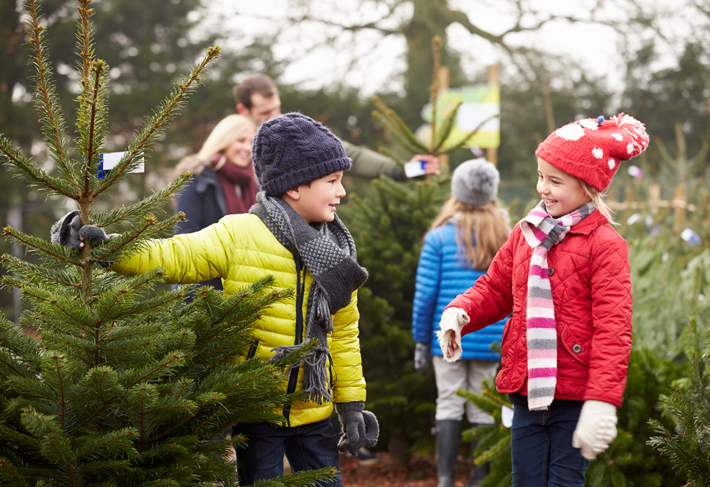 For the majority of Scottish households the first weekend in December is the time to deck the halls and start feeling festive. Any earlier and you risk getting fed up of the tinsel before Christmas even arrives. Any later, and you have to deal with endless "when are we putting the tree up?" questions from the kids.
Although Christmas trees as we know them have been a tradition in most parts of the UK since early Victorian times, the Victorians wouldn't have dreamed of putting their tree up before Christmas Eve. These days, with a full time job and no servants to decorate the house or cook Christmas Dinner, decking the halls is a pleasurable task that's easy to get out of the way early. Until it was decreed a public holiday in 1958, Christmas was actually a normal working day in Scotland – Ebenezer Scrooge would have been pleased!
Decorating the home with evergreen trees and boughs is a tradition which originated in Northern Europe where it was customary for Pagans to burn a log on the shortest day of the year (22nd December) to honour the god Mithra, and ask the sun to return.
The first recorded Christmas tree was used for celebrations in Riga's town square, in Latvia, in 1510, and you can see a plaque where it stood. Despite the influx of artificial trees, which range from incredibly realistic looking 8ft versions, to pre-decorated conical trees made from glittery hot pink tinsel, real trees remain a firm favourite with many Scottish households.
The Nordman Fir is the most popular choice of Christmas tree as it doesn't drop its needles, while the Lodgepole, or Scots Pine, is another favoured species, although its slightly irregular shape puts some people off. Another suitable option is the Norway Spruce, for its bushy shape and incredible festive fragrance. If you choose this, make sure you keep it well watered to avoid the annoyance of needle drop.
If you are going to buy a real tree this year make an effort to get one from a reputable source. Doing so will mean that as well as supporting a local business, you'll also get a good quality tree which will stay looking great throughout Christmas and Hogmanay.
Cut an inch or two off the base of your tree before putting it in a container of water. Cut trees need three to four pints of water a day – more if they are large – and should be kept away from direct heat to help them stay green and fresh.