City Life was invited to The Gardyne Theatre to review the musical performance of one of Dundee's most recognisable and favourite sons, and former Deacon Blue frontman, Ricky Ross. Ricky is embarking upon his most intimate solo tour yet, which draws from his extensive thirty year song writing catalogue. He is presenting some of his most famous songs, as they were first written, by him sitting at a piano, and it's a chance for Ricky to engage the audience with the people, places, stories and ideas that influenced his writing.
So Long Ago
Ricky and Deacon Blue were one of the most successful Scottish bands of the late 80s and early 90s, especially with their debut album, Raintown. Ricky was born in Dundee in 1957 and attended the High School of Dundee. He played keyboard in various local bands and, even before the formation of Deacon Blue, he had already created his first solo album, So Long Ago. He was destined to become a solo artist again in 1994 when Deacon Blue disbanded and he has been crafting soulful solo albums and concerts ever since.
As well as the occasional Deacon Blue reunion, he has also written for James Blunt, Ronan Keating, KT Tunstall, Gareth Gates, Emma Bunton, Will Young, Jamie Cullum and many other successful artists. He currently presents 'Another Country with Ricky Ross' on BBC Radio Scotland and broadcasts for Radio 2 from the annual Celtic Connections Festival in Glasgow.
In 1990 Ricky married Lorraine McIntosh, the golden voice of Deacon Blue, and they now live in Glasgow with their young family.
The Very Thing
Ricky opened his Gardyne Theatre performance with one of his most recognisable Deacon Blue favourites, The Very Thing, and it really was just the very thing to start with. What a beautiful and haunting piano solo it was.
He then effortlessly threw out a few more wonderful numbers and had a blether with the audience in between…
"I assembled a lot of thoughts in this city."
"I made a wee history program about Dundee and explored my family roots and for 200 years they pretty much moved between Dundee and Forfar."
He also shared that, when he was a boy, he used to go up to Dens Park every other week with his father. Ricky, a self-confessed Arab, jokingly admitted…
"To be honest, there's nothing much for United to cheer about just now!"
Born in a Storm
Another thought provoking solo with a Hilltown connection followed and then, like a couple of bolts of musical lightning, he hit us with two Deacon Blue classics – Born In a Storm and Raintown. Emotions, memories and dreams were sparkling all over the arena, it was absolutely magnificent! Ricky then shared a tribute to Graham Kelling, the former Deacon Blue member who sadly passed away in 2004…
"When I Left Dundee in 1982, there was a massive snow storm and I always imagine Dundee when I play this song about Graham"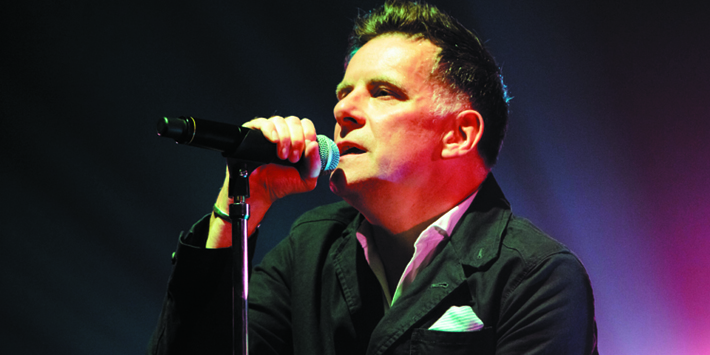 Pale Riders
A solo rendition of Deacon Blue's Loaded lead Ricky into telling a story about travelling on a train full of drunken Scotland supporters returning from Wembley. He then moved from piano to guitar to perform a few songs with fellow talented Dundonian musician and support act, Andrew Mitchell, a well kent 'Hazey Jane'. They played together and encouraged the audience to join in with a delightful and memorable version of Pale Rider, one of Ricky's most magical compositions.
Dundonian Dilemma
Ricky settled back into the grand piano saddle like a musical lone ranger. He played a song he wrote for his daughter and then had another wee blether about his beloved Dundee…
"Culturally, I know things are happening in Dundee! You've lost the flumes, I don't know why you did that! Once you get the Deep Sea open again things will be on the up!"
"Culturally, there is a lot of change going on and I remember fundamental change back in the 70s when electric doors came on the buses!"
He then sung 'Wages Day', the Deacon Blue classic with the chorus line "You Can Have It All", which was inspired by a happy gentleman, late one night, propped up against a wall outside a chip shop on the Cleppy Road, with a fish supper in one hand, an ice cream in the other, and balancing an Embassy No6 in his mouth, all the while trying to work out how he was going to pick up his can of McEwan's Export from the pavey!
A Holy Night
Ricky announced he was getting to the end and played out with That's What We Can Do and Holy, Holy Night. What a beautiful finale to a truly memorable night. It's not often you get to experience a true musical virtuoso performing in his home town with such genuine passion and love for his beloved city, while making you laugh, feel at home, and sing together. It really was a Holy Night. Ricky, Dundee is proud of you!
But wait a minute… he's coming back on… he's walking back to the piano… maybe he's got something else up his sleeve…?
"There's a man I meet,
Walks up our street,
He's a worker for the council,
Has been twenty years.
And he takes no lip off nobody,
And litter off the gutter,
Puts it in a bag,
And never thinks to mutter.
And he packs his lunch in a Sunblest bag,
The children call him Bogie,
He never lets on,
But I know 'cause he once told me.
He let me know a secret,
About the money in his kitty,
He's gonna buy a dinghy, Gonna call her Dignity."
…We were in Dundonian Heaven!