Eight independent traders from Exchange Street, Dock Street, Castle Street and Lower Commercial Street are proactively cooperating with others to create one of the city's most exciting and vibrant retail hotspots – Downtown Dundee.
There is a real buzz of positivity in the air in this uniquely captivating part of town, so City Life was compelled to investigate and help champion their inspirational collective vision. We talked with one of the traders…
"Downtown Dundee came about to create a platform for people who wanted to promote themselves, whether they are restaurants, cafes, hairdressers, health food shops, gift shops or anything to do with creativity and change in the culture of a new Dundee. One of the big things I feel about Dundee is that we used to be the 'three Js' of Jute, Jam and Journalism, but now we are the 'three Ds' of Design, Digital and Discovery."
So let's have a wee wander through Downtown Dundee and discover eight of the traders who make this wonderful part of our city come to Life!


Alan's Pet Shop, just recently opened, is a family run independent business.
Dogs, cats, caged and wild birds, small animals and aquatic creatures are all catered for. Alan has a positive vision to supply quality pet food and accessories to satisfy all pet lovers.
14-16 Castle St.  Tel: 01382 791556  www.alanspetshop.co.uk
Get a FREE bag of dog treats when you spend £10 or more.
Offer ends 31/1/2015. Present magazine page in store to receive your free juice. Email hello@citylife.com if you need a copy of the magazine.
 
"A fusion of contemporary Scottish cuisine"
Castlehill Restaurant offer a sophisticated taste of traditional Scotland using locally sourced produce. Awaiting your arrival is their friendly, front of house team and award winning chef Graham Campbell, who stocks a fine larder of local Scottish fare. They also work closely with specialist Scottish wine merchants to source a fine selection to compliment their dishes.
22 Exchange Street.  Tel: 01382 220008   www.castlehillrestaurant.co.uk
 
"It's not only about hair, it's about people!"
Freedom Hair Experience on Dock Street are committed to providing their clients with the highest standard in creative hairdressing and customer care – they are direct, friendly and know how to give you a modern, versatile and easily maintained hairstyle.
Freedom Hair- classic hairdressing with a contemporary twist.
17 Dock Street.  Tel: 01382 225393   www.freedom-hairdressing.com

Jeff at Hair by Jeff Thomson, who is well known for his creative talent, his ability to restyle your hair individually and his personable persona, will put you at ease right away. Jeff and his team understand that your hair needs to suit everything about you whilst upholding elements of fashions and trends. Clients from all over Scotland visit Jeff to style their hair.
40 Castle Street.  Tel: 01382 220222   www.hairdressersdundee.com


Heart Space Whole Foods is Dundee's leading independent whole food store. Organic and gluten free Christmas puddings, Christmas cakes, mince pies, handmade oatcakes and shortbread, mulled punch and organic fruit fizz, a Christmas tea blend and lots of healthy chocolate truffles and treats. Gift vouchers and Xmas hampers available.
29 Exchange Street.  Tel: 01382 221721
www.wholefoods.heartspacedundee.co.uk
Get a FREE 350ml bottle of fresh juice.
Show magazine page in store to receive your juice. Email hello@citylife.com if you need a copy of the magazine.


Madigan's is a quirky tearoom and bookshop and a real 'Downtown Dundee' stalwart. A cosy family run place with friendly service, fresh homemade hearty food and delicious baking.
We also have thousands of amazing books to buy and the perfect relaxing atmosphere to read them.
25 Castle Street.  Tel: 01382 699202
FREE Tea or Coffee with a food purchase throughout December quoting City Life.

Otaku Station specialises in Japanese anime toys and collectibles such as figurines, plush toys, bags and much more. The Japanese anime craze has hit Downtown Dundee because of Gillian and Tom's passion for Japanese anime and culture… "We have been open for a year and a half and opened the store to share our love of anime and Japan."
38 Castle Street.   Contact via Facebook

Head to the Tea and Cake Cafe and Bake Shop for fantastic coffee, Teapigs Tea and a gorgeous range of soft drinks.
Food? Oh yes, all homemade on the premises.
An ever changing cake counter and savoury board. Soup with homemade granary bread. Grilled pressed sandwiches with a variety of gorgeous fillings and some specials each day… could be a tart, a frittata, Christmas dinner, you never know!
27 Exchange Street.  Tel: 01382 203950
FREE Xmas punch upon arrival throughout December! Open til 8pm 10th & 17th Dec.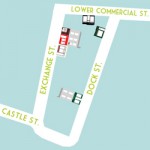 So c'mon fellow Dundonians, support your local Downtown traders this festive period and discover what great offers, gifts, cuisine and friendly service you can find right here in the creative heart of our new Dundee!
For more information please visit and 'like' the Downtown Dundee Facebook page.