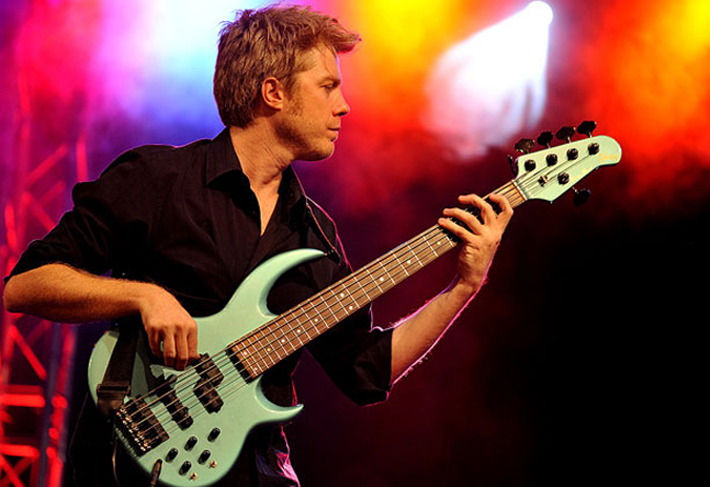 Not very often do you get the chance to watch some of the best jazz musicians in the world perform at various venues over a five day period, especially right here in the heart of Dundee. City Life were lucky enough to be invited by Jazz Scotland to review the exciting Dundee Jazz Festival and little did we now how magical this event was about to become…
A Fist Full of Dollars
Kyle Eastwood, one of the world's most accomplished jazz musicians, and his American style five-piece jazz band kicked off the festival in spectacular fashion on the first night at the Gardyne Theatre. These boys definitely earned their fistful of dollars that night. Watching and listening to the golden tones of these musical craftsmen, in the dark arena with the warm spotlight bouncing of their beautiful instruments, was like watching a group of jazz acrobats masterfully performing at a circus. Their slick modern jazz somersaults and tumbles blended with swing, bop, soulful funk and a cinematic edge to launch the festival with style.
After the show we caught up with self-made man Kyle, the son of legendary Hollywood movie star Clint Eastwood, and shared a wee laugh about both being brought up in the 70s watching his dad's spaghetti westerns.
"On my father's side there is Scottish ancestry, my father done an ancestral chart, I love Scotland and this is my first time to Dundee."
We asked Kyle about what had influenced him to become a jazz musician, rather than following in his father's acting footsteps…
"Seeing and hearing a lot of the great jazz artists play live and hearing my father and mother playing jazz around the house inspired me from eight years old to become a jazz musician."
"My family are very happy with my accomplishments and are just happy I am doing something I love, work hard at it and make a living doing it!"
Kyles advice to any budding young Dundee musicians…
"Listen to good music, listen to some of the greats, get out and play with other people, find a good teacher who'll push you and practice, practice, practice!"
A Handful of Scots
A selection of some of the best jazz musicians in Scotland came together on the second night at 'Swing 2015' to breathe a fire of classic gypsy swing music into the festival – Brian Kellock on piano, John Russell and Stephen Coutts on guitars, Andy Sharkey on double bass and the beautiful voice of Seonaid Aitken who also played fiddle.
Spirit of Reinhardt & Grappelli
Next up, on the same night, was the youthful and happy John Etheridge, the 68 year old Londoner and virtuoso guitarist who played alongside 'The Hot Club de Paris' jazz violin virtuoso, Stéphane Grappelli, for many years as well as many other musical greats. Chris Garrick, an absolutely sensational fiddler, and two Hot Club guitarists, Dave Kelbie and Andy Crowdy, joined forces to form John's 'Sweet Chorus'. John talked and laughed his way through a brilliant performance and shared a few stories of playing with Grappelli. The funniest being, when in the middle of a late night performance, Stéphane turned to his partner and asked "What tune are we playing?".
We were determined to catch up with John after the show as we were so enthused with the vibrant, happy energy that he naturally and genuinely shares on stage…
"I started in 1970 and I always try to enjoy myself and it's got to be fresh. I practice a lot now and don't do so many tours. I'm still trying to play better than I did before. I saw a video clip of myself recently and I thought 'yeah that's how I've always wanted to play' and finally after nearly fifty years I'm getting there, ha ha ha! My lifetime inspiration has always been Django Reinhardt."
All Aboard the World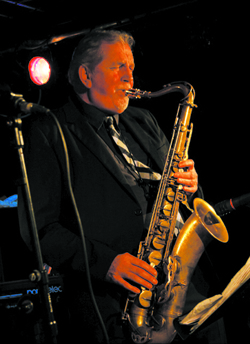 Friday night was a must see act. Montrose born Malcolm 'Molly' Duncan, saxophonist and founding member of the famous 'Average White Band', was playing aboard the Unicorn Ship in Dundee's City Quay. Molly was supporting Jim Mullen, arguably one of the finest jazz guitarists in Scotland. A Friday night in a rainy Dundee, aboard the Unicorn, tables laid out, a beer in hand and then the Average White Band classic 'Pick up the Pieces' was launched by Molly – absolute class!
We got the chance to blether with Molly, now 70 years old and still touring Europe, after the show and asked him the secret to the youthful energy we had been witnessing at the festival and his thoughts on Dundee…
"It must come from the music, I don't feel any older than I did years ago and I think part of it is blowing that thing all the time!"
"I've got many fond memories of Dundee. I had a great time when I was at the art college, playing in local bands and stuff, in fact I spent more time playing in bands than I did studying, ha ha ha!"
"I bought my first saxophone in Dundee in 1974 from Forbes Music for £120. The best saxophone in the world at that time, I had to forge my dad's signature to get it and then pay £2.00 a week. That same Sax is now worth over £10,000!"
He gave us a wee wry look and then laughingly patted the case sitting on our table…
"It's been all over the world!"
The Dundee Zulus
Interestingly, City Life had recently been getting a few 'likes' on our Facebook page from Dundee in Kwa Zulu Natal, South Africa. Little did we know, a few weeks later, we would meet some of the most colourful and talented musical Zulu warriors from that same Natal area. The Scottish East Coast Youth Orchestra and the Durban Music School were in town and there was going to be a musical party. Young people from Dundee,
Fife and Kwa Zulu Natal treated a Saturday afternoon audience to a musical jazz fusion. Even an Afrikan angel appeared in the form of jazz singer Maxine Matthews who hypnotised the Dundee audience with her singing voice.
We chatted with with Talente and Pule, a couple of young Zulus from the Kwa Zulu Natal group, and our Afrikan angel Maxine…
"We were all members of Kwa Zulu Natal Youth Band and we just started jamming and came together with all our interests and loves. So we decided to bring it all together into an original South African jazz sound."
Blues Brothers

The Saturday night was all about the blues, with three of the most entertaining blues players you are ever likely to see. Award winning leading contemporary blues man, Ian Siegal, played a brilliant solo set and also joked about his Dundee cuisine experience with mince and chips. Micky 'Whitesnake' Moody and Papa George delivered an authentic blues performance with their dynamic slide, bluegrass, acoustic and electric blues guitars. What a double act these authentic characters are. After the show, we caught up with ex-Whitesnake rocker Mickey, now sixty five…
"I've always had an energy for music and I still have the humour of a fifteen year old schoolboy. I'm still that young kid that loves playing guitar, it's the love of music at the end of the day."
Jazz in the Ferry

This incredible festival ended on a Scottish jazz note with multiple musicians performing in various venues throughout the Ferry. Even our adopted Dundee Zulus got in on the act. Bruach Bar, Gulistan House, Papa Jacques, Post Office Bar and Sol Y Sombra embraced the Sunday afternoon festival to showcase Ali Affleck and Graeme Stephen, Brass Gumbo, the Durban Music School, Gordon McNeil Quintet, Ken Mathieson's Classic Jazz Orchestra, Molly Duncan and Gordon McNeil, Sandy Tweeddale, and Lorna Reid.
After a whirlwind five days at the Dundee Jazz Festival it was fitting that City Life finished our last gig in the jazzy atmosphere of a packed Bruach Bar, relaxing with a pint of Guinness with Maxine and Kim from the Durban School of Music, just reflecting back on the festival and drifting off to the sassy and expressive tones of Lorna Reid and her all-star band… Jazz Magic!
Lorna left us with her final thoughts…
"Jazz is something you just get better and better at!"
For more info about Dundee Jazz visit: www.jazzdundee.co.uk