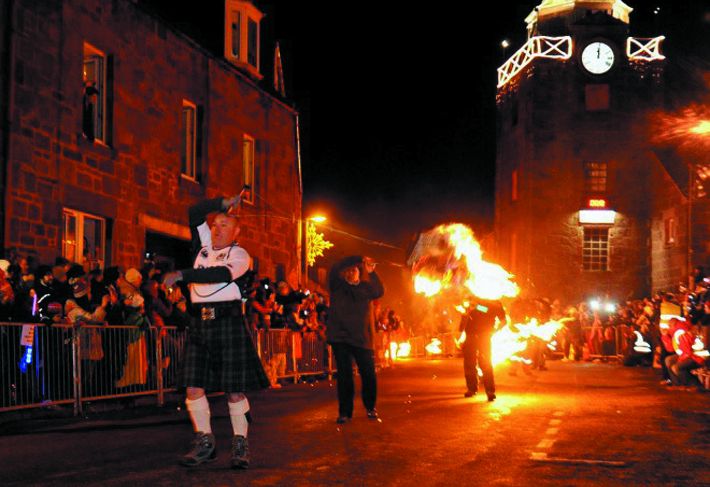 At the stroke of midnight on Hogmanay, at least 45 strong Scots, most in kilts, light up the high street by whirling balls of flames and sending showers of sparks into the watching crowd. Fire ceremonies, festivals and traditions are global. They are part of all cultures, and probably have been since Neolithic man first appreciated fire. There is undoubtedly a magic about the flickering flame, it is both creative and destructive.
Most ceremonies use fire as a purifying force, a solar symbol or as a means of destroying something perceived as bad. Some can be traced back to pre-Christian times. In Scotland there were mid-winter bonfires at Dingwall, Campbeltown, Invergordon, Comrie, Biggar, and Newton Stewart. Boat burning was also a custom in coastal communities like Stranraer and Bettyhill in Sutherland, as well as all up the north-east coast. The burning of the Clavie at Burghead is similar to the Stonehaven fireballs, in that it is more a procession.
The Stonehaven event starts at midnight, lasts twenty-five minutes and is watched by thousands. The idea behind the ceremony is to burn off the bad spirits left from the old year, so that the spirits of the new year can come in clean and fresh. From current research, the ceremony would seem to go back a hundred-and-fifty years, but it could easily be much older.
Ricky Ross and Deacon Blue are headlining the Hogmanay open air festival this year, so you could really make it a musical night to remember. You could even get up to Stonehaven early and take in the spectacular coastal view at Dunnottar Castle and soak up a bit of our nation's history. William Wallace, Mary Queen of Scots, the Marquis of Montrose, and the future King Charles II have graced the Castle with their presence. Most famously though, it was at Dunnottar Castle that a small garrison held out against the might of Cromwell's army for eight months and saved the Scottish Crown Jewels, the Honours of Scotland, from destruction.
"A romantic, evocative and historically significant, ruined castle perched on a giant conglomerate on the edge of the North-Sea. Once seen, never forgotten."