"The lazy mist hangs from the brow of the hill,
Concealing the course of the dark-winding rill;
How languid the scenes, late so sprightly, appear!
As Autumn to Winter resigns the pale year."

"The forests are leafless, the meadows are brown,
And all the gay foppery of summer is flown:
Apart let me wander, apart let me muse,
How quick time is flying, how keen fate pursues!"
As our national poet Robert Burn's highlighted, time is definitely flying, and as we enter the autumnal run into winter our 2015 fate still unravels before us. For who knows what positive things we can still achieve in these last few precious months of the year? So get out there and enjoy the beauty of autumn in its full colourful glory. Wander and muse with your family or friends in the rich and vibrant splendour of one our many public parks. Reflect back on your year so far, and plan and prepare your fortune for the festive period and winter ahead.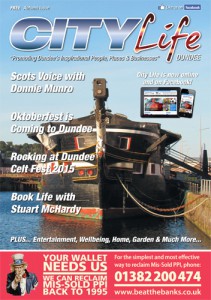 This issue of City Life Dundee has plenty to keep you occupied through the crisp autumn days and dark autumn nights. Try our tasty Irish Stew recipe with a special ingredient of Irish stout; look out for the Graham Brown Band and Iona Fyfe in our review of the recent Dundee Celt Fest; keep an eye out for our free CD competition in our music review with Celtic rockers Coast, and an interview with the king of Celtic rock and ex-Runrig singer, Donnie Munro; journey with us to Glasgow, the people's capital of Scotland, in our Travel Scotland article; read about ex-Kirkton council estate man Stuart McHardy, who is now one of Scotland's foremost Scottish history writers, in our book review; find out about the Jimmy Shand Collection, making its home in Dundee, in our arts review; and a chance to win a free Sheena Wellington CD. Finally don't miss our special preview of the up-and-coming Dundee Oktoberfest.
There are also lots of great offers to take advantage of from our many advertisers. Look for the Sunnys Restaurant '3 courses for £12' offer; check out our new advertiser, Clarkes on Lindsay Street, the perfect place for great food and great music; Whytes of Monifieth are still offering up to £500 off a new bathroom; Katz Pyjamas are still giving away a £5 off voucher; Partners Hair and Beauty are launching their Christmas Saving Club; and Freedom Fitness have now opened their exciting new fitness studio in the heart of Dundee. Look out for Colcro's new 'Gutter Sucker' service in our In the Garden section, an ideal way to clear those autumn leaves from your guttering. All this could be funded by reclaiming money back from your bank, so check out PPI reclaim specialists Beat the Banks who have already helped thousands of people reclaim money they are owed.
Enjoy your autumn issue of City Life Dundee and remember that we are now on Facebook. So, come and say "hi", let us know what you think of City Life Magazine, and don't forget to like and share us for your chance to win some great prizes!