City Life were recently lucky enough to be granted exclusive press access to the world's largest arts festival, the Edinburgh Festival Fringe, which runs from 7th – 31st August. Located in a yurt in St Andrew Square, The Stand Comedy Club was the prime venue to review 2014's Scottish comedian of the year, Bruce Fummey.
This king of Scottish comedy was showcasing his current show 'History of Scotland' at the Fringe. We joined the large crowd of eager festival revellers, to see if this comic with African roots could actually teach us Scottish history, and if somebody fae Perth could actually make people laugh! Half Scottish and half Ghanaian, this part-time school teacher had his work cut out, as the pupils in this audience came from all over the world – Scotland, Germany, France, England, USA, Japan and more. Even two Fifers in the front row, unknown to everyone, were about to get in on the act.
Find Your Seats if You Dare!
This larger than life character immediately fired into the international crowd with professional relish. His empathetic school teaching skills really shone through when he helpfully shouted
"Your gonnae need to spread out!"
Then by apologising to a few latecomers looking for seats,
"Why am I apologising, f***ing turn up on time!"
Bruce's proclamation that he was regarded as the finest comedian on Scotland's Afro-Celtic comedy circuit restored the terrified crowd's confidence but he then immediately reminded everyone,
"I am the only comedian on the Afro-Celtic circuit!"
History of Scotland
Bruce warned the crowd,
"The people wanting an hour of gags, dick jokes and big laughs will ultimately be disappointed, the sooner we accept that we are all going to be unhappy, the happier we will all be!"
He then let loose on his history lesson. He highlighted that Scotland has always been a divided nation,
"If you ask the average Highlander if he is a Gael or a Scot, he would say 'I dunno mate, I'm from Kent!'…"
Bruce tried to convince the audience that "the English actually don't exist!" Being made up of Celts, Romans, Saxons, Vikings, Normans and more, he said,
"There's no such thing as the English, okay? They're no real, we just made them up to scare the bairns!"
Bruce was to then give the Scots their turn, with his funny portrayal of our own cultural stereotypes,
"We now know from modern day DNA research that everyone in the world emerged from a small tribal group of less than a hundred people who migrated out of Africa 70,000 years ago… but one of them was aggressive, pished and ginger!"
Bruce talked us through the Gaels, the Picts, Kenneth MacAlpin, the Bruces, Stewart kings, Mary Queen of Scots, the Reformation, Jacobites, the Enlightenment, and Burns and made it all hilarious in the process. When speaking about Macbeth, he said,
"Depending on a Shakespeare play for an accurate representation of Scottish history would be like depending on the BBC to fairly report on the Scottish referendum!"
Then on the Stone of Destiny,
"Robert the Bruce was the first King not crowned on the Stone of Destiny. Why? Because the English f***ing nicked it!"
Even City Life were called "fannies" for getting a union question wrong! Little did we know that Scotland's first union was in fact with France in 1558. Bruce's tone and delivery on the 1707 union of parliaments was priceless,
"There are some things that jist are'nae funny!"
After Show Catch Up
City Life caught up with Bruce after the show for a chat…
CL – How do you feel your History of Scotland show is going?
BF – This has been the best first week of Fringe that I've ever had. When I took a room holding 140 people I thought, 'I'll never fill that every night.' But numbers have been great and audiences have been enjoying the show. I'll be honest, I have got a bit of flack from Conservative voters. Anyone who sees the show will see why.
CL – Any funny festival moments you would like to share with us?
BF – My flyers are designed to look very similar to £10 notes. So far a street performer, a stand-up comic and two nightclubs have received my flyer as payment for services. I got a tweet from a Canadian street performer asking me if I thought I was funny putting dodgy money in his hat. I had to defend myself saying that I was in Glasgow at the time.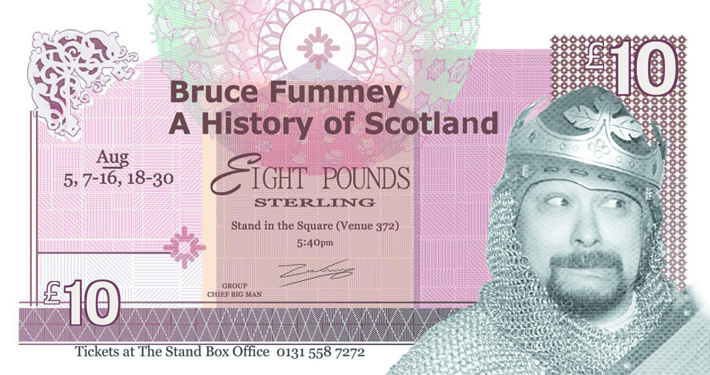 CL – What was the inspiration behind the show?
BF – I have been performing shows about Scottish history at Edinburgh Fringe since 2006. The first one was about Tam O'Shanter and I was just thinking 'What am I interested in?' The great thing is from January to May I get to sit and read books about stuff that interests me. I get to visit places of interest too, whilst my wife goes out to do proper work. Great, eh?
CL – What's the battle plan for your History of Scotland show after the festival, a Scottish tour?
BF – I wish my life was run like a battle plan. Unfortunately, it tends to run on a haphazard muddle, more Celtic charge than Napoleonic precision manoeuvre. I will perform the show in a couple of clubs and I will then be taking it to the Perth Fringe in Western Australia in February.
So make sure you attend one of Bruce's "lessons" soon because this history teacher has definitely become a comedy master!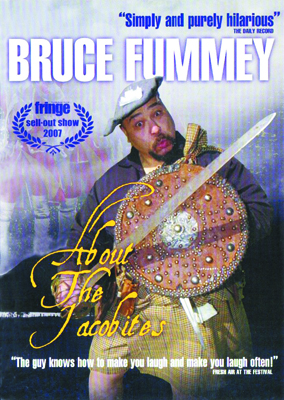 For more information please visit:
WIN A DVD
To celebrate our 1st birthday we are giving away a copy of Bruce's 'About the Jacobites' DVD! For a chance to win, like and share our Facebook page quoting 'DVD' or email us and tell us what you like about City Life Dundee.